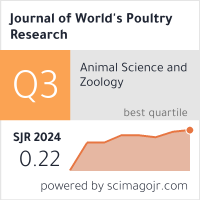 Volume 2:Issue 1, March 2012
Table of Contents, 11 March 2012
Research Title/ Field

Article (Abstract)

Download

Review Article, B1
Moreki J.C. and Seabo D.
J. World's Poult. Res. 2(1): 01-04. 2012.

ABSTRACT: Guinea fowl farming is still in its infancy in Botswana; hence the population of farmed guinea fowl is unknown, as well as, their contribution to human nutrition. Presently, production occurs mainly at subsistence level and females appear to dominate the industry. In Botswana, guinea fowl are raised mainly under the intensive system. Guinea fowl meat is of high quality, being high in protein and low in fat content, thus it is highly prized compared to chicken meat. It appears that guinea fowl farming could be more suitable to the rural areas where commercial chicken production has failed because guinea fowl are tolerant to diseases than chickens. Some challenges to guinea fowl production include farmers' inadequate management skills necessary to raise guinea fowl successfully, inadequate technical support and lack of financial support from government. It appears that guinea fowl production could be an important supplier of high quality animal protein (meat and eggs), as well as, a job creator.
Keywords: Botswana, disease tolerance, guinea fowl, human nutrition, keets

Biosecurity and Disinfection Controls of Poultry Microbial Pathogen Infections in Nigeria

Original Research, B2

Chima IU, Unamba-Opara IC, Ugwu C, Udebuani AC, Okoli CG, Opara MN, Uchegbu MC and Okoli IC.


J. World's Poult. Res. 2(1): 05-17. 2012.

ABSTRACT: In Nigeria, industrial poultry production occupies a place of pride among the livestock enterprises due to its rapid monetary turnover. However, Intensive poultry farming provides the optimum conditions for the concentration of disease causing pathogens and transmission. The presence of these diseases has created the need for the control of poultry pathogens in the intensive farming system. Microbiological contamination can be prevented and controlled using proper management practices and healthcare products such as disinfectants. Disinfection consists of destroying disease-producing microbes by chemical and physical means. Hygiene involves the setting up of physical barriers to restrict the access of disease causing agents to the flock and to limit the spread of infectious materials. Biosecurity on the other hand is the protection of poultry flock from any type of infectious agents, whether viral, bacterial, fungi or parasitic in nature. In many developing countries, such as Nigeria, provision for biosecurity are usually inadequate due to; outdated laws and inadequate legal infrastructure; lack of resources, budget and infrastructure for inspection and enforcement; poor cooperation between agencies; lack of technical resources and infrastructure for risk assessment, etc. Measures to enhance safety of food and good quality poultry products from farm to table are however key concerns for all stakeholders in the industry. Since Global concerns about poultry pathogen play a prime role in poultry exports and food policy decisions in international trade,  Nigeria poultry farmers need proper disease control environment in order to sustain asses to international trade.

Keywords: Disinfection, disinfectants, biosecurity, microbial pathogens, Nigeria

Comparison of Two Control Methods of Decontamination in a Poultry Slaughterhouse

Original Research, B3
N. Alloui, A. Ayachi
J. World's Poult. Res. 2(1): 18-20. 2012.

ABSTRACT: A study concerning the technical validity of two control methods of cleaning and decontamination in Batna's poultry slaughterhouse has been realized to verify their reliability. The first method is based on the counting of total germ colonies (cfu) thanks to petri dish (Rodac PCA®) used on different surfaces of the slaughterhouse sectors (quay of reception, slaughtering room, evisceration room, meats …) after decontamination. The second method (Kit PRO 3S®) permits to put in evidence the presence of dirty on a visibly clean surface; it is based on the detection of proteins (µg/test) on the different surfaces inside the slaughterhouse (soil, wall, scale, chain, blood tray, drier, carpet…). The results of this experiment showed that there is a positive correlation between the two methods.

Keywords: Disinfection, clean, control methods, poultry slaughterhouse

Genotype x Sex Interaction Effects on Carcass Traits of Three Strains of Commercial Broiler Chickens


 Original Research, B4
Olawumi S.O., Fajemilehin S.O. and Fagbuardo S.S.
J. World's Poult. Res. 2(1): 21-24. 2012.

ABSTRACT: The aim of this study was to rank commercial broiler chicken breeds vis-à-vis their sexes based on their carcass evaluation at 56days of age. The strains were Marshall, Arbor Acre and Hubbard, and the traits considered were live weight, dressing weight and percent, eviscerated weight, carcass weight and percent, breast muscle, back muscle, thigh, drumstick, head, neck, wing and leg weights. Other traits measured were wing and leg lengths, edible giblets and abdominal fat. There was highly significant (P

Keywords: Trait, strain, carcass %, dressing % and sex




.