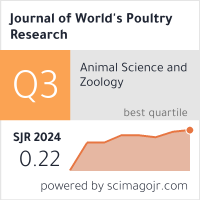 Journal of World's Poultry Research

ISSN: 2322-455X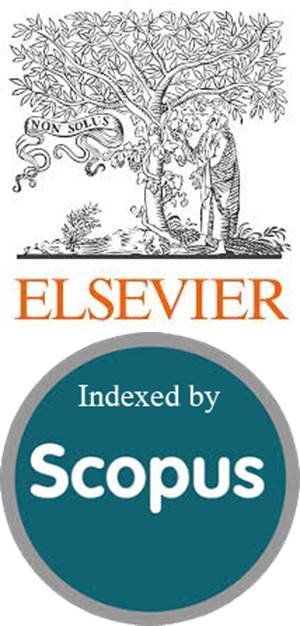 » Indexed/covered by SCOPUS (CiteScore=0.9), NLM Catalog (NLM ID: 101681042), NAAS (Score: 4.79), CIARDRING, Ulrich's™/ ProQuest, PUBDB, ICV 2020= 120.76, TOCs, TIB, WorldCat, EZB, Google Scholar...full index information

» Full texts and XML articles are available in ISC-RICeST, Crossref and AGRIS.

» Digital Archiving: Journal Repository (eprints)

» This journal is in compliance with Budapest Open Access Initiative and International Committee of Medical Journal Editors' Recommendations.

» High visibility of articles over the internet through Gold Open Access.

» This journal encourage the academic institutions in low-income countries to publish high quality scientific results, free of charges... view Review/Decisions/Processing/Policy
Board Member Certificate: JWPR active members were: Dr. Eilyad Issabeagloo; Dr. Konstantinos Koutoulis ...full information
JWPR Submission and Acceptance Rates

Year

Submission

Acceptance

2012

30

17 (56%)

2013

41

20 (48%)

2014

32

15 (46%)

2015

37

17 (45%)

2016

58

24 (41.3%)

2017

51

20 (39.2%)

2018

52

18 (34.6%)

2019

88

30 (34%)

2020

225

74 (32.8%)

2021

191

59 (30.9%)

Submission to first decision: 4.3 weeks
Submission to final decision: 7.6 weeks
Article acceptance to final publication: 6 weeks
KEYWORDS
HPLC, PCR, ELISA, IBDV, Interferon-Gamma, Avian Influenza, Newcastle Disease, Megabacteriosis, Staphylococosis, Clostridium Perfringens, Cestode, Anomotaenia, Immune Response, Choanotaenia, Helminth, Antibiotic, Salmonellosis, Cellular Immunity, Heat Stress, Acetaminophen, Cryopreservation, Autoclave, Vitamin, Selenium, Feed additives, Feed intake, Performance, Sorghum, Maize, Metabolic Energy, Meat production, Spiking, Hatchability, Genotypes, Yolk Cholesterol, Egg, Shelf-Life, Storage, Histology, Fibroblasts, Biosecurity, Contamination, Saccharomyces cerevisiae, Mannan oligosaccharide, Climatic Parameters, Light Color, Atmospheric ammonia, Ventilation, Hepatoprotective, Microbiology, Integration, Pathogens, Gross Morphology, Stem cell, Ovarian adenocarcinoma, Haematology, Hygiene, Monitoring, disinfection, Coccidiosis, lesion score, Chicken, Gramapriya, Vanaraja, broiler, Layer, Guinea fowl, Japanese quail

Frequency: Quarterly

Current Issue: 2022, Vol: 12, Issue: 2 (
June

25
)
DOI Prefix: 10.36380

Publisher: SCIENCELINE

The Journal of World's Poultry Research (JWPR, ISSN: 2322-455X) is an international, English language, peer-reviewed open access journal known as a source for high-quality articles in filed of poultry science... view full aims and scope

---
Research Paper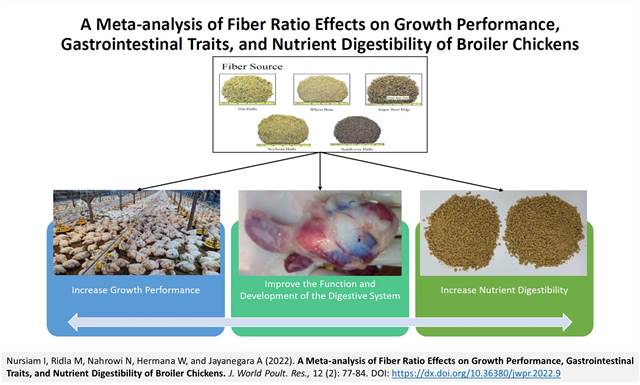 A Meta-analysis of Fiber Ratio Effects on Growth Performance, Gastrointestinal Traits, and Nutrient Digestibility of Broiler Chickens

Nursiam I, Ridla M, Nahrowi N, Hermana W, and Jayanegara A.

J. World Poult. Res. 12(2): 77-84, 2022; pii: S2322455X2200009-12
DOI: https://dx.doi.org/10.36380/jwpr.2022.9

---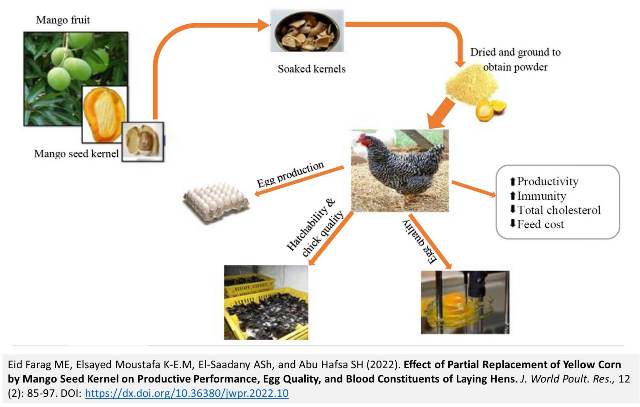 Research Paper
Effect of Partial Replacement of Yellow Corn by Mango Seed Kernel on Productive Performance, Egg Quality, and Blood Constituents of Laying Hens

Eid Farag ME, Elsayed Moustafa K-E.M, El-Saadany ASh, and Abu Hafsa SH.

J. World Poult. Res. 12(2): 85-97, 2022; pii: S2322455X2200010-12
DOI: https://dx.doi.org/10.36380/jwpr.2022.10

---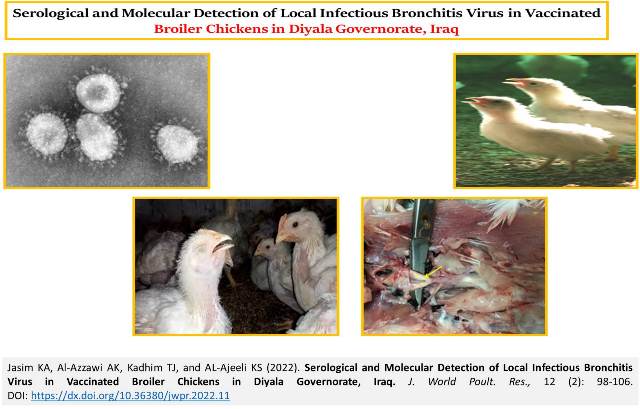 Research Paper
Serological and Molecular Detection of Local Infectious Bronchitis Virus in Vaccinated Broiler Chickens in Diyala Governorate, Iraq

Jasim KA, Al-Azzawi AK, Kadhim TJ, and AL-Ajeeli KS.

J. World Poult. Res. 12(2): 98-106, 2022; pii: S2322455X2200011-12
DOI: https://dx.doi.org/10.36380/jwpr.2022.11
---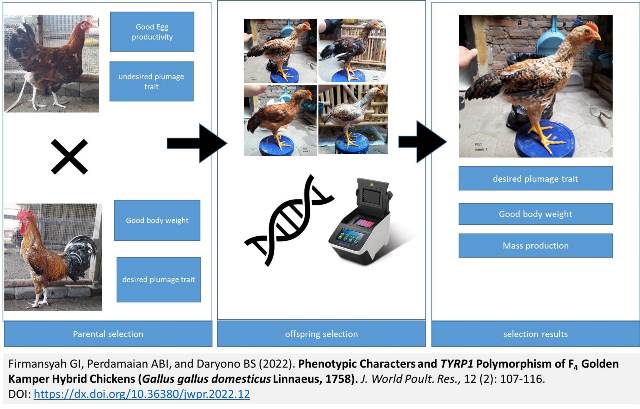 Research Paper
Phenotypic Characters and TYRP1 Polymorphism of F4 Golden Kamper Hybrid Chickens (Gallus gallus domesticus Linnaeus, 1758)

Firmansyah GI, Perdamaian ABI, and Daryono BS.

J. World Poult. Res. 12(2): 107-116, 2021; pii: S2322455X2200012-12
DOI: https://dx.doi.org/10.36380/jwpr.2022.12
---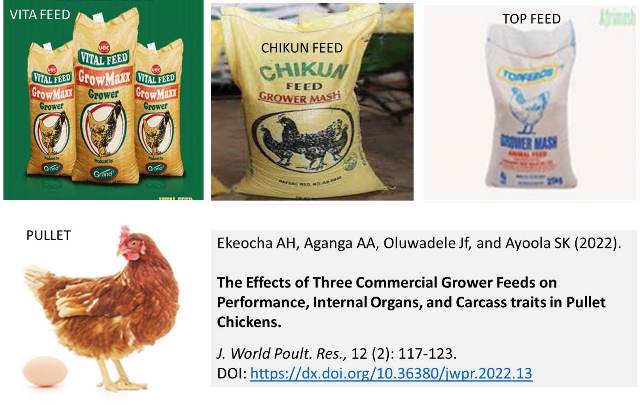 Research Paper
The Effects of Three Commercial Grower Feeds on Performance, Internal Organs, and Carcass traits in Pullet Chickens

Ekeocha AH, Aganga AA, Oluwadele Jf, and Ayoola SK.

J. World Poult. Res. 12(2): 117-123, 2022; pii: S2322455X2200013-12
DOI: https://dx.doi.org/10.36380/jwpr.2022.13
---
Research Paper
Genetic Characterization of Co-circulated Classic and Very Virulent Infectious Bursal Disease Viruses in Commercial Broiler Flocks of Egypt

Zanaty A, Mossad Z, Said M, Samy M, Amer F, Rabie N, and Soliman MA.

J. World Poult. Res. 12(2): 124-132, 2022; pii: S2322455X2200014-12
DOI: https://dx.doi.org/10.36380/jwpr.2022.14

---

This work is licensed under a Creative Commons Attribution 4.0 International License (CC BY 4.0)