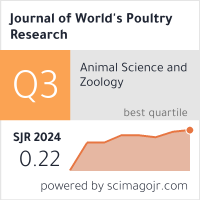 Previous issue | Next issue | Archive
Volume 6 (1); March 25, 2016 [Booklet]
---
Research Paper
Effects of Feeding Dietary Palm Kernel Cake on Egg Production and Egg Quality of Khaki Campbell Duck.

Samsudin AA, Hendry N and Khaing KhTh.

J. World's Poult. Res. 6(1): 01-05; pii: S2322455X1600001-6
ABSTRACT:

The study examined the effects of graded levels of Palm Kernel Cake (PKC) on the laying performance and egg quality in Khaki Campbell ducks. Twenty-seven female Khaki Campbell ducks were randomly assigned to three dietary treatments viz T1 (0% PKC; control), T2 (15% PKC) and T3 (35% PKC) and the performance characteristics and egg quality traits were examined for 4 weeks. Ducks fed T2 and T3 had higher (P0.05) on the feed conversion ratio in ducks. Similarly, dietary PKC did not affect (P>0.05) the weekly egg production and the percentage of hen-day production. Ducks fed T2 and T3 had greater (P0.05) by dietary PKC. Results indicated that Khaki Campbell ducks could tolerate up to 35% PKC in their diets without detrimental effects on egg production and egg quality.
Key words: Palm Kernel cake, Intake, Egg quality, Egg production

---
Effect of Beeswax, Gelatin and Aloe Vera Gel Coatings on Physical Properties and Shelf Life of Chicken Eggs Stored at Room Temperature.

Mudannayaka AI, Wimangika Rajapaksha DS and Heshan Taraka Kodithuwakku KA.

J. World's Poult. Res. 6(1): 06-13; pii: S2322455X1600002-6
ABSTRACT:
Present study was to determine the effect of beeswax, gelatin and Aloe vera gel coatings on internal quality and shelf life of chicken eggs compared to uncoated and mineral oil coated eggs. Four hundred and seventy five brown shell eggs were obtained from 32 weeks old Lohmann classic brown layers and all the eggs were randomly divided into five groups as ninety five eggs per group. Mineral oil, beeswax, Aloe vera gel and gelatin coatings were applied on eggs as four treatments and one group of eggs were uncoated and kept as control group. Then all the eggs were stored at 30°C and relative humidity of 70% - 75% for six weeks of storage period. Beeswax and gelatin coated eggs showed significantly (PAloe vera coated eggs and gelatin coated eggs dropped from AA to B and mineral oil and beeswax coated eggs changed from initial AA quality to A quality after six weeks of storage at 30°C. Results of microbiological analysis showed that all coated eggs were microbiologically safe throughout the storage period. The present study demonstrated that, in comparison to the mineral oil and the uncoated eggs, beeswax is a better novel coating material and gelatin can also be successfully used as coating material in preserving the internal quality and extending the shelf life of chicken eggs stored at 30 °C for six weeks.
Key words: Chicken eggs, Coatings, Internal quality, Shelf life, Storage time

[Full text-PDF] [XML] [DOAJ] [AGRIS]
---
Research Paper
Effect of Sex Ratio on the Production and Hatchability of Broiler Breeder Flock.

Haghighi M, Irani M, Jafari M, Firouzi S and Habibi H.

J. World's Poult. Res. 6(1): 14-17; pii: S2322455X1600003-6
ABSTRACT:

Trials to compare mating ratios are important for optimizing the breeding efficiency of broiler breeder flocks. The study provides information on the reproductive performance of broiler breeder flock (Ross308) maintained at different male: female (M: F) ratios. 381, thirty week-old broiler breeders were randomly divided into three experimental groups with three replicates each and were assigned to one of the following male: female ratio, 1M: 13.3F, 1M: 11.6F and 1M: 10.5F. The birds were randomly allotted to 9, 2m x 2m floor pens in an environmentally controlled house. Eggs were collected daily and weekly egg production/bird was calculated for each group. Hatchability and egg production were significantly affected (P < 0.05) by sex ratio. 1M: 1:13.3Fgouphad significantly (P < 0.05) higher egg production. Hatchability of 1M: 10.5F were significantly (P < 0.05) the highest followed by 1M: 11.6F and that of 1M: 13.3F sex ratio were the lowest from week 33.Increasing the sex ratio had the effect that although average egg production/female was lower, but hatchability were improved, possibly as a result of more frequent sexual interactions of males and females.
Key words: Sex ratio, Broiler breeder, Hatchability, Production.

[Full text-PDF] [XML] [DOAJ] [AGRIS]

---
Research Paper
Evaluation of the Nutritive Value and Detection of Contaminants in Feed and Water Samples in Open Poultry Houses of Layer Farms in Gezira State, Sudan.

EL-Dikeir N, Mohamed Elbeeli MY, Abdel-Rahim AM, Eshag NA and Mohamed Ali SA.

J. World's Poult. Res. 6(1): 18-24; pii: S2322455X1600004-6
ABSTRACT:
This study was carried out in Gezira state, Sudan to investigate feed and drinking water composition and contamination in open layer houses. Data was collected through individual interviews (questionnaires) of 97 randomly selected poultry farm owners during farms visits. Water and feed samples were collected from 20% of the visited farms and data was analyzed using SPSS. Results indicated that feed samples obtained from farms and mills had higher levels of crude protein than recommended; it was about (23-25%) in all localities, which affect birds' kidney that negatively affect egg production. Metabolizable energy was in the recommended range in all localities. There was high fungal growth and aflatoxins presence in feeds in many localities. Total fungal count was from 113 colonies/g in Greater Medani municipality to 2850 colonies/gr in Almanagil municipality and aflatoxins were from 37.5% in Alkamleen to 66.7% in South of the Gezira and Greater Medani localities. Feed ingredients were also contaminated with fungal growth and aflatoxins presence. Drinking water indicated high pH and total hardness in many localities. There was also high bacterial total count in all localities and E-coli was from 5 colonies/ml in Alhasahesa municipality in the north to Greater Medani municipality mto150 colonies/ml in East of the Gezira locality. It was recommended that measures be taken to ensure poultry feed and drinking water safety in addition to adjusting feed composition to nutrients requirements for the specific production to sustain high productivity.
Key words: Poultry feed, Nutritive value, Contaminants

[Full text-PDF] [XML] [DOAJ] [AGRIS]
---
Research Paper
Analysis of Urban Household Demand for Poultry Production in Ado Local Government Area of Ekiti State, Nigeria.

Sekumade AB and Toluwase SW.

J. World's Poult. Res. 6(1): 25-30; pii: S2322455X1600005-6
ABSTRACT:
The study investigates the urban household demand for poultry products in Ado Local Government areas of Ekiti State, Nigeria. A two-stage sampling technique was used to select respondents for the study. Ten wards were randomly selected in Ado local government area and this was followed by a random selection of twelve households from each selected ward, making a total number of 120 respondents used for the survey with the aid of structured questionnaires. The analytical techniques used include descriptive statistics like mean, minimum value, maximum value; standard deviation and linear regression analysis were used to analyze the relationship between the household's socio-economic characteristics and the amount spent on poultry products. The results obtained revealed that majority of the household (45.4) percent believed that taste of the poultry product determine the demand for poultry products, the mean amount spent on poultry product monthly is ₦4,918.61(24.59USD) which is very low, it may be due to the high price of poultry products or easy accessibility to a close substitute which made respondents demand for more substitutes than poultry products and the regression analysis for the determinant of households demand for poultry products reveals that variables such as "years spent in formal education, household size and average monthly income" had positive effect on amount spent on poultry products. There should be a policy measure that will ensure increase in purchasing power of the people's income which will invariably contribute positively to the improvement of nutritional status of the people and government price intervention program should be introduced in order to stabilize the fluctuation of poultry products prices.
Key words: Analysis, Urban, Household, Demand, Poultry Products

[Full text-PDF] [XML] [DOAJ] [AGRIS]
---
Review
A Review on Effects of Probiotic Supplementation in Poultry Performance and Cholesterol Levels of Egg and Meat.

Getachew T.

J. World's Poult. Res. 6(1): 31-36; pii: S2322455X1600006-6
ABSTRACT:
Probiotics are live microbial food/feed ingredients that have a beneficial effect on health that stimulates the growth of beneficial microorganisms and reduces the amount of pathogens, thus improving the intestinal microbial balance of the host and lowering the risk of gastro-intestinal diseases. Probiotics can be harmful to debilitated and immuno-compromised populations. An accurate dosage of administration has yet to be established despite the wide-use of probiotics. Probiotics have antimutagenic, anticarcinogenic, hypocholesterolemic, antihypertensive, anti-osteoporosis, and immunomodulatory effects. Lactobacillus, Bifidobacterium, Leuconostoc, Enterococcus, Lactococcus, Bacillus, Saccharomyces, Aspergillus and Pediococcus species are most commonly used probiotics in poultry production. When supplemented to chicken probiotics improve feed-intake, growth performance, meat quality, egg production, egg quality and have cholesterol lowering potential in poultry products. However, some studies reported no significant effect of probiotics on feed-intake, production traits, products' quality and cholesterol level.
Key words: Broiler, Feed intake, Hypocholesterolemic, Layer, Probiotic

[Full text-PDF] [XML] [DOAJ] [AGRIS]
---
.
Previous issue | Next issue | Archive
This work is licensed under a Creative Commons Attribution-NonCommercial 4.0 International License.