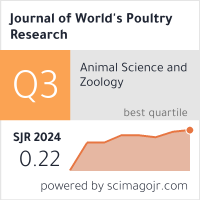 Previous issue | Next issue | Archive
Volume 6 (3); September 25, 2016 [Booklet]

---
Review
Use of Organic Acids as Potential Feed Additives in Poultry Production.

Waseem Mirza M, Rehman ZU and Mukhtar N.

J. World Poult. Res. 6(3): 105-116; pii: S2322455X1600015-6
ABSTRACT:
Historically organic acids (OA) have been used by humans as natural food preservatives and hygiene promoters with regard to the microbial growth and to enhance freshness and shelf-life of edible food items. This characteristic of microbial growth inhibition of OA also makes them suitable replacement to antibiotic growth promoters in poultry. OA are chemically weak acids, which prevent or completely seize the proliferation and colonization of pathogenic bacteria in the intestine of birds. Thus, reducing the competition for the nutrients as well as production of harmful microbial metabolites. This in turn improves bird's performance and enhances the specific and non-specific immunity by improving the bird's intestinal epithelial layer. OA also help improving absorptive capacity of the intestinal cells by improving the crypt-villus structures as well as by improving the digestive secretions, thus influencing a boost in the digestion of proteins, carbohydrates and especially the minerals. This results in enhanced growth rate and feed efficiency in poultry. This comprehensive review about dynamics of OA revealed that this potential feed additive will be used as performance modifier in commercial poultry production, functioning as gut microbial modifier, immune modulator and nutrients digestion enhancer. This review updates the last decade's developments about OA in poultry production.
Keywords: Organic acid, Antimicrobial activity, Digestibility, Performance, Poultry

[Full text-PDF] [XML] [DOAJ] [AGRIS]

---
Research Paper
Comparative Study on Diphtheritic, Cutaneous and Systemic Forms of Natural Avipoxvirus Infection in Chickens.

Akanbi OB, Rimfa AG and Okewole PA.

J. World Poult. Res. 6(3): 117-120; pii: S2322455X1600016-6
ABSTRACT:
Avipoxvirus of the subfamily Chordopoxvirinae is known to cause fowl pox infection in chickens. The disease manifest as Cutaneous, diphtheritic, systemic and oncogenic forms in birds. The former two being the most frequent forms of the infection and occurring in chickens. Twelve cases of fowl pox virus infection in chicken flocks over a 5-year period were reviewed to describe the pathologies and the forms of pox virus infection observed in Bauchi and Plateau States in Nigeria. Three forms (cutaneous, diphtheritic and systemic) of fowl pox virus infection were investigated in indigenous and commercial backyard chicken breeds at different ages and with infection during different period of the year using gross- and histo-pathological features. Our findings showed that the cutaneous form was most common in Bauchi and Plateau States in north-eastern and north-central Nigeria respectively. Rather than the mixed Cutaneous and diphtheritic form previously reported, we observed a new co-occurrence of a mixed Cutaneous and systemic form of fowl pox virus infection in a young cockerel chicken. Also, there seems to be no seasonal variation in the occurrence of fowl pox virus infections in the chicken flocks in the study area, a notion responsible for fowl pox virus vaccine demands in the country. Therefore, present study suggest a routine fowl pox vaccination program for susceptible chicken flocks as all the flocks reported in this study had a history of unvaccinated status with the exception of the indigenous chicken which is rarely vaccinated against any infectious or contagious disease in the country.
Keywords: Comparative, Fowl pox virus, Infection, Chicken

[Full text-PDF] [XML] [DOAJ] [AGRIS]

---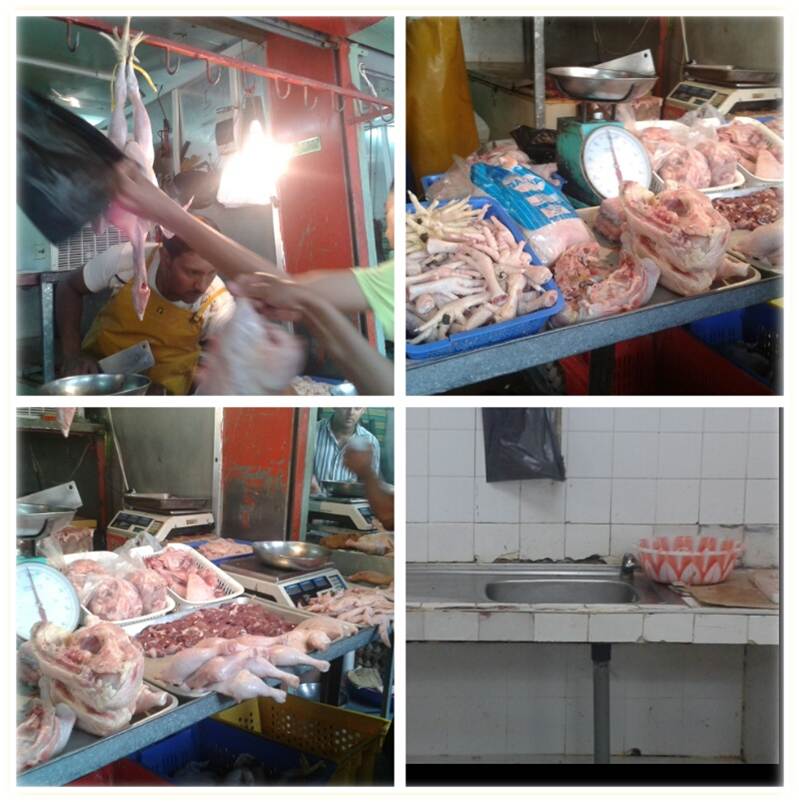 Research Paper
A Study on the Food Safety Knowledge and Perceptions among Poultry Consumers in Mauritius.

Burgus H and Neetoo H.

J. World Poult. Res. 6(3): 121-130; pii: S2322455X1600017-6
ABSTRACT:
Although previous research has been conducted to understand Mauritian consumers' knowledge of food safety risks, there is a lack of research on their knowledge, perception, and behavior towards risks associated with poultry sold in markets. Recently, there has been heightened concern regarding a particular market located in the capital of Mauritius. The market was previously sanctioned for malpractices due to unsafe trade of poultry. The target group identified in this study was therefore customers who regularly purchased poultry from the mentioned market who are thought to have inadequate knowledge in food hygiene, safety and microbiology. Therefore a study was carried out at the market to investigate the knowledge and perceptions of Mauritian consumers, on safe and hygienic handling of poultry and shed light on their domestic poultry preparation practices, and understand their attitudes and disposition towards poultry safety. A survey instrument was developed and administered, and data were collected during the period of June-November 2014. The results of this study showed that respondents often lacked knowledge of basic concepts in food safety, rendering them more prone to unsafe food practices. Moreover, poultry consumers, particularly the young demographic, were found to carry out unsafe food behaviors due to an optimistic bias, an illusion of control or habitual behavior. Poor regard to prevention of cross-contamination was noted. Lack of specific technical knowledge was estimated to be the central reason for unsafe behavior during poultry preparation. It was therefore recommended that education on food safety should start at an early age. Moreover, food labels should be designed to protect consumers from heath risks due to consumption of unsafe food and the media should wield a greater role in educating consumers on food safety.
Keywords: Food safety, Knowledge, Perceptions, Poultry, Consumers

[Full text-PDF] [XML] [DOAJ] [AGRIS]

---
Research Paper
Determination of Crude Protein and Metabolisable Energy of Japanese Quail (Coturnix coturnix japonica) during Laying Period.

Agboola AF, Omidiwura BRO, Ologbosere EY and Iyayi EA.

J. World Poult. Res. 6(3): 131-138; pii: S2322455X1600018-6
ABSTRACT:
This study was carried out to determine the energy and protein requirements of laying Japanese quails. A completely randomized design of treatments comprising four dietary protein levels (18, 20, 22 and 24%) and three levels of metabolisable energy (3000. 3100, 3200 kcal/kg) in a 4 × 3 factorial arrangement was used.ÂÂÂÂÂÂÂÂ  144 Japanese quails aged 7 weeks were randomly divided into 12 dietary treatments with 3 replicates per treatment and each replicate with 4 birds. The experiment lasted for five weeks. The results of the study showed that there was no significant (P>0.05) effect of protein, energy or their interaction on feed intake, feed conversion ratio, hen day production, egg weight and egg number. However, protein as a single variable had a significant effect (P0.05) effect of protein, energy or their interaction on egg quality traits (yolk colour, yolk weight, albumen weight, shape index, shell thickness, shell weight, and haugh unit). However, birds fed 20% crude protein and 3000 kcal/kg metabolisable energy had better hen day production, number of eggs per bird and egg quality traits compared with birds on the other groups. Dietary protein increased egg production and egg weight, augmented by energy. The yolk colour was increased with increasing energy level. Therefore, the results of the experiment revealed that 20% crude protein and 3000 kcal/kg metabolisable energy could be used to obtain the best production performance and good egg quality traits of Japanese quails at the laying phase.
Keywords: Japanese quail, Production performance, Egg quality traits, Metabolisable energy, Protein.

[Full text-PDF] [XML] [DOAJ] [AGRIS]

---
Research Paper
The Effects of Housing and Equipment Status on Egg yearly monitored Production Rates in Open Poultry Houses in Gezira State, Sudan.

EL-Dikeir N, ELBeeli MYM., Abdel-Rahim AM, Jadalla B and Mohamed Ali SA.

J. World Poult. Res. 6(3): 139-146; pii: S2322455X1600019-6
ABSTRACT:
This study was carried out in Gezira state, Sudan to investigate the effects of housing and equipment status on egg production in open layer houses. Data were collected through individual interviews (questionnaire) of 97 randomly selected among poultry farm owners. The height of 80% of north and south sides of wall were 50-100 cm in Almanagil, 76.5% in Alkamleen and 57%in south of the Gezira localities, while the height of the wall side at the east and west were (3-3.5m) in all (100%) houses in east of the Gezira, 77.8% in Alhasahesa, 60% in Almanagil and 47.1% in Alkamleen. The width was 5-8m in most poultry houses in Gezira State's localities surveyed. In Greater Medani, all the houses were at the width mentioned above while 76.4% and 73.5% in of those building were 5-8 cm in Almanagil, and Alkamleen localities respectively. The most of wall houses were not painted where 50% of those houses were with painted walls in east of the Gezira and 76% in Alkamleen locality. The most floor types were made of bricks. Flours with that type were 55.6% in Alhasahesa and 76.5% in Alkamleen locality. The layer of sand was thin in the major litter type of poultry houses surveyed in Gezira state localities though some houses were without litter, which affect birds' performance by low ventilation and insulation. Round feeders of 40 - 50 cm length were the majority feeders' type observed. In Alhasahesa 55.6% houses had that type of feeders while all houses surveyed had round feeders in east of the Gezira and Greater Medani localities. Oil containers were used as drinkers in most poultry houses surveyed. The troughs were with unsuitable height for hens to drink conveniently. The percent of house with that type of drinkers were 58.8% in Alkamleen and south of the Gezira localities. Birds/feeder and birds/drinker capacity varied between 50 and 75 birds. Clay pots were the mostly used egg nest type in the state. That type of nests were used by 88.2% of farm owners in Greater Medani to 100% in east of the Gezira, Alhasahesa and Almanagil localities. In average one egg nest was allotted to 15 hens. Yearly monitored egg production ranged between 60-70%.
Keywords: Layer, Production constraints, Housing, Equipment

[Full text-PDF] [XML] [DOAJ] [AGRIS]

---
The Effect of Highly Pathogenic Avian Influenza (HPAI) H5N1 Outbreaks on Mixed Species Poultry Farms in Nigeria.

Akanbi OB, Ekong PS, Odita CI and Taiwo VO.

J. World Poult. Res. 6(3): 147-152; pii: S2322455X1600020-6
ABSTRACT:
The first outbreak of highly pathogenic avian influenza (HPAI) H5N1 virus in Nigeria was in 2006 and it involved different poultry species, mostly chickens in different ages, reared and bred on the same premises with some numbers of ducks, geese, turkeys and ostriches. To determine the effect of HPAI on mixed species poultry farming in the face of the ongoing 2015-2016 resurgent HPAI in Nigeria, data of confirmed 2006-2008 HPAI H5N1 outbreak in poultry were expressed as percentage proportions and used to produce spatial map using ArcGIS10.3 (ESRI®, USA) against some ecological features of the country. The outbreaks were more clustered in poultry farm dense areas especially in the northern states while very few clustering were observed around Important Bird Area and wetlands. A total of 177,996 (25.9%) on farm bird mortality was recorded from the selected outbreaks. From the backyard flock, the total mortality was 25, 915 birds (14.6%) and from the commercial flock, total mortality was 152, 081 birds (85.4%). The commercial flocks recorded higher mortality rate (P< 0.0001). In the single species flock, total mortality recorded was 173, 425 (25.5%) while in the mixed species flock, total mortality was 4, 571 (52.9%). Mortality rate was much higher in the mixed species flock (P< 0.0001) and ranged from 4.92 – 73.15% with the chicken-duck-turkey mixed flock farms having the highest rate (73.15%). Results show a higher risk of HPAI disease occurrence in multiple, mixed species poultry than in single species poultry production.
Keywords: HPAI, Mixed species, Nigeria, Poultry

[Full text-PDF] [XML] [DOAJ] [AGRIS]

---
Research Paper
Variations in Morphometric Traits of Local Chicken in Gomoa West District in Southern Ghana.

Birteeb Peter T, Essuman Alfred K and Adzitey F.

J. World Poult. Res. 6(3): 153-160; pii: S2322455X1600021-6
ABSTRACT:
The study was undertaken to identify the variations among morphometric traits of local chicken in the Gomoa West district of Ghana. Thirteen body measurements namely Weight (WT), Body Length (BDL), Chest Circumference (CC), Thigh Circumference (TC), Shank Length (SL), Neck Length (NL), Wing Length (WGL), Head Length (HDL), Hip Length (HL), Wattle Length (WAL), Beak Length (BKL), Drumstick Length (DL) and Comb Length (CL) were taken on 500 birds and analyzed under general linear model to determine the fixed effects of sex, comb type, feather distribution and skin colour on variabilities in the traits. The male birds had significantly (P< 0.001) larger heads (NL=9.11 cm, HDL=6.59 cm, CL=5.23 cm etc.) and bodies (WT=1.19 kg, BDL=24.64 cm, CC=14.32 cm etc.) than their female counterparts. Cushion comb-type chickens were significantly (P< 0.001) superior to all other comb-type chickens in all head and body measurements. Feather distribution had significant (P< 0.05) influence on WT and BDL, as naked neck birds appeared superior. Birds with grey skin colour had significantly (P< 0.001) larger chest circumference than all other birds. These findings could be useful as selection criterion, thereby providing a basis for genetic manipulation and improvements of the local chicken in Ghana.
Keywords: Comb type, Measurement, Naked neck, Poultry, Skin colour
[Full text-PDF] [XML] [DOAJ] [AGRIS]

---
Research Paper
Dietary Modelling of Nutrient Densities: Effect and Response in Different Growing Phases on Growth Performance, Nutrient Digestibility, Litter Quality and Leg Health in Turkey Production.

Waseem Mirza M, Pirgozliev V, Rose SP and Sparks NHC.

J. World Poult. Res. 6(3): 161-190; pii: S2322455X1600022-6
ABSTRACT:
An experiment was conducted to explore the time bound (different growth phases) effect of different dietary nutrient densities i.e., different energy and protein concentration while maintaining the ratio between the two, all with the same ideal amino acid profile, on litter quality and leg health (footpad dermatitis (FPD) and hock burn (HB)), when fed to growing turkeys. The effects of dietary nutrient modelling on growth performance parameters, water intake and excretion, dry matter (DMD), organic matter (OMD), crude protein (CPD) digestibility coefficients and apparent metabolisable energy (AME) were also examined, when fed to growing turkeys in varying growth phases. At twenty-eight days of age one hundred and seventy five male turkeys (BUT 8) were transferred to 35 floor pens, using stratified randomisation on body weight, 5 birds in a pen, all pens were equipped with plastic feed hoppers and drinkers. The experiment was a randomized block design consisting of 5 treatments (5 levels of CP and ME concentrations and 4 feeding/ growth phases). Each dietary treatment was replicated 7 times with 5 birds in each replicate. Feed and water were offered ad libitum throughout the experiment. Five dietary treatments, containing either 77, 85, 100, 110 or 120% of the crude protein (CP) and metabolisable energy (ME) content recommended by the breed standard. The whole experimental period of 16 weeks starting from 4 weeks of age was divided into 4 weeks standard growth phases: 4-8, 8-12, 12-16 and 16-20 weeks, finishing at 20 weeks of turkey's age, according to commercial management guide for BUT 8 (Aviagen Turkeys Ltd.). Nutrient density had a positive and linear effect (P< 0.001) on weight gain, feed efficiency and dry matter digestibility (DMD) whereas the effect of nutrient density on dietary protein digestibility (CPD) only approached significance (P= 0.081). As might be expected increasing nutrient density had a negative and linear effect on feed (P< 0.001) and water (P< 0.01) intake and did not affect the ratio between these two parameters. Increasing nutrient density had a positive effect on litter quality (linear (P< 0.001), with both the litter moisture (P< 0.01) and the litter score decreasing (P< 0.001). Conversely litter ammonia concentration increased (P< 0.001) as nutrient density increased, similarly as nutrient density increased so did the prevalence of hock burn (P 0.05) of treatment on FPD. The results suggest that an increase in nutrient concentration can reduce the moisture content of the litter and so improve overall litter quality. However, the incidence of hock burn increased with the high nutrient density diets, suggesting that factors other than the litter moisture alone may contribute the occurrence of leg health problems in turkey production.
Keywords: Nutrient density, Digestibility, Performance, Wet litter, Ammonia, Footpad dermatitis, Hock burn.

[Full text-PDF] [XML] [DOAJ] [AGRIS]

---
Previous issue | Next issue | Archive
This work is licensed under a Creative Commons Attribution-NonCommercial 4.0 International License.