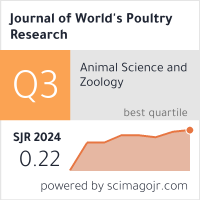 Previous issue | Next issue | Archive
Volume 10 (2); June 25, 2020 [Booklet] [EndNote XML for Agris]

---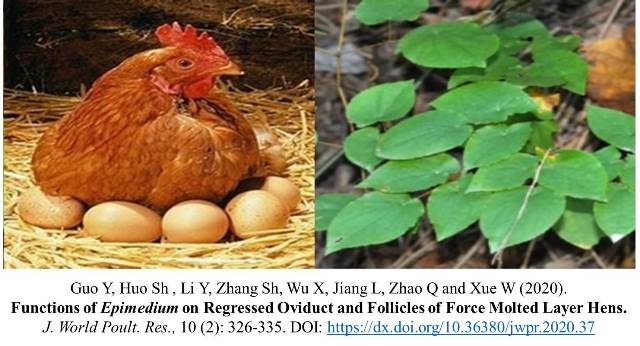 Research Paper
Functions of Epimedium on Regressed Oviduct and Follicles of Force Molted Layer Hens.

Guo Y, Huo Sh , Li Y, Zhang Sh, Wu X, Jiang L, Zhao Q and Xue W.

J. World Poult. Res. 10(2): 326-335, 2020; pii: S2322455X2000037-10
DOI: https://dx.doi.org/10.36380/jwpr.2020.37
ABSTRACT: In order to reveal the functions of Epimedium (EPI) on the recovery of the reproductive system of laying hens, 120 Hy-Line Brown laying hens (43-week-old) were forced molt through feed withdrawal for 14 days. After the molting period, layer hens were divided into four groups: Dark-control group in a dark environment without any treatment; dark-EPI group in a dark environment and with EPI treatment; light-control group without any treatment under normal illumination (16L: 8D); light- EPI group with EPI treatment under normal illumination (16L: 8D). EPI treatment was maintained for 15 days and each hen received 2 ml of EPI extract (1 g/mL) daily. The rate of egg production was calculated every day. At the end of the experiment, estrogen receptor alpha mRNA, estrogen receptor beta mRNA, and progesterone receptor mRNA in the albumen secreting part and uterus of the oviduct were detected by q-PCR, and the level of serum progesterone, estrogen and luteinizing hormone was measured by enzyme-linked immunosorbent assay. The results showed that EPI effectively improved the laying rate of hens both in dark groups and light groups by promoting the recovery of the oviduct and follicle maturation. In addition, EPI promoted the secretion of estrogen and progesterone both in dark and light groups and improved the expression of estrogen receptor alpha and progesterone receptor in the light group. The results of the experiment provide a good reference for using EPI to improve the development and recovery of the reproductive system of layer hens.
Keywords: Epimedium, Forced molting, Layer hens, Oviduct

[Full text-PDF] [XML] [Crossref Metadata] [Google Scholar]

---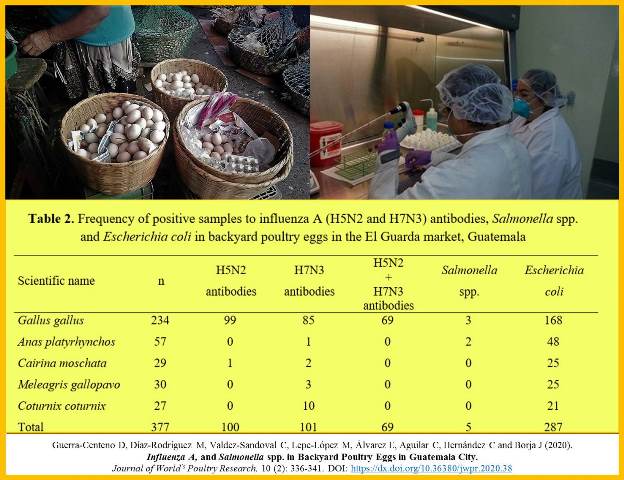 Research Paper
Influenza A, and Salmonella spp. in Backyard Poultry Eggs in Guatemala City.

Guerra-Centeno D, Díaz-Rodríguez M, Valdez-Sandoval C, Lepe-López M, Álvarez E, Aguilar Ch, Hernández C and Borja J.

J. World Poult. Res. 10(2): 336-341, 2020; pii: S2322455X2000038-10
DOI: https://dx.doi.org/10.36380/jwpr.2020.38
ABSTRACT: Influenza A and salmonellosis are two of the most relevant zoonotic infectious diseases. Influenza A is one of the main threats to public health worldwide and is considered one of the causative agents of pandemics. Salmonellosis, meanwhile, has been identified by the World Health Organization as one of the four main causes of diarrheal diseases in the world. Poultry is an important source of both influenza A and Salmonella spp. but little is known about these potential threats in poultry products in Guatemala. The presence of influenza A virus antibodies and Salmonella spp. was studied in backyard poultry eggs sold in the El Guarda market in Guatemala City. 377 backyard poultry eggs were collected throughout seven months and sampled for hemagglutination inhibition test to determine the presence of antibodies to influenza virus A (H5N2 and H7N3) and cultured for Salmonella isolation. The eggs of chicken (Gallus gallus), turkey (Meleagris gallopavo), quail (Coturnix coturnix), mallard duck (Anas platyrhynchos) and muscovy duck (Cairina moschata) were sampled. Twenty-six percent of the eggs carried H5N2 antibodies, 27% carried H7N3 antibodies and 1.3% carried Salmonella spp. The presence of Escherichia coli inside the sampled eggs was an incidental common finding. These results suggest that backyard poultry eggs sold at markets could be a potential source of influenza A virus and Salmonella for the human population. The evidence found in the sampled eggs also shows that these potential pathogens are circulating in backyard poultry populations in Guatemala.
Keywords: Food security, One Health, Public health, Zoonosis

[Full text-PDF] [XML] [Crossref Metadata] [Google Scholar]

---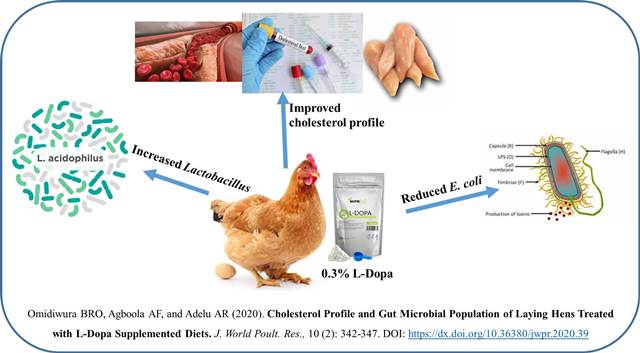 Research Paper
Cholesterol Profile and Gut Microbial Population of Laying Hens Treated with L-Dopa Supplemented Diets.

Omidiwura BRO, Agboola AF, and Adelu AR.

J. World Poult. Res. 10(2): 342-347, 2020; pii: S2322455X2000039-10
DOI: https://dx.doi.org/10.36380/jwpr.2020.39
ABSTRACT: In a 42-day feeding trial, the effect of L-Dopa on the performance, serum cholesterol and intestinal microbial load in laying hens were investigated. One hundred and twenty layers aged 34 weeks old were allocated to five dietary treatments with eight replicates and three birds per each replicate. The birds were fed diets supplemented with graded levels of L-Dopa (0, 0.1, 0.2, 0.3 and 0.4%) in a completely randomized design. Performance parameters were monitored. On the day 42, egg, meat and blood samples were obtained to determine total cholesterol and lipoproteins using standard procedures. The ileal digesta was collected for microbial analysis. The results indicated that inclusion of L-Dopa in the diet did not affect the performance parameters and egg cholesterol profile. Serum cholesterol levels of birds fed the control diet and those on 0.1% and 0.2% L-Dopa supplemented diets were similar, but significantly higher than those fed 0.3% and 0.4% L-Dopa. The levels of cholesterol and low-density lipoproteins in the meat of the layers fed on the control diet were significantly higher than those on 0.1% and 0.3% L-Dopa, but were similar to the birds on other treatment diets. The highest and the lowest population of Escherichia coli were found in the birds on the control diet and 0.3% L-Dopa supplemented diet, respectively. The layer hens on L-Dopa supplemented diets had a significantly higher Lactobacillus count than those on the control diet. In conclusion, 0.3% L-Dopa inclusion considerably improved the cholesterol profile in the blood and meat, reduced the population of E. coli, and effectively increased the population of Lactobacillus in the laying hens.
Keywords: Cholesterol profile, Layers, Levodopa, Microbial load, Performance

[Full text-PDF] [XML] [Crossref Metadata] [Google Scholar]

---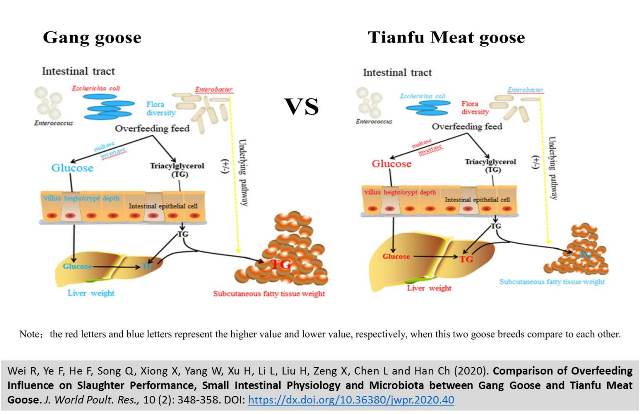 Research Paper
Comparison of Overfeeding Influence on Slaughter Performance, Small Intestinal Physiology and Microbiota between Gang Goose and Tianfu Meat Goose.

Wei R, Ye F, He F, Song Q, Xiong X, Yang W, Xu H, Li L, Liu H, Zeng X, Chen L and Han Ch.

J. World Poult. Res. 10(2): 348-358, 2020; pii: S2322455X2000040-10
DOI: https://dx.doi.org/10.36380/jwpr.2020.40
ABSTRACT: The objective of this research was to compare the influence of overfeeding on slaughter performance and small intestinal physiology and microbiota between Gang goose and Tianfu Meat Goose. Fifty Gang geese were randomly divided into the control group and overfed group, as were fifty Tianfu Meat geese. All geese were slaughtered after 3 weeks of overfeeding. After overeating, the results indicated that the liver weight, villus height to crypt depth ratio in duodenum and ileum, and the activity of invertase and maltase enzymes of Tianfu Meat goose was higher than those of Gang goose. However, the subcutaneous adipose tissue weight of Gang goose was higher than that of Tianfu Meat goose. Moreover, the Enterobacterial Repetitive Intergenic Consensus-Polymerase Chain Reaction (ERIC-PCR) fingerprint indicated that the band number of intestinal bacteria in each small intestinal segment decreased in Gang goose and increased in Tianfu Meat goose. The Enterobacter had a higher gene expression in the jejunum of Gang goose than that of Tianfu Meat goose and Escherichia coli the gene expression decreased in the ileum of Tianfu Meat goose after overfeeding. In conclusion, Tianfu Meat goose's liver weight, small intestinal digestion and absorption capacity and microbiota homeostasis were much better than those of Gang goose. Therefore, Tianfu Meat goose is more suitable for foie gras production. The results of the present study will provide a reference for the use of goose breeding for overfeeding and the relationship between intestinal physiology and the mechanism of goose fatty liver formation.
Keywords: Digestive enzyme, Goose, Intestinal flora, Intestinal morphology, Overfeeding

[Full text-PDF] [XML] [Crossref Metadata] [Google Scholar]

---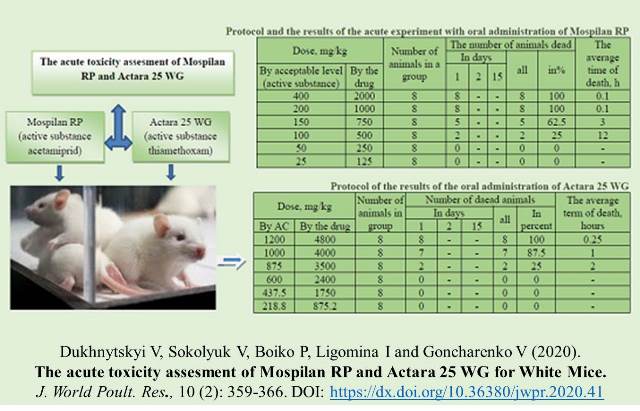 Research Paper
The acute toxicity assesment of Mospilan RP and Actara 25 WG for White Mice.

Dukhnytskyi V, Sokolyuk V, Boiko P, Ligomina I and Goncharenko V.

J. World Poult. Res. 10(2): 359-366, 2020; pii: S2322455X2000041-10
DOI: https://dx.doi.org/10.36380/jwpr.2020.41
ABSTRACT: In this article an attempt was made to present the results of toxicity assessment of insecticides from the group of neonicotinoids, Mospilan RP (active substance acetamiprid) and Actara 25 WG (active substance thiamethoxam) in white mice. The aim was to investigate the acute toxicity of Mospilan RP and Actara 25 WG in white mice. The half-lethal dose (LD50) of Mospilan RP was found to be131.25 ± 34.12 mg/kg Body Weight (BW) per active substance and 656.25 ± 170.6 mg/kg BW per drug, and the Lethal Dose (LD100) was 200 mg/kg BW by the active ingredient (1000 mg/kg BW by drug). The half-life dose (DL50) of Actara 25 WG for white mice was 907.81 ± 24.03 mg/kg BW for the active substance, and 3631.24 ± 96.12 mg/kg BW for the drug; The lethal dose (LD100) was also 1200 mg/kg BW per active ingredient (4800 mg/kg BW per drug). The acute course of poisoning by Mospilan RP and Actara 25 WG in mice was characterized mainly by nervous disorders (lesions of the central and peripheral nervous systems), which is evidenced by the clinical features of poisoning including depression, convulsions, ataxia (impaired movement coordination), tremor and impaired breathing. It has been established that Mospilan RP belongs to the third toxicity class according to the Hygienic classification of substances by skin-resorptive toxicity (DL50> 2000 mg/kg).
Keywords: Actara 25 WG insecticides, Acute toxicity, Insecticides toxicity, Mospilan PP, Neonicotinoids, White miced

[Full text-PDF] [XML] [Crossref Metadata] [Google Scholar]

---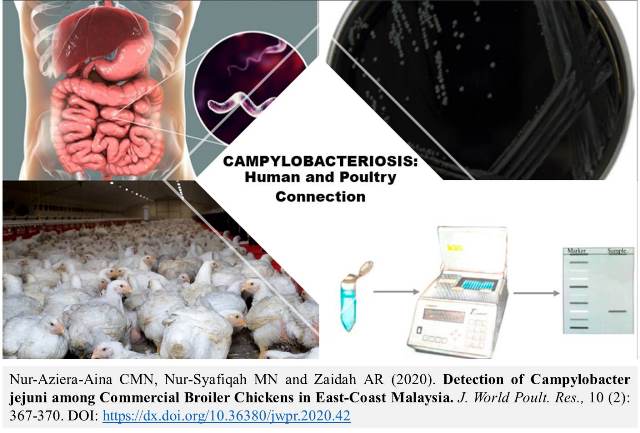 Research Paper
Detection of Campylobacter jejuni among Commercial Broiler Chickens in East-Coast Malaysia.

Nur-Aziera-Aina CMN, Nur-Syafiqah MN and Zaidah AR.

J. World Poult. Res. 10(2): 367-370, 2020; pii: S2322455X2000042-10
DOI: https://dx.doi.org/10.36380/jwpr.2020.42
ABSTRACT: Human campylobacteriosis is associated with contaminated foods and drinks or direct contact with the source of organisms. Broilers are the main reservoir of Campylobacter as well as the primary source of meat in many countries. The microorganism load in broilers is converted into the rate of food-related campylobacteriosis. The present study aimed to determine the Campylobacter jejuni colonization load in commercial broiler chickens in east coast Malaysia. Cloaca swabs were taken after consent from the owners of selected broiler farms in Kelantan, Malaysia. Swabs were kept in Amie's transport media before being placed in enrichment broth. The DNA was extracted directly from the broth and specific Polymerase Chain Reaction (PCR) was performed, which targeted hippurate hydrolase (hipO) gene of C. jejuni. Three broiler farms from different districts in Kelantan were identified. A total of 120 cloacal swabs were analyzed, 20% (24/120) confirmed by PCR-positive for hipO gene when the amplified product with the band size of approximately 344 bases per was visualized on agarose gel. It is concluded that the prevalence of C. jejuni colonization among living broiler flocks in Kelantan was at a low level. However, further studies with bigger sample size and involvement of more farms are needed.
Keywords: Broiler chicken, Campylobacter jejuni, Cloaca swab, Polymerase Chain Reaction, Hippurate hydrolase
[Full text-PDF] [XML] [Crossref Metadata] [Google Scholar]

---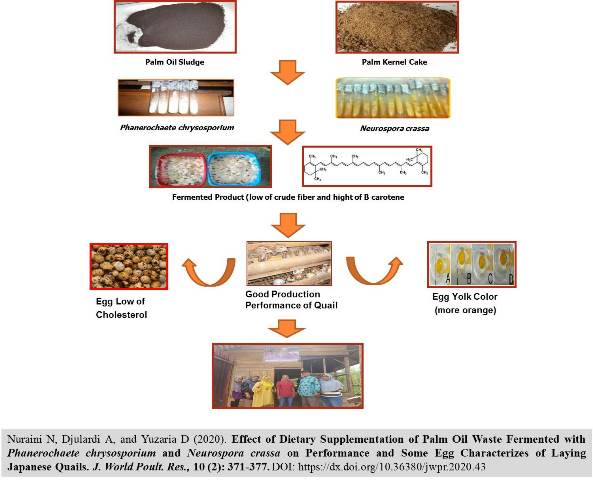 Research Paper
Effect of Dietary Supplementation of Palm Oil Waste Fermented with Phanerochaete chrysosporium and Neurospora crassa on Performance and Some Egg Characterizes of Laying Japanese Quails.

Nuraini N, Djulardi A, and Yuzaria D.

J. World Poult. Res. 10(2): 371-377, 2020; pii: S2322455X2000043-10
DOI: https://dx.doi.org/10.36380/jwpr.2020.43
ABSTRACT: The aims of present study was to determine the effect of dietary supplementation of palm oil waste fermented with Phanerochaete chrysosporium and Neurospora crassa (POWF) with ratio 1:1 on performance and some egg characterizes of laying Japanese quails. This experiment used 200 quails (Coturnix-coturnix japonica) aged 20 weeks, with 70% egg production. This study used an experimental method with a completely randomized design (CRD) with four treatments (0%, 8%, 16%, and 24% POWF and five replications). The results of this research showed that the use of POWF in the diet was not affected to feed consumption, daily egg production, egg mass, egg weight, and feed conversion. But, a significant difference in blood total cholesterol, LDL, HDL, egg cholesterol, and index egg yolk color was obsereved, and no significant effect on triglycerides and egg yolk fat. In conclusion, feeding the mixture of palm oil waste fermented with Phanerochaete chrysosporium, and Neurospora crassa with ratio1:1 can be used up to 24% in laying quail rations, without any adverse effect on egg production. It may decrease the blood cholesterol and egg yolk cholesterol.
Keywords: Eqq quality, Neurospora crassa, Palm oil waste, Performance, Phanerochaete chrysosporium, Japanese quail

[Full text-PDF] [XML] [Crossref Metadata] [Google Scholar]

---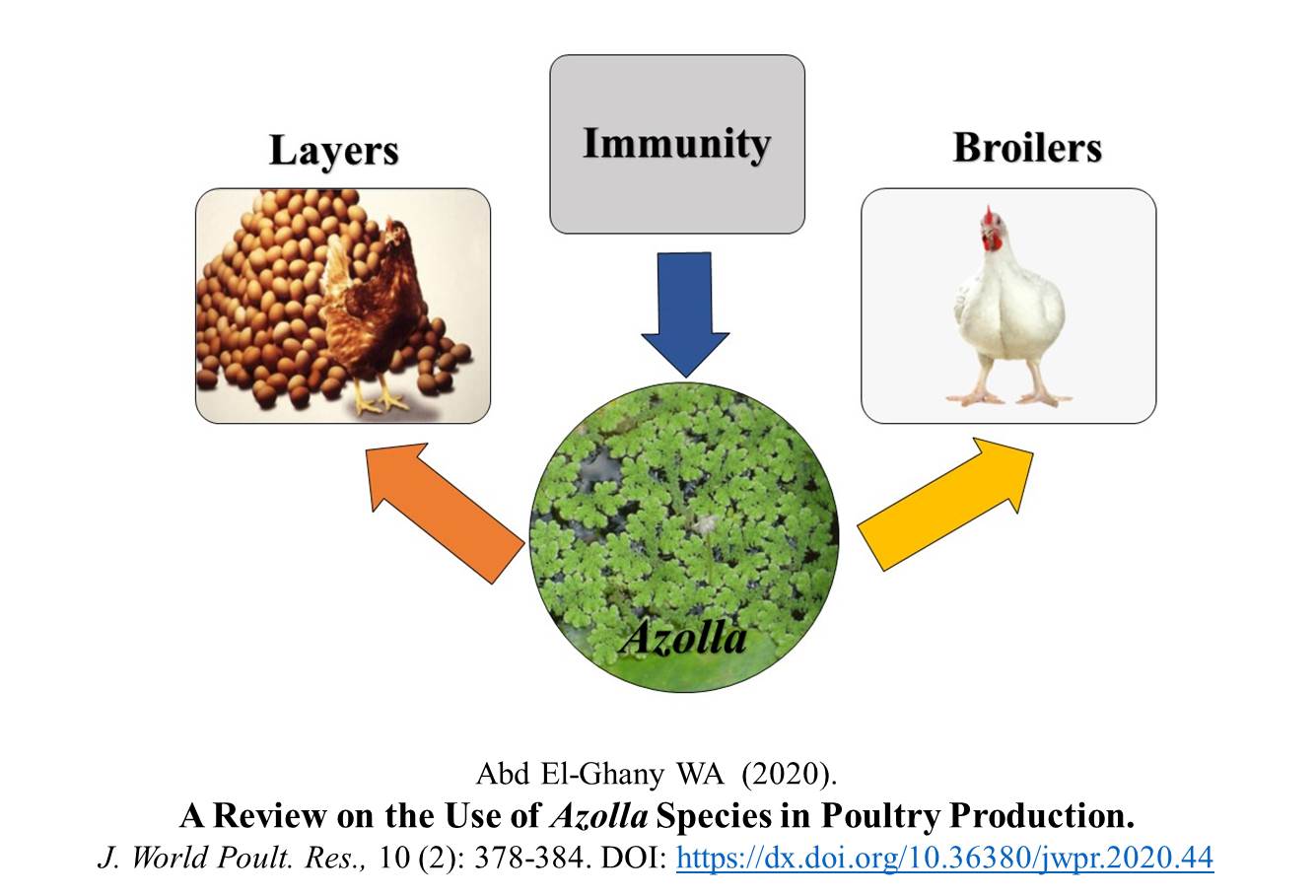 Review
A Review on the Use of Azolla Species in Poultry Production.

Abd El-Ghany WA

J. World Poult. Res. 10(2): 378-384, 2020; pii: S2322455X2000044-10
DOI: https://dx.doi.org/10.36380/jwpr.2020.44
ABSTRACT: Aquatic plants are receiving a lot of attention in nutrition research, which is due to their broad range of uses in animal and human food. Azolla is one of the commonly used these floating plants. Currently, different Azolla species are used as maintainable feed alternatives for cattle, pigs, poultry, and fish as dried flakes or fresh form. In addition to high protein and essential amino acid content of Azolla, the fern is rich in other nutrients such as minerals, vitamins, and pigments. There is a discrepancy in the use of Azolla to improve the productivity of poultry. However, most studies have indicated that the incorporation of broiler ration with certain levels of Azolla promotes feed intake, body weight gain, feed conversion rate, and general health conditions as Azolla comprises growth promoters. In layers, the use of Azolla improves productivity in terms of egg quantity and quality as Azolla contains pigments, minerals, and essential amino acids. Moreover, Azollas improves carcass traits at processing. Therefore, this review article provides information on Azolla plant, its composition, and the significance of its supplementation for different poultry species.
Keywords: Azolla, Broilers, Immunity, Layers, Performance

[Full text-PDF] [XML] [Crossref Metadata] [Google Scholar]

---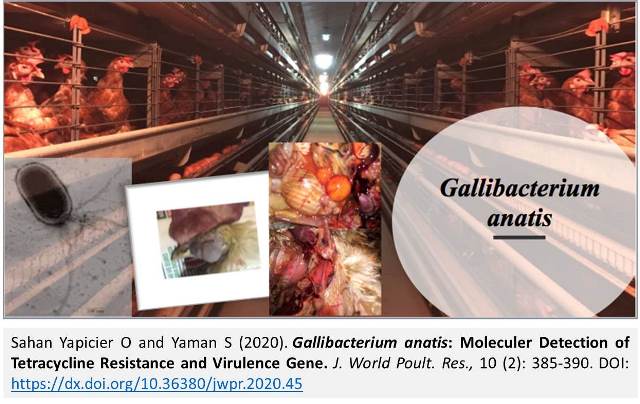 Research Paper
Gallibacterium anatis: Moleculer Detection of Tetracycline Resistance and Virulence Gene.

Sahan Yapicier O and Yaman S.

J. World Poult. Res. 10(2): 385-390, 2020; pii: S2322455X2000045-10
DOI: https://dx.doi.org/10.36380/jwpr.2020.45
ABSTRACT: Gallibacterium anatis causes infections in the reproductive tract of egg-laying hens and it is associated with increased mortality and decreased egg production. For this study we used singeleplex and multiplex PCR with specific primers to assess the presence of tetracycline resistance (Tcr) (tet A, B, C, D, E, G, H, K, L, M, O, S, P, Q and X), virulence [cytotoxic (RTX-like toxin, gtxA) and fimbrial (flfA)] genes and antibiotic resistance in G. anatis isolates. Among the 20 isolates tested, the highest antimicrobial resistance patterns were observed in erythromycin, streptomycin, tilmicosin (100%) followed by colistin sulphate (65%), cephalexin and tulathromycin (50%). Among 20 isolates examined, 10 (50%) carried tetracycline resistance genes, 7 (35%) had tet(B), 2 (10%) had tet(G), and 1 (5%) had tet(A), (D), (M) or (L). Of these G .anatis isolates were carried out 6 (30%) gtxA but none of flfA gene. Based on present results, it is concluded that virulence and Tcr genes could contribute to pathogencity of G. anatis, which is a major risk to poultry health.
Keywords: Antibiotic resistance, G. anatis, Poultry, Virulence genes, Tetracycline resistance genes

[Full text-PDF] [XML] [Crossref Metadata] [Google Scholar]

---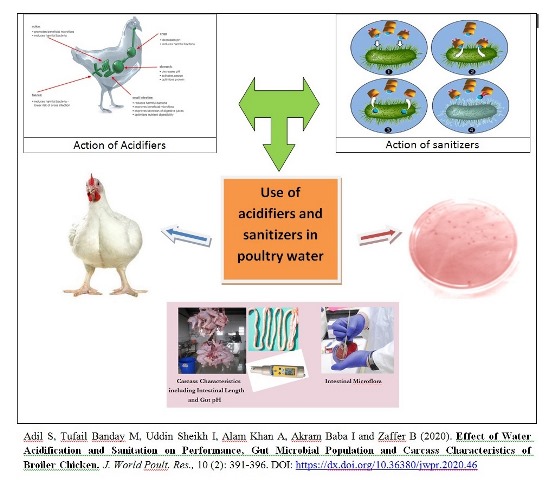 Research Paper
Effect of Water Acidification and Sanitation on Performance, Gut Microbial Population and Carcass Characteristics of Broiler Chicken.

Adil S, Tufail Banday M, Uddin Sheikh I, Alam Khan A, Akram Baba I and Zaffer B.

J. World Poult. Res. 10(2): 391-396, 2020; pii: S2322455X2000046-10

DOI: https://dx.doi.org/10.36380/jwpr.2020.46
ABSTRACT: Management of water is of utmost importance in order to ensure better performance of poultry birds. A study was thus conducted to evaluate the effect of water acidification and sanitation on performance, gut microbial population and carcass characteristics of broiler chicken. A total of 144 broiler chickens aged one-week were utilized for the study up to 6 weeks of age. The birds were distributed into 4 treatment groups of three replicates of 12 chickens. Untreated drinking water was routinely used in the control group (T1). In T2 and T3, acidifier and sanitizer were used in an amount of 1ml and 5ml/20 liters of water, respectively, while in T4 a combination of acidifier and sanitizer was used in similar doses. There was a significant effect of acidification and sanitization of water on body weight gain and feed conversion ratio of broiler chicken. The combination of acidifier and sanitizer (T4) was found to be highly effective in improving chickens' performance, followed by sanitizer alone (T3) and acidifier alone (T2), compared to the control group. There was no significant effect on various carcass characteristics of broiler chicken except for the gut pH and intestinal length. There was a significant effect on the pH value of various intestinal segments in broiler chickens using acidifier treated water (T2) compared to T1 and T3, but no statistical effect was noticed between T2and T4. A similar trend was noticed in the length of intestines of broiler chickens in various treatment groups. There was a significant reduction in Caecal Coliform Count ( in all the treatment groups that was used acidifier and sanitizer compared to the control group.
Keywords: Acidifier, Broiler chicken, Gut microbiology, Performance, Sanitizer

[Full text-PDF] [XML] [Crossref Metadata] [Google Scholar]

---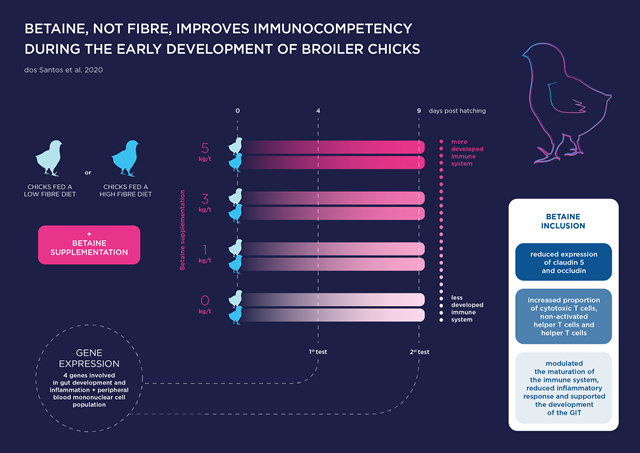 Research Paper
Immune Profile of Broilers between Hatch and 9 Days of Age Fed Diets with Different Betaine and Fibre Concentrations.

Santos TTdos, Baal SCS, Lee SA, Bedford M, Fávaro Jr C and Silva AVFda.

J. World Poult. Res. 10(2): 397-406, 2020; pii: S2322455X2000047-10
DOI: https://dx.doi.org/10.36380/jwpr.2020.47
ABSTRACT: An experiment was designed to determine the immune profile of broiler chickens between hatch and 9 days of age when fed diets with different fibre and betaine concentrations. A total of 240 day-old Cobb 500 male chickens were allocated to 16 cages with 15 chickens each. Treatments were arranged in a 2 x 4 factorial design, with 2 replicate cages per treatment. Treatments consisted of two feed formulations (low and high fibre diets) and four levels of betaine (0, 1, 3 or 5 kg/tonne). Before the start of trial (hatch), 10 broilers were weighed and blood samples were collected by cardiac puncture, then euthanised by cervical dislocation and jejunal samples collected for the determination of gene expression of claudin 1, claudin 5, occludin and interleukin 2 by PCR. Mononuclear cells populations in the blood samples were determined by flow cytometry. On days 4 and 9, five birds/cage (10 birds/treatment) were selected, euthanised and samples taken as per the start of hatch. Gene expression of claudin 1, claudin 5 and occludin was reduced between 4 and 9 days, independent of the group tested, while interleukin tended to increase between hatch and 4 days and decreased thereafter. Betaine inclusion reduced claudin 5 and occludin gene expression and increased CD8- CD28+ and CD8+ CD28+, suggesting it may aid in accelerating maturation of both the gastrointestinal tract and immune system for broilers in the early days post-hatch.
Keywords: Betaine; Fibre; Gene expression; Maturation; Immune response

[Full text-PDF] [XML] [Crossref Metadata] [Google Scholar]

---
Previous issue | Next issue | Archive

This work is licensed under a Creative Commons Attribution 4.0 International License (CC BY 4.0).