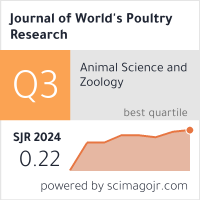 Previous issue | Next issue | Archive
Volume 7 (2); June 25, 2017 [Booklet]

---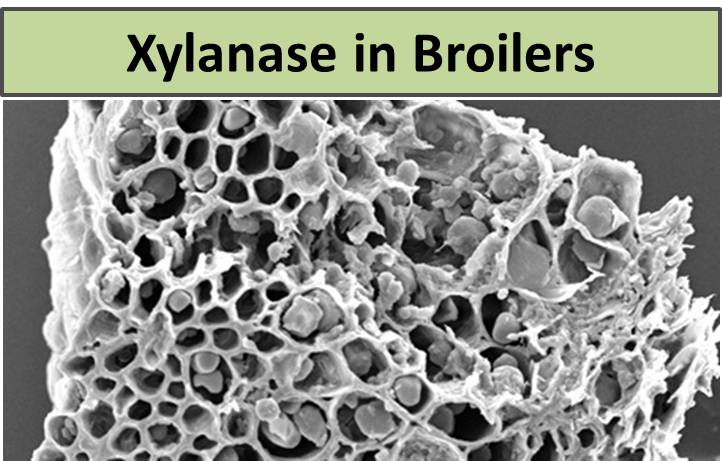 Research Paper
Understanding the Direct and Indirect Mechanisms of Xylanase Action on Starch Digestion in Broilers.

Lee SA, Wiseman J, O'Neill HVM, Scholey DV, Burton EJ and Hill SE.

J. World Poult. Res. 7(2): 35-47; pii: S2322455X1700006-7
ABSTRACT:
The objective of the current study was to investigate the mechanisms of xylanase action in a maize-soya diet and its effect on starch digestion. A total of 60 broilers were divided into 6 treatment groups; a control group without xylanase, and five other groups supplemented with xylanase (Econase XT 25; 100 g/t) from 1, 2, 3, 4 or 5 weeks before slaughter. At the end of the experiment, digesta was collected from the gizzard, upper and lower small intestine, and both caeca. Digesta pH ranged from pH 2.2-4.4, 5.9-6.6, 6.7-7.8 and 5.7-7.3 in the gizzard, upper small intestine, lower small intestine, and both caeca, respectively, with no effect of xylanase (P > 0.05). Scanning Electron Microscope (SEM) images along with total starch measurements showed the progression of starch digestion through the tract. The SEM did not show any greater disruption to cell wall material with xylanase supplementation. This suggests that xylanase was not working directly on the cell wall and provides evidence for the hypothesis that xylanase works through an indirect mechanism. Peptide YY (PYY) concentration in the blood was higher during the first few weeks of supplementation, with longer periods of supplementation nulling this effect, implying that xylanase may be acting through a prebiotic mechanism. The RT-q PCR results revealed a numerical increase in glucose transporter (GLUT2 and SGLT1) expression at 2 and 3 weeks of xylanase supplementation, respectively, which might suggest a greater absorption capacity of birds. From these results, a potential mechanism of xylanase action in maize-based diets has been proposed.
Key words: Broiler, Maize, Starch, Xylanase
[Full text-PDF] [XML] [Import into EndNote] [Citations on Google Scholar]

---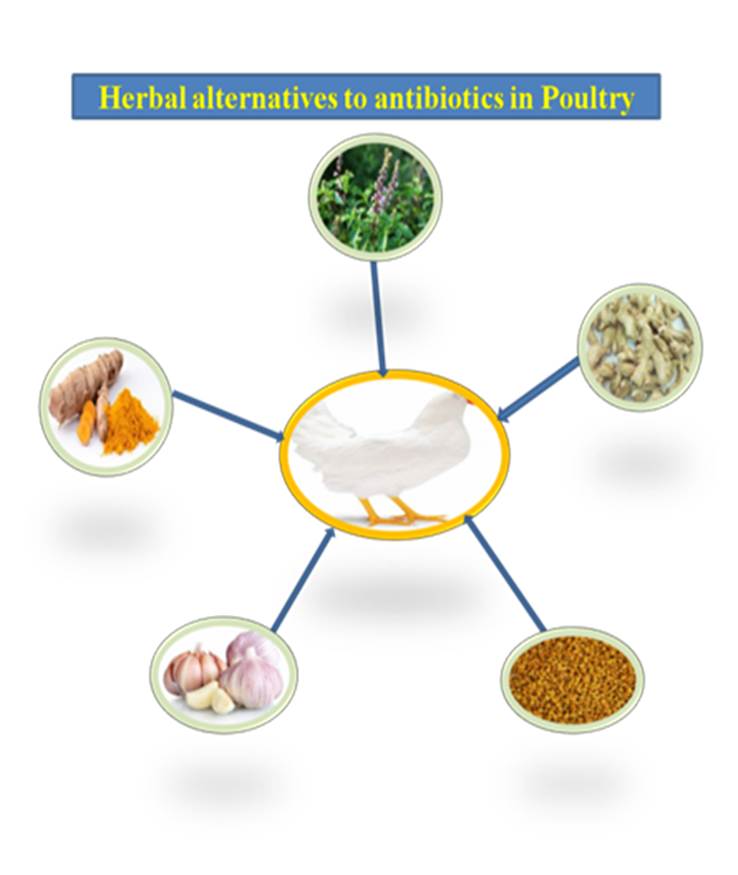 Research Paper
Effect of Blend Herbal Supplement on Haematology and Serum Biochemistry in Commercial Layer Chicken.

Sakthi Priya M, Gopala Krishna Murthy TR and Vijayanand T.
J. World Poult. Res. 7(2): 48-56; pii: S2322455X1700007-7
ABSTRACT:
Many herbal supplements are tested for theirs efficacy in poultry to replace the antibiotic growth promoter. Hence this study was carried out to find the effect of a blend herbal preparation (Ocimum sanctum, Zingiber officinale, Allium sativum, Trigonella foenum graceum and Curcuma longa) on the vital parameters in layers. An experimental trial for three weeks was carried out on 80 layers aged 11 weeks. Birds were randomly divided to 4 groups with 2 replicate for each group and supplemented by herbal preparation @ 0.1 percent, 0.25 percent and 0.5 percent in feed. The results indicated a significant increase in the red blood cells count, white blood cell count, total protein, albumin, globulin, calcium, phosphorus and reduction in the enzyme aspartate aminotransferase and alkaline phosphatase with alanine aminotransferase in the normal range. The significant increase in the vital parameters, decrease in hepatic enzymes inside the clinically healthy condition denote that the birds were in good health. Birds increased nutrient utilization, improved oxygen carrying capacity and caused active immune system. The better absorption of minerals like calcium and phosphorus signifies the role of herbs in enhancing digestion performance. Oral feeding caused a normal activity of hepatic enzymes which can prove safety and hepatoprotective nature of these herbs. Therefore, it can be concluded that supplementation of these herbs in the layer feed could be important in prevention of diseases in birds. However further studies are recommended to indicate the toxic levels of these herbs and optimize the beneficial dosage in diet of layer birds.
Key words: Enzymes, Haematology, Herbs, Layers, Serum biochemistry.
---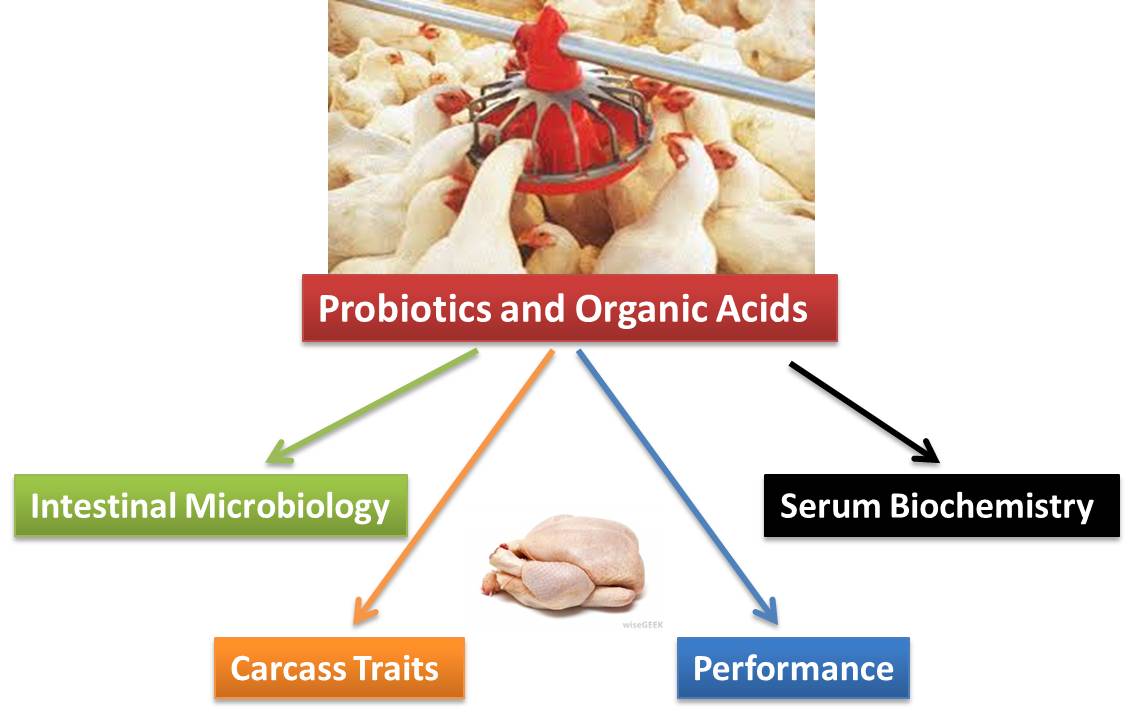 Research Paper
Effects of Dietary Inclusion of Probiotics and Organic Acids on Performance, Intestinal Microbiology, Serum Biochemistry and Carcass Traits of Broiler Chickens.

Youssef IMI, Mostafa AS and Abdel-Wahab MA.

J. World Poult. Res. 7(2): 57-71; pii: S2322455X1700008-7
ABSTRACT:
This study was conducted to evaluate the effects of probiotics and organic acids, as alternative feed additives to antibiotics, on productive performance of broilers. Two different types of probiotics varying in the microbial content were tested and organic acids blend was compared against a single organic acid (lactic acid). One hundred and ninety eight broiler chicks were randomly allocated into six treatments, each with 33 chicks. Every treatment consisted of 3 replicates with 11 birds per replicate. The dietary treatments were a control diet without any feed additives or the same control diet supplemented either with a commercial antibiotic (Maxus®G200), probiotics (Bactocell® or Biopellet-S®) or acidifiers (Salmo-Nil Dry® or lactic acid). The antibiotic was added to the diet at the rate of 0.005%, whereas the probiotics were used at 0.01%. The product Salmo-Nil Dry® was provided to the diet at a level of 0.4%, whereas the lactic acid was used at 0.20 %. It was found that the antibiotic, probiotics and lactic acid increased the body weight. All dietary supplements improved the FCR compared to the control. The additives reduced the serum cholesterol level and the pH of small intestine but did not affect the carcass yield, breast or organ weights. The feed supplements showed a numerical decrease in intestinal aerobes, fecal coliforms and E. coli counts. In addition, all additives significantly reduced total aerobic and staphylococcus counts in the carcass meat, with a numerical decrease in E. coli count. In conclusions, probiotics and acidifiers can be used as potential alternatives to antibiotics in broiler diets. No difference between the used types of probiotics was detected. Lactic acid alone seems to produce better performance results than the organic acid mixture. The effect of lactic acid produced by bacteria might be similar to that of the chemical one.
Key words: Broilers, Probiotic, Organic acids, Performance, Lactic acid, Carcass

[Full text-PDF] [XML] [Import into EndNote] [Citations on Google Scholar]

---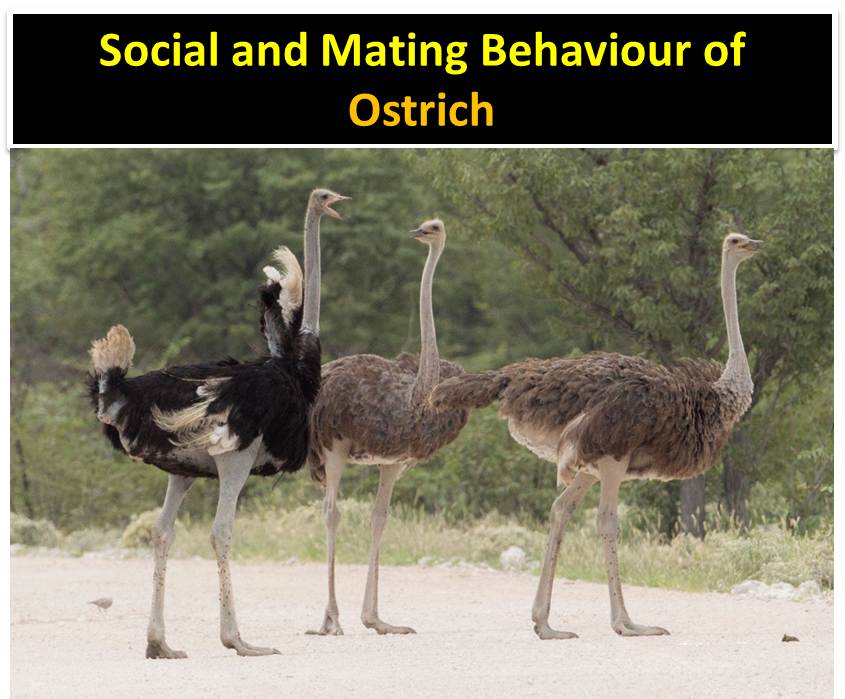 Review
Understanding of Social and Mating Behaviour of Ostrich (Struthio camelus).

Mukhtar N, Gazala and Waseem Mirza M.

J. World Poult. Res. 7(2): 72-78; pii: S2322455X1700009-7
ABSTRACT:
The ostrich is the largest wild ratite bird. The head of ostrich is 1.8-2.75m above ground due to large legs. The ostrich is the largest vertebrate and achieves a speed of 60-65km/h. There are four extinct subspecies and limited to Africa. The preferred habitat in nature is the open area, small grass corners and open desert. They choose more open woodland and avoid areas of dense woodland and tall grass. In natural environment, ostrich is gregarious and lives in groups. This small crowd are led mature sire or dam. Walking, chasing and kantling are exhibited to protect the territories by males. Off springs are protected by adults from predator by mock injury. Other behaviours are yawning, stretching and thermoregulation. Frequency of mating is low in captivity. Mostly male-female ratio is 1:2 (Male: Female) kept in experiment and ostriches are selective in case of their mates and they might direct their courtship displays at humans rather than their mates, due to the presence of humans around in captivity. The breeding behaviour of ostriches is improved due to external application of L-carnitine-magnesium supplement.
Keywords: Ostrich, Mating, Behaviour, Courtship, Breeding
---

Research Paper
Performances of Broiler Chickens Fed on Diet Supplemented with Thyme and Oregano Essential Oils Stabilized in a Plant Charcoal Matrix.

B Ngouana Tadjong R, Kana JR, Tsafack Necdem B, Yemdjie Mane DD, Mube Kuietche H, Kuiede S, Teguia A and Meimandipour A.

J. World Poult. Res. 7(2): 79-87; pii: S2322455X1600010-7
ABSTRACT:
This study was designed to mitigate the volatile and oxidative ability of essential oils (EOs) in poultry feed using natural plant charcoal. The dietary treatments consisted of supplementing control diet (R0) with 0.01% of the mixture (1/1) of thyme and oregano EOs (RTh+or), 0.2% of Canarium charcoal without EO (R0C), 0.2% charcoal respectively enriched with 0.01% of thyme EO (R0C+Th), oregano EO (R0C+Or) and the mixture of EOs (R0C+Th+Or). Results revealed a non-significant increase in weight gain for about 5 and 6%, respectively with the mixture of the EOs without charcoal and charcoal enriched with the mixture of the EOs compared to the control (R0). The carcass yield was higher with oregano EO and the mixture of EOs compared to the other treatments. Intestinal density was lower (P < 0.05) with the mixture of the EOs compared to thyme EO alone and the control ration. Charcoal containing EOs significantly increased (P < 0.05) total protein in serum content, triglycerides, albumin, globulin and decreased serum content in creatinin, ASAT, ALAT and cholesterol. Hematological parameters were not significantly affected by the treatments. The blend of EOs associated or not to charcoal increased lactic acid bacteria count in both the ileum and the cæcum as compared to E. coli and salmonella. It was concluded that Canarium charcoal can be used to stabilize EOs in the feed for gut microbiota modulation and better growth performances of broiler chickens.
Key words: Broiler, Essential oil, Hematology, Gut microbiota, Oregano, Plant charcoal, Thyme

[Full text-PDF] [XML] [Import into EndNote] [Citations on Google Scholar]

---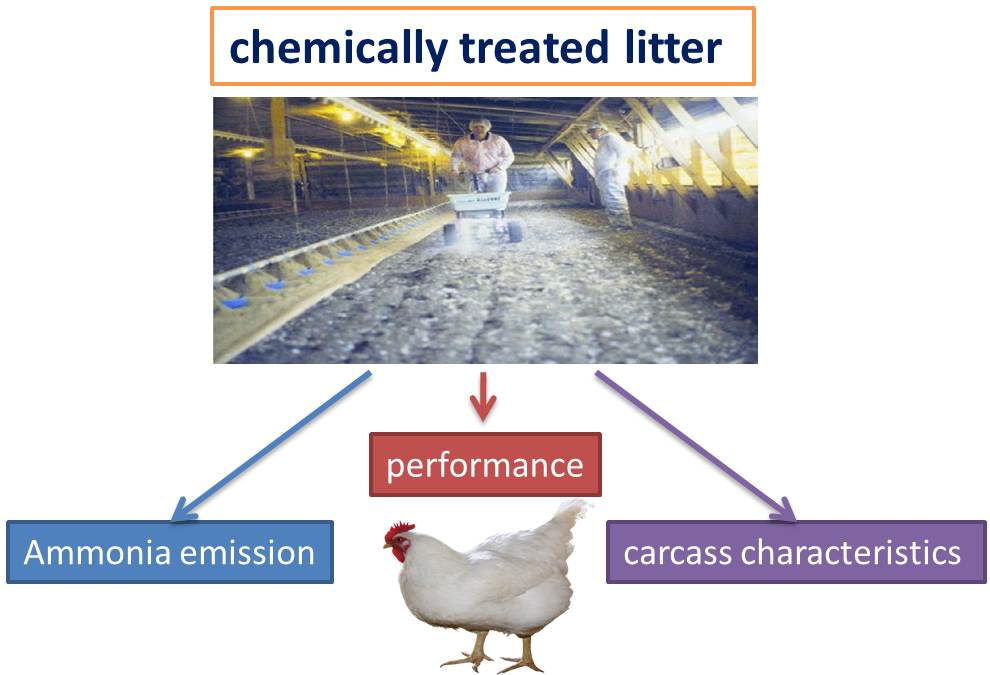 Research Paper
Effect of Chemically Treated Litter on Ammonia Emission, Performance and Carcass Characteristics of Broiler Chicken.

Rashid A, Banday MT, Adil S, Khan AA, Qureshi S, Untoo M, and Pal MA.

J. World Poult. Res. 7(2): 88-93; pii: S2322455X1700011-7
ABSTRACT:
The condition of litter is a single major factor in deciding the emission of various harmful gases particularly ammonia, which is a major environmental concern, affecting the overall welfare of birds. Therefore, a study was conducted with the objectives to assess the effect of two chemicals namely aluminum sulfate and calcium carbonate on litter ammonia emission, performance and carcass characteristics of broiler chicken. A total of 240 day old Cobb broiler chicks were randomly distributed into four treatment groups, each having 4 replicates of 13 chicks each. In the control group no chemical was added to litter; however, in other groups litter was treated with Aluminum Sulfate (AS) @ 25g/kg; Calcium Carbonate (CC) @ 50g/kg; and combination of 25g Aluminum Sulfate and 50g Calcium Carbonate/kg (ASCC). The results revealed a significant (P0.05) difference among themselves. AS was found to be highly effective in reducing the ammonia emission levels, either by itself or in combination, with values of 9.46 ± 0.35 (AS) and 10.499 ± 0.39 (ASCC) compared to 47.7 ± 2.40 and 51.15 ± 1.85 ppm in CC and control. A significant (P0.05) differences were found with respect to various carcass characteristics among treatment groups as compared to control. In conclusion, compared to CC, AS was found to be highly effective in reducing the litter ammonia emission and improving the performance of birds.
Key words: Aluminium sulphate, Ammonia emmsision, Broiler chicken, Performance

---
Previous issue | Next issue | Archive
This work is licensed under a Creative Commons Attribution-NonCommercial 4.0 International License.