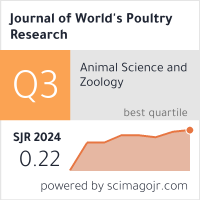 Previous issue | Next issue | Archive

Volume 11 (3); September 25, 2021 [Booklet]

---
Growth Performance and Nutrient Digestibility in Broiler Chickens Fed with an Encapsulated Blend of a Phytogenic Feed Additive

Syed B, Kesselring J, Sánchez J and Gracia M.

J. World Poult. Res. 11(3): 278-285, 2021; pii: S2322455X2100033-11
DOI: https://dx.doi.org/10.36380/jwpr.2021.33
ABSTRACT: Phytogenic Feed Additives (PFAs) from herbs, spices, and derived natural or corresponding synthetic chemically defined flavorings have gained momentum due to the rising worldwide ban of Antibiotic Growth Promoters (AGPs) in food animals. The present study evaluated the efficacy of a PFA in broiler chickens diets on growth performance and digestibility parameters. A total of 880 male one-day-old broiler chickens (Ross 308) were randomly assigned to two dietary treatments, each with 20 replicates and 22 chickens per replicate. A corn-soybean-based diet was fed for 42 days as a control diet without PFA, and a treatment diet contained a blend of Carvacrol, Thymol, Carvone, Methyl salicylate, and Menthol encapsulated (as PFAs) at 65 g/ton of feed. Chickens supplemented with PFA had a 3.6% higher Body Weight Gain (BWG) during the starter phase (0 to 14 days) than those in the control group (25.9 versus 25.0 g/d) and a 2.9% reduced Feed Conversion Ratio (FCR) during the same period, compared to the control group (1.34 versus 1.38). Improved FCR (1.95 versus 2.01) was recorded in the PFA supplemented broiler chickens during the finisher phase (35 to 42 days) as well as throughout the experimental period from 1 to 42 days, compared to the control group (1.60 versus 1.62). In addition, the apparent ileal protein digestibility improved by 3.9% during 42 days, compared to the control group (74.3 vs 71.5%). Enhanced ileal protein digestibility and a reduced FCR suggested a cost-effective potential of PFA to improve broiler chickens' production performance.
Keywords: Broilers, Digestibility, Feed conversion ratio, Performance, Phytogenic feed additive

[Full text-PDF] [XML] [Crossref Metadata]
---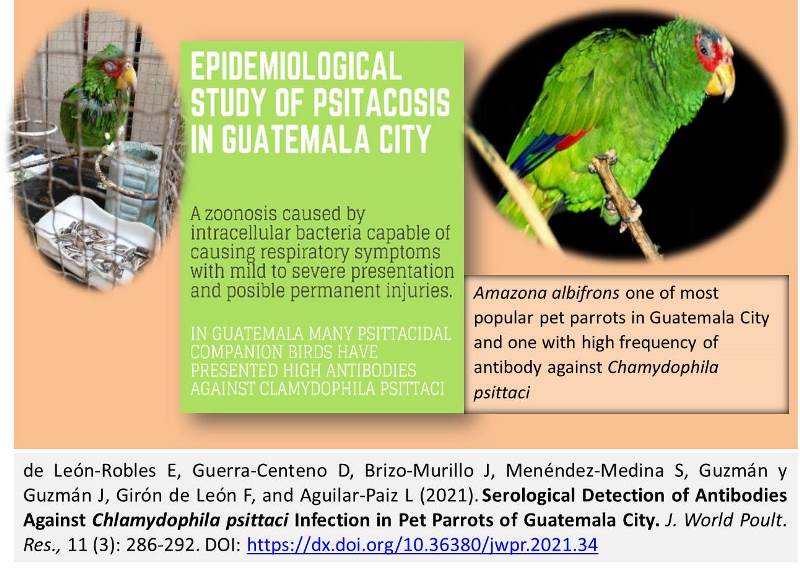 Research Paper
Serological Detection of Antibodies Against Chlamydophila psittaci Infection in Pet Parrots of Guatemala City

de León-Robles E, Guerra-Centeno D, Brizo-Murillo J, Menéndez-Medina S, Guzmán y Guzmán J, Girón de León F, and Aguilar-Paiz L.

J. World Poult. Res. 11(3): 286-292, 2021; pii: S2322455X2100034-11
DOI: https://dx.doi.org/10.36380/jwpr.2021.34
ABSTRACT: Avian chlamydiosis (AC), caused by Chalmydophila psittaci (C. psittaci), is a relevant zoonotic disease transmitted to humans through psitassine or pet birds. Guatemala is a megadiverse country where parrots are commonly kept as pets. Considering such a situation and the fact that respiratory diseases are some of the main causes of morbidity in the human population, the epidemiology of AC in pet parrots has not been sufficiently investigated. The purpose of the present study was to investigate the presence and frequency of antibodies against C. psittaci in pet parrots in Guatemala City, Guatemala. Blood samples were collected from 100 parrots belonging to 17 species (Amazona auropalliata, A. farinosa, A. autumnalis, A. albifrons, Agapornis roseicollis, Ara macao, A. militaris, Aratinga astec, Brotogeris jugularis, Cacatua alba, Eupsittula canicularis, E. nana, Melopsittacus undulatus, Ninficus hollandicus, Pionus senilis, and Psittacara strenuus) representing 19 of the 20 zones of Guatemala. Imunoglobulins (Ig) G antibodies against C. psittaci were detected using Enzyme-linked Immunosorbent Assay tests. The prevalence rate of C. psittaci was reported at 11% (95% CI = 4.87%, 17.13%) indicating the presence of AC pet parrots in Guatemala City. Therefore, Guatemalan sanitary authorities should take some measures and the physicians must consider C. psittaci as a possible cause of a severe respiratory disease condition in people residing in this city.
Keywords: Avian chlamydiosis, Epidemiology, Psittacosis, Public health, Zoonosis

[Full text-PDF] [XML] [Crossref Metadata]
---
Effects of Different Levels of Moringa oleifera Whole Hydroalcoholic Extract and Seed Powder on the Hatching Rate, Nutritional Value, and Immune Response of Chukar Partridge Eggs

Habibi H, Kohanmoo MA, and Ghahtan N.

J. World Poult. Res. 11(3): 293-301, 2021; pii: S2322455X2100035-11
DOI: https://dx.doi.org/10.36380/jwpr.2021.35
ABSTRACT: The present study aimed to investigate the effect of different levels of Moringa oleifera whole seed powder (MOWSP) and whole seed hydroalcoholic extract (MOWSE) on biochemical factors including minerals, fatty acids profiles, Haugh units, cholesterol content, immune response, and hatchability rate of the eggs of Chukar partridge. A total of 225 Chukar partridge were randomly divided into five groups with three replicates of 15 birds in each group. The MOWSP was provided as a supplement at the rates of 0 g (control), 5 g, and 10 g per each kg of a diet and MOWSE at the rates of 0.5 % and 1% in drinking water. Hatchability rate and Haugh unit were, respectively, increased and decreased in all treatments in comparison with the control group. The highest and the lowest hatchability rates were recorded in the MOWSE-1% and MOWSE-0.5% supplemented groups, respectively. Birds fed with MOWSE-1% had significantly higher Iron levels than birds fed with the control diet. However, copper, zinc, and magnesium levels in the Chukar partridge eggs had no significant change, compared with the control group. Further, the C18:1, C17:0, and C16:0 of eggs were increased in response to the increase of dietary MOWSP supplementation, however, proportions of C18:0 and C18:2 decreased. It was also found that MOWSE-1% increased the antibody titers of Newcastle Disease vaccine on 69 days and MOWSP-1% and MOWSE-1% increased the titers of Avian Influenza on 59 days. It was concluded that 1% of MOWSP or MOWSE is a beneficial additive for Chukar partridge.
Keywords: Alectoris chukar, Cholesterol, Fatty acids profiles, Hatchability, Minerals

[Full text-PDF] [XML] [Crossref Metadata]

---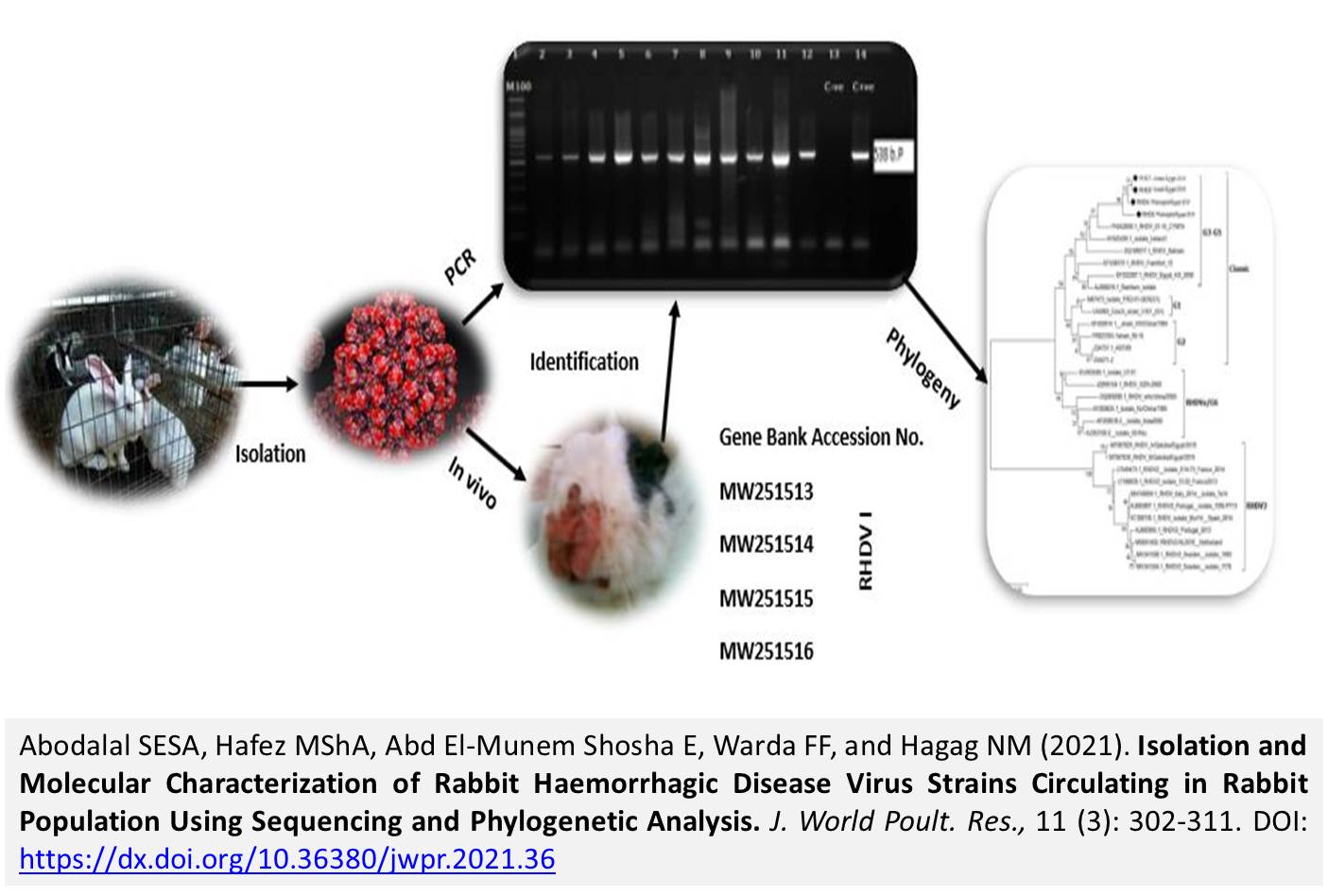 Research Paper
Isolation and Molecular Characterization of Rabbit Haemorrhagic Disease Virus Strains Circulating in Rabbit Population Using Sequencing and Phylogenetic Analysis n Upper Egypt

Abodalal SEA, Hafez MShA, Abd El-Munem Shosha E, Warda FF, and Hagag NM.

J. World Poult. Res. 11(3): 302-311, 2021; pii: S2322455X2100036-11
DOI: https://dx.doi.org/10.36380/jwpr.2021.36
ABSTRACT: Rabbit hemorrhagic disease (RHD) is a contagious viral disease that threatens rabbit farms locally and globally. The disease causative agent is the RHD virus (RHDV) of the family Caliciviridae. The present study aimed to identify and characterize RHDV strains currently circulating in Upper Egypt provinces. A total of 20 suspected RHDV samples were collected from non-vaccinated rabbit flocks from January to December 2019 in Upper Egypt governorates (New Valley and Assuit), Egypt. The RHDV was confirmed through the hemagglutination test (HA) and reverse transcription-polymerase chain reaction (RT-PCR). Further characterization of selected 4 isolates was performed by nucleotide sequencing of a partial VP60 gene. All of 11 RHDV RT-PCR-positive samples were positive for HA activity against human RBCs type "O". Based on the nucleotide sequencing, the selected 4 isolates were clustered as RHDV-1 variant strains (G3-G5). The nucleotide sequence identities of the 4 isolates were 94.2-100 %, compared to available RHDV strains from GenBank. In conclusion, the presence of RHDV-1 variant strains was detected and confirmed that threatens the rabbit's populations in New Valley and Assuit governorates.
Keywords: Upper Egypt, Nucleotide sequencing, Rabbit hemorrhagic disease virus, Reverse transcription-polymerase chain reaction, VP60

[Full text-PDF] [XML] [Crossref Metadata]

---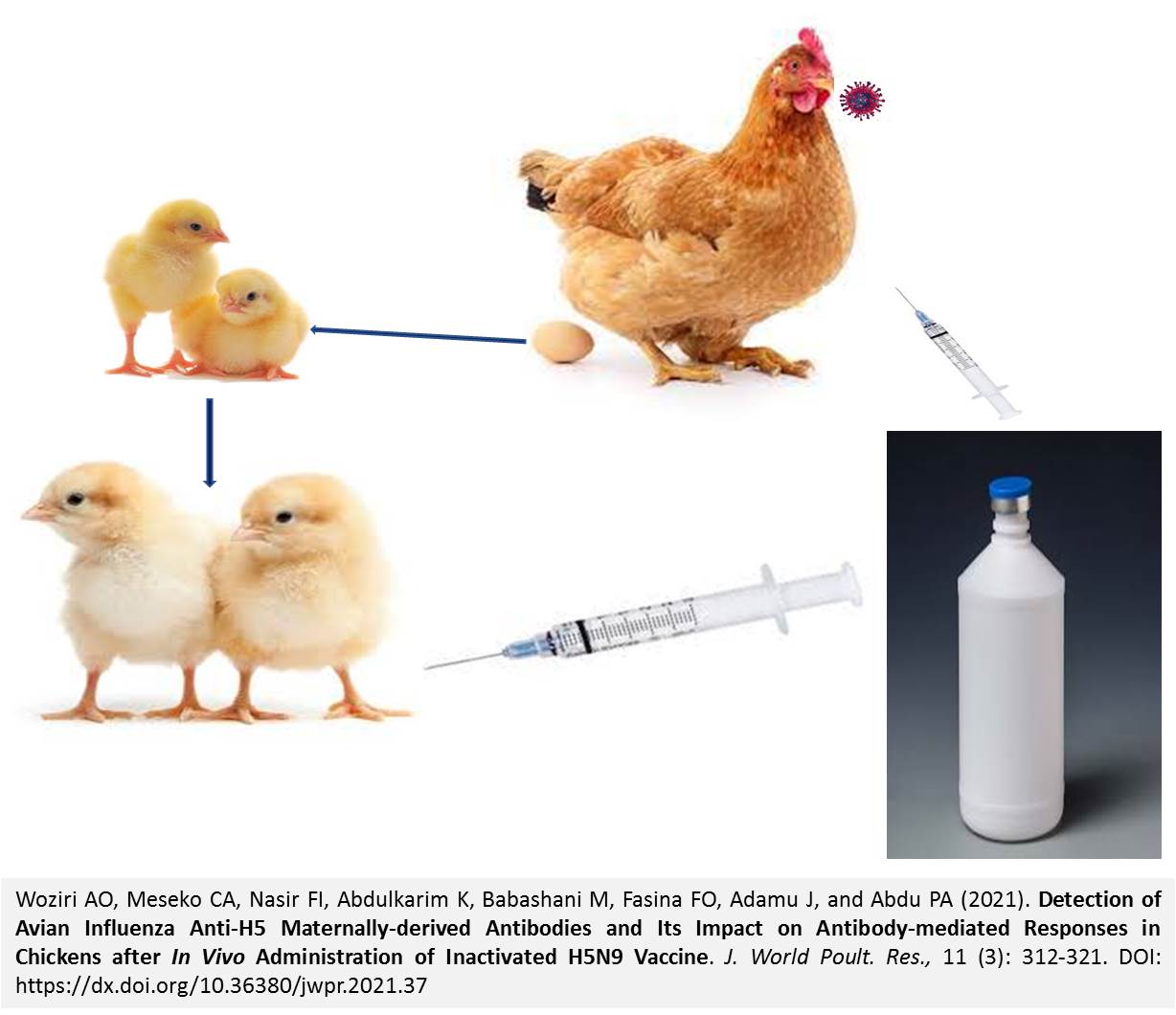 Research Paper
Detection of Avian Influenza Anti-H5 Maternally-derived Antibodies and Its Impact on Antibody-mediated Responses in Chickens after In Vivo Administration of Inactivated H5N9 Vaccine

Woziri AO, Meseko CA, Nasir FI, Abdulkarim K, Babashani M, Fasina FO, Adamu J, and Abdu PA.

J. World Poult. Res. 11(3): 312-321, 2021; pii: S2322455X2100037-11
DOI: https://dx.doi.org/10.36380/jwpr.2021.37
ABSTRACT: In the current study, two experiments were performed to ascertain the existence of avian influenza H5 maternally-derived antibodies (MDA) in chickens and evaluate their effects on the humoral immune responses of chickens vaccinated with a commercial oil-emulsion inactivated avian influenza H5N9 vaccine. A total of 120 one-day-old ISA brown chicks were sourced from three different commercial hatcheries (n = 40 per hatchery) in Nigeria and used for this study. For the second experiment, ten chicks were randomly collected from each hatchery and grouped into A0, B0, and C0 at one day old, and one ml of blood was collected from five randomly selected chicks via the heart or brachial vein at 1, 7, 14, 21, 28, 35, and 42 days of age for the assessment of avian influenza H5 MDA. For the second experiment, 2 ml of blood was collected from the heart or brachial vein of 3 randomly selected chicks from each subgroup at 14, 21, 28, 35, and 42 days of age for evaluation of the interaction of MDA with anti-avian influenza vaccinal antibodies when different doses of the H5 antigen was administered via either IM or SC routes at 14 and 28 days of age. Sera were analyzed using ProFlok® AIV ELISA kit. This study detected AIV H5 MDA in all chicks sampled, with total decay times of 22.3, 27.3, and 26 and mean half-life (t1/2) of 2.5 ± 0.4, 3 ± 0.6, and 2.9 ± 0.4 days for chicks from hatcheries A, B, and C. The obtained results of the second experiment showed that at 21 days of age, the mean antibody titer levels of chicks from A1, B1, and C1 were respectively 57.7 ± 49.9, 260.7 ± 124.8, and 2205 ± 409.1 when the antigen was administered IM and the reported values for SC administration were respectively 53.3 ± 36, 646.3 ± 237.9 and 2,444.3 ± 1,110.6. This means that variable MDA titers interfered with the humoral immune responses of the chick's post-vaccination. Chicks may, therefore, be vaccinated against AIV H5 subtypes between day 14 and 21 of age, preferable via the SC route to avoid significant interference by AIV H5 MDA.
Keywords: Avian influenza virus, Chicks, Dose, Hatcheries, Maternally-derived antibodies, Route, Vaccine

[Full text-PDF] [XML] [Crossref Metadata]
---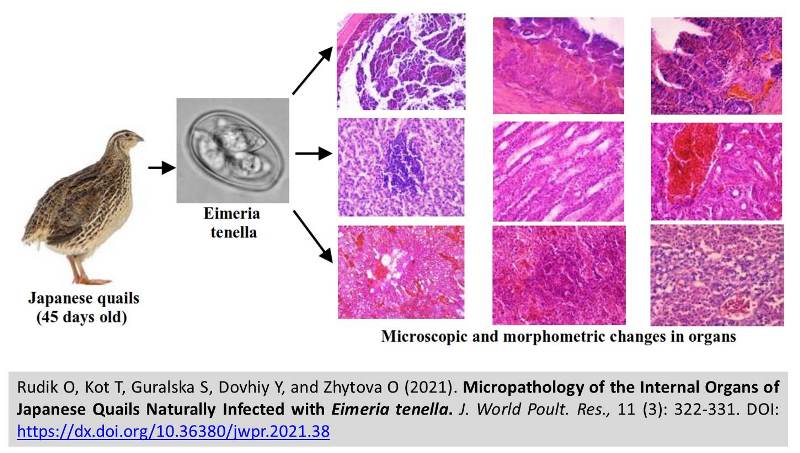 Research Paper
Micropathology of the Internal Organs of Japanese Quails Naturally Infected with Eimeria tenella

Rudik O, Kot T, Guralska S, Dovhiy Y, and Zhytova O.

J. World Poult. Res. 11(3): 322-331, 2021; pii: S2322455X2100038-11
DOI: https://dx.doi.org/10.36380/jwpr.2021.38
ABSTRACT: Сoccidiosis is a protozoan disease caused by Eimeria bateri (E. bateri), Eimeria tsunodai (E. tsunodai), Eimeria uzura (E. uzura), Eimeria tenella (E. tenella), Eimeria necatrix (E. necatrix), and Eimeria acervulina (E. acervulina). The goal of the current study was to explore the micropathology of the duodenum, jejunum, caecum, liver, lung, spleen, kidney, adrenal gland of Japanese quails naturally infected with. E. tenella. The histopathological examination revealed that developmental E. tenella led to the damage of caecal, duodenal, and jejunal. Necrosis and desquamation of the integumentary epithelium, atrophy of crypts and folds, hemorrhages, lymphoid infiltration were confirmed in the mucous membrane of these intestines. The main changes observed in the parenchymal organs involved the fatty dystrophy of hepatocytes and lymphoid infiltration of parenchyma of the liver, stagnant hyperemia and edema of the lungs; granular dystrophy and necrosis of epithelial cells of the collecting ducts of the kidneys, venostasis of blood sinusoids of the spleen, hyperplasia of interrenal tissue, and dystrophia of suprarenal tissue of the adrenal gland. Morphometric studies have shown that pathological changes in the organs of quails infected with E. tenella led to a decrease in the thickness of the caecal mucosa, volume of the parabronchial lumen of the lung, and the number of renal corpuscles of the infected group, compared to the control group. The indicators of the interrenal-adrenal index of the adrenal glands, the number of clusters of lymphoid cells of the liver, and lymphoid nodules of the spleen increased. The received information could offer deep insights about pathogens in quails coccidiosis and can be used for planning therapeutic measures.
Keywords: Eimeria tenella, Internal organs, Japenese quail, Microscopic changes, Morphometrical indices

[Full text-PDF] [XML] [Crossref Metadata]
---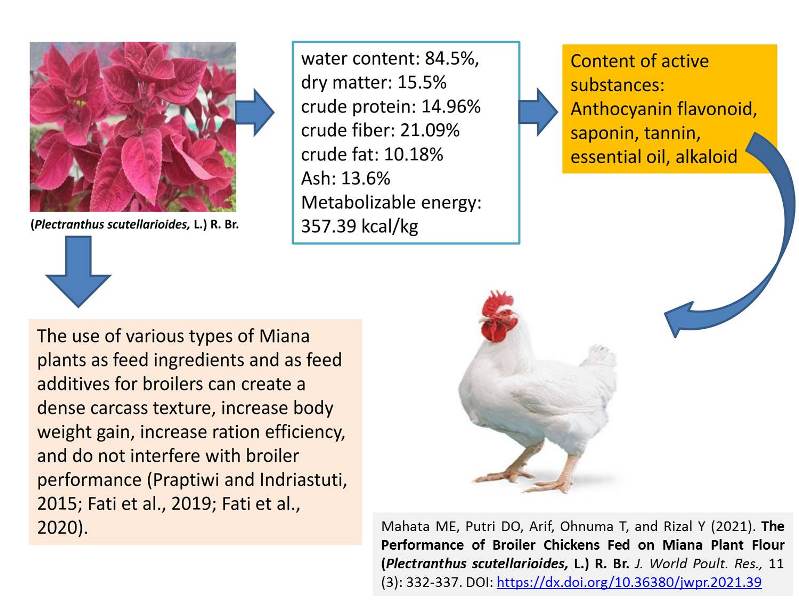 Short Communication
The Performance of Broiler Chickens Fed on Miana Plant Flour (Plectranthus scutellarioides, L.) R. Br.

Mahata ME, Putri DO, Arif, Ohnuma T, and Rizal Y.

J. World Poult. Res. 11(3): 332-337, 2021; pii: S2322455X2100039-11
DOI: https://dx.doi.org/10.36380/jwpr.2021.39
ABSTRACT: The aim of the present study was to evaluate the effect of Miana plant flour (Plectranthus scutellarioides, L.) R. Br. in the diet on the performance of broiler chickens. The current study used 100 broiler chickens from day-old chicks, and a commercial diet was given up to seven days for the adaptation period. The present experiment was designed in a completely randomized design with five different levels of Miana plant flour (0, 5%, 7.5%, 10%, and 12.5%) in broiler chicken's diet as treatments (N = 20 bird/level), and each treatment was repeated four times. The diet was arranged iso-protein (21%) and iso-energy (2900 kcal/kg). Daily feed intake, daily weight gain, feed conversion ratio (measured every week and divided by seven to get daily data), Live weight, Carcass percentage with skin, Carcass percentage nonskin, and abdominal fat pad percentage were measured at the end of the study. The results showed that the inclusion of Miana plant flour in broiler chickens' diet significantly affected daily weight gain, live weight, feed conversion, carcass percentage with skin, carcass percentage except for skin while it did not affect daily feed intake and abdominal fat pad percentage. In conclusion, Miana plant flour can be used up to 12.5% in the diet non any negative effect on broiler chickens' performance.
Keywords: Abdominal fat pad percentage, Broiler, Carcass quality, Miana plant, Performance

[Full text-PDF] [XML] [Crossref Metadata]
---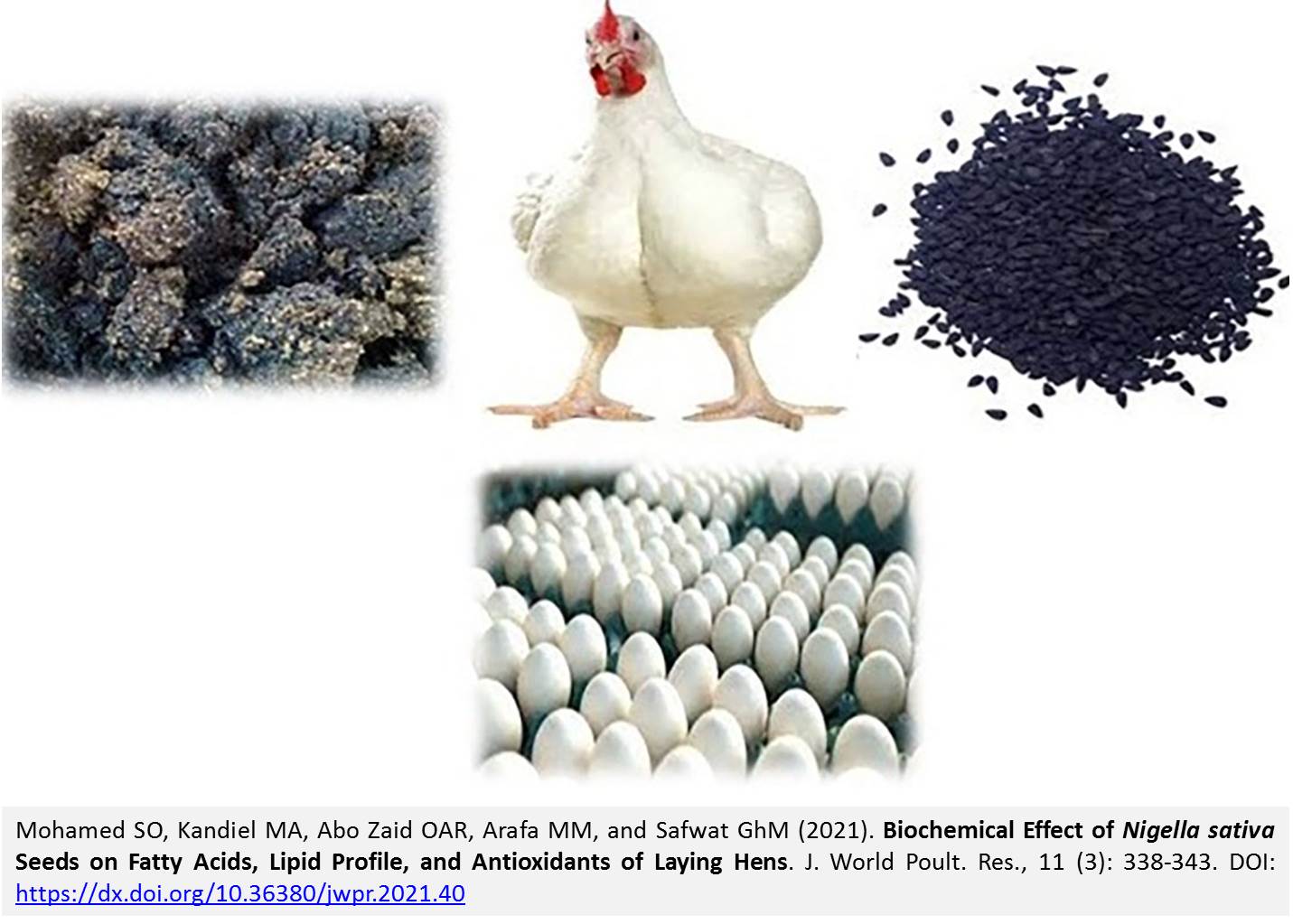 Research Paper
Biochemical Effect of Nigella sativa Seeds on Fatty Acids, Lipid Profile, and Antioxidants of Laying Hens

Mohamed SO, Kandiel MA, Abo Zaid OAR, Arafa MM, and Safwat GhM.

J. World Poult. Res. 11(3): 338-343, 2021; pii: S2322455X2100040-11
DOI: https://dx.doi.org/10.36380/jwpr.2021.40
ABSTRACT: This study aimed to evaluate the biochemical effect of Nigella sativa (NS) seeds as feed additives on serum and egg yolk lipids, antioxidants, and fatty acids in laying hens. The experiment was conducted on 42 Commercial Mandarah strain laying hens at 31 weeks old with uniform body weight which were assigned to 2 groups with 21 hens per group. Control group and NS group (basal diet + 2% NS seeds) were examined for 12 weeks. The findings indicated that NS fed group showed a significant decrease in cholesterol, triglycerides, LDL, and VLDL concentrations in serum and egg yolk with a significant increase in HDL concentration. In addition, the antioxidant status of NS hens improved as MDA and NO concentrations significantly decreased in serum and egg yolk, while SOD, GSH, and TAC increased. Moreover, an increase in egg yolk concentration of unsaturated fatty acid linolenic, with a decrease in palmitic fatty acid concentration in egg yolk. Conclusively, NS has beneficial effects on antioxidants and different lipid fractions of serum and egg yolk of laying hens.
Keywords: Antioxidants, Egg yolk, Fatty acids, Nigella sativa seeds

[Full text-PDF] [XML] [Crossref Metadata]
---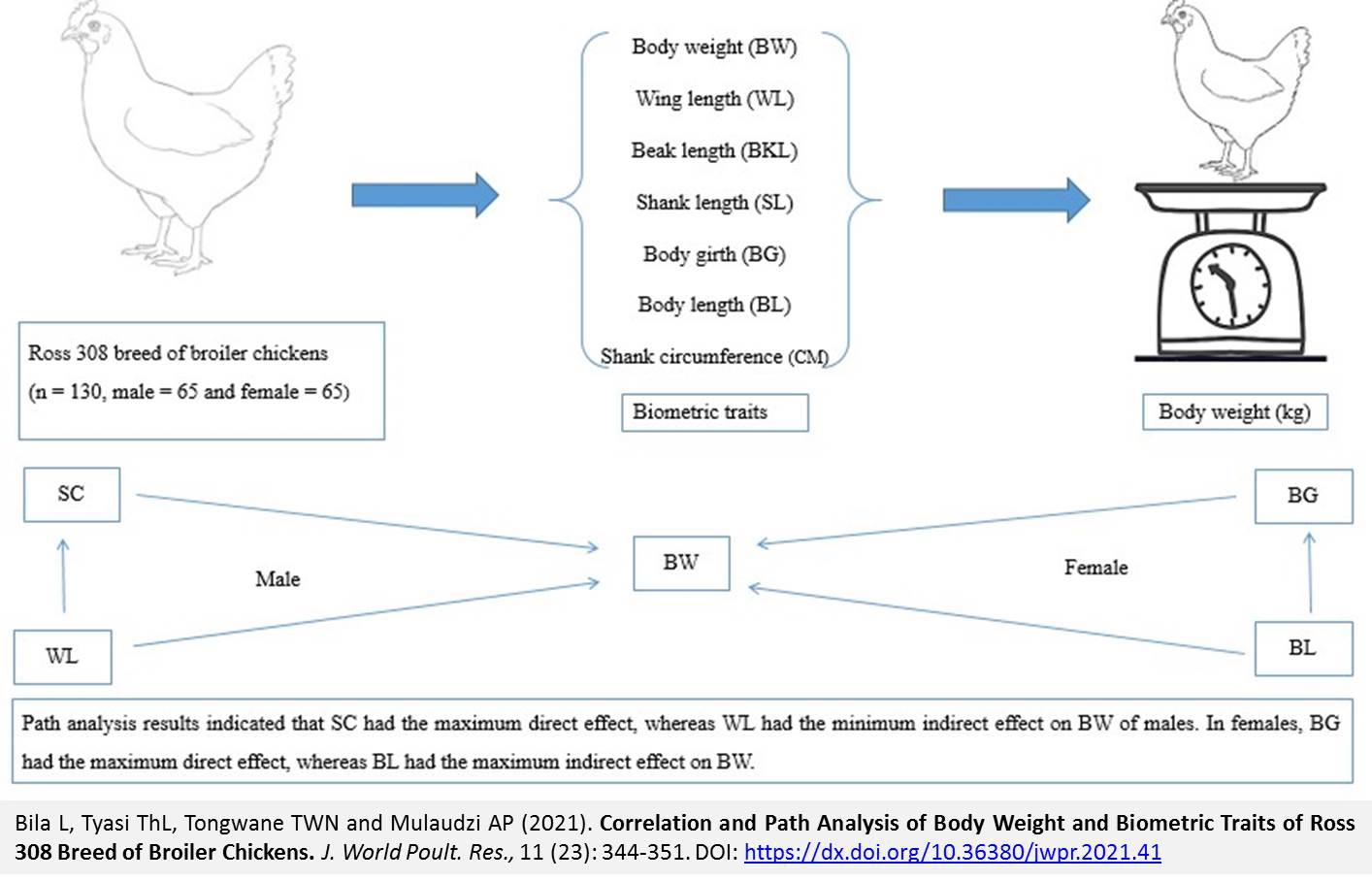 Research Paper
Correlation and Path Analysis of Body Weight and Biometric Traits of Ross 308 Breed of Broiler Chickens

Bila L, Tyasi ThL, Tongwane TWN and Mulaudzi AP.

J. World Poult. Res. 11(3): 344-351, 2021; pii: S2322455X2100041-11
DOI: https://dx.doi.org/10.36380/jwpr.2021.41
ABSTRACT: Understanding the correlation between body weight (BW) and biometric traits helps breeders to select the best biometric trait that might be used to improve body weight during breeding. This study was performed to determine the association between BW and biometric traits, such as wing length (WL), beak length (BKL), shank length (SL), body girth (BG), body length (BL), and shank circumference (SC), and to reveal possible direct and indirect effects of biometric traits on BW of Ross 308 broiler chicken breed. A total of 130 birds (65 males and 65 females) at the age of five weeks were used. Pearson's correlation and path analysis were used for data analysis. The results showed that BW had a positive significant correlation with SC (r = 0.46) and highly significant with BG (r = 0.55) in female, whereas SL (r = 0.38) and WL (r = 0.36) had a significant correlation with BW and SC (r = 0.58) and BL (r = 0.53) had a positive highly significant correlation with BW of the male broiler chickens. Path analysis indicated that SC (0.36) had the maximum direct effect, whereas WL (0.31) had the minimum indirect effect on BW of males. In females, BG (0.46) had the maximum direct effect, whereas BL (0.21) had the maximum indirect effect on BW. The relationship findings suggest that improvement of SC, SL, WL, BL, and BG might increase the BW of the Ross 308 broiler breed. Path analysis findings recommend that SC and BG might be useful in selection criteria during breeding to increase the BW of the Ross 308 broiler breed. The findings of the current study might be used by Ross 308 broiler chicken breed farmers to predict BW using biometric traits.
Keywords: Body girth, Direct effect, Indirect effect, Shank circumference, Wing length

[Full text-PDF] [XML] [Crossref Metadata]
---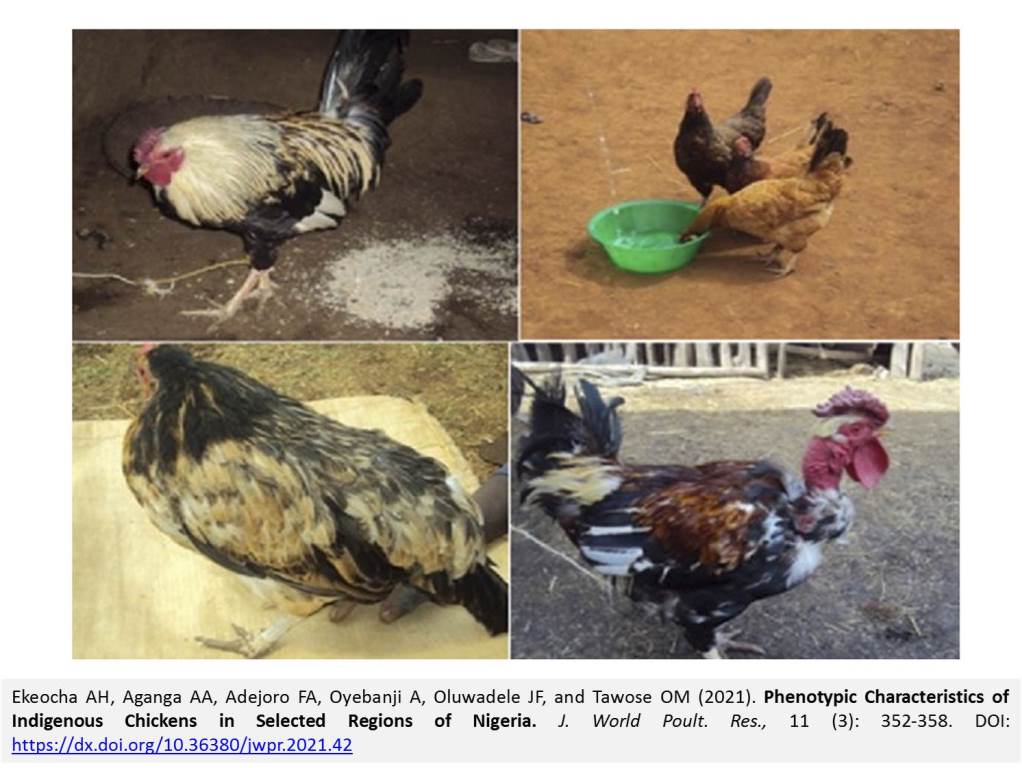 Research Paper
Phenotypic Charateristics of Indigenous Chickens in Selected Regions of Nigeria

Ekeocha AH, Aganga AA, Adejoro FA, Oyebanji A, Oluwadele JF, and Tawose OM.

J. World Poult. Res. 11(3): 352-358, 2021; pii: S2322455X2100042-11
DOI: https://dx.doi.org/10.36380/jwpr.2021.42
ABSTRACT: The Nigerian indigenous chicken called the native or village chicken are widely distributed in the rural areas of Nigeria, where they are kept by the natives principally as a source of protein and income. These native chickens play major roles not only in rural economies but also contribute substantially to the gross national income. This study aimed to determine the productivity of identified phenotypic characteristics and to aid the selection and genetic improvement of indigenous chickens in local areas of Nigeria (Ikole, Ekiti East and Oye local government). A total of 180 captive adult (normal feathering female and male) frizzled local chickens were scored and measured for phenotypic characteristics. There were no significant differences across the local governments (locations) comparing the native chickens for body weight, shank length, comb length, chest length, and comb height. The beak length and the body length were significant. The body weight ranged from 1.06 to 1.08 kg. Oye and Ekiti East local government had the highest similar value of 1.08 kg while Ikole local government had the least value (1.07 kg). The magnitude of the value of the parameters between shank length and comb height, between shank length and comb height, between shank length and body length, between comb height and comb length and between comb height and body length were positive and significant. There were positive and significant relationships between comb height and body weight and between clutch size and body weight (r = 0.34292, 0.36718) in frizzled local chickens. There was a significant positive relationship between shank length and beak length, between shank length and body weight, between comb height and beak length and between beak length and body weight. The correlations between shank colour and clutch size, between comb length and clutch size, and between beak lengths were negative. The performance of the local chickens can be greatly enhanced with improvement in basic management with the response to genetic improvement for increased body weight and egg production.
Keywords: Body weight, Indigenous chicken, Phenotypic characteristics

[Full text-PDF] [XML] [Crossref Metadata]

---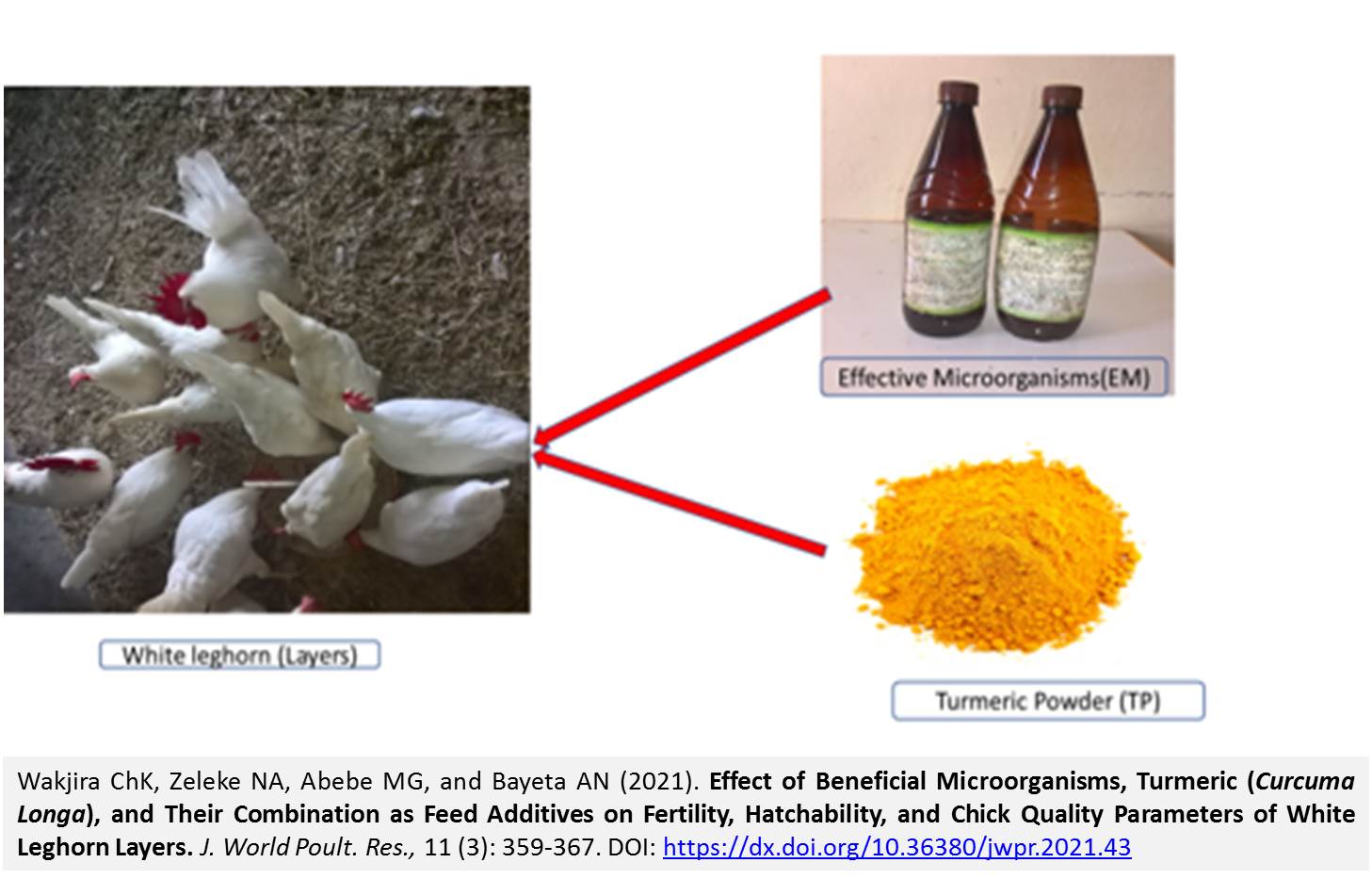 Research Paper
Effect of Beneficial Microorganisms, Turmeric (Curcuma Longa), and Their Combination as Feed Additives on Fertility, Hatchability, and Chick Quality Parameters of White Leghorn Layers

Wakjira ChK, Zeleke NA, Abebe MG, and Abeshu AN (2021).

J. World Poult. Res. 11(3): 359-367, 2021; pii: S2322455X2100043-11
DOI: https://dx.doi.org/10.36380/jwpr.2021.43
ABSTRACT: A The use of probiotics, yeast, and other natural feed additives in poultry feeds has received a lot of attention in recent years. The increased public awareness and opposition to the use of antibiotics as a growth promoter has sparked a lot of interest. Therefore, this study was conducted to evaluate the effect of multi-strain effective microorganisms (EM), turmeric powder (TP), and their combination (EM-TP) on fertility, hatchability, and chick quality of White Leghorn layer chickens. A total of 144 White Leghorn hens aged 26 weeks were assigned into four treatments with three replications for each treatment (12 layer chickens and 2 cocks per replications). The treatments were consisting of no additive or control (CTL), control + 0.5 ml/lit EM, control + 0.5% TP, and control + 0.25 ml/lit EM + 0.25% TP (EM-TP) which was arranged in a complete randomized design. There was no significant difference in embryonic mortality at different growth stages among treatments while the highest fertility was for EM. The lowest hatchability on fertile egg and total egg basis was observed in hens fed the control diet. Hatchability on the total egg basis for TP was lower than that of EM. The lowest average chick weight and length values were for the control treatment. The yield percentage for the control was lower than those fed a diet containing EM and a combination of EM and TP. There were no significant differences in the visual score of chick quality measurement among treatments. In conclusion, the use of EM and TP alone and its combination as an additive to the diet of White Leghorn layer chickens improved hatchability percentage, chick weight at hatch, and chick length. Further study is suggested to determine the optimum level of EM and TP inclusion in layer breeder diet to achieve the desired beneficial outcome on fertility, hatchability, and chick quality traits.
Keywords: Chick quality, Effective microorganism, Fertility, Hatchability, Turmeric

[Full text-PDF] [XML] [Crossref Metadata]

---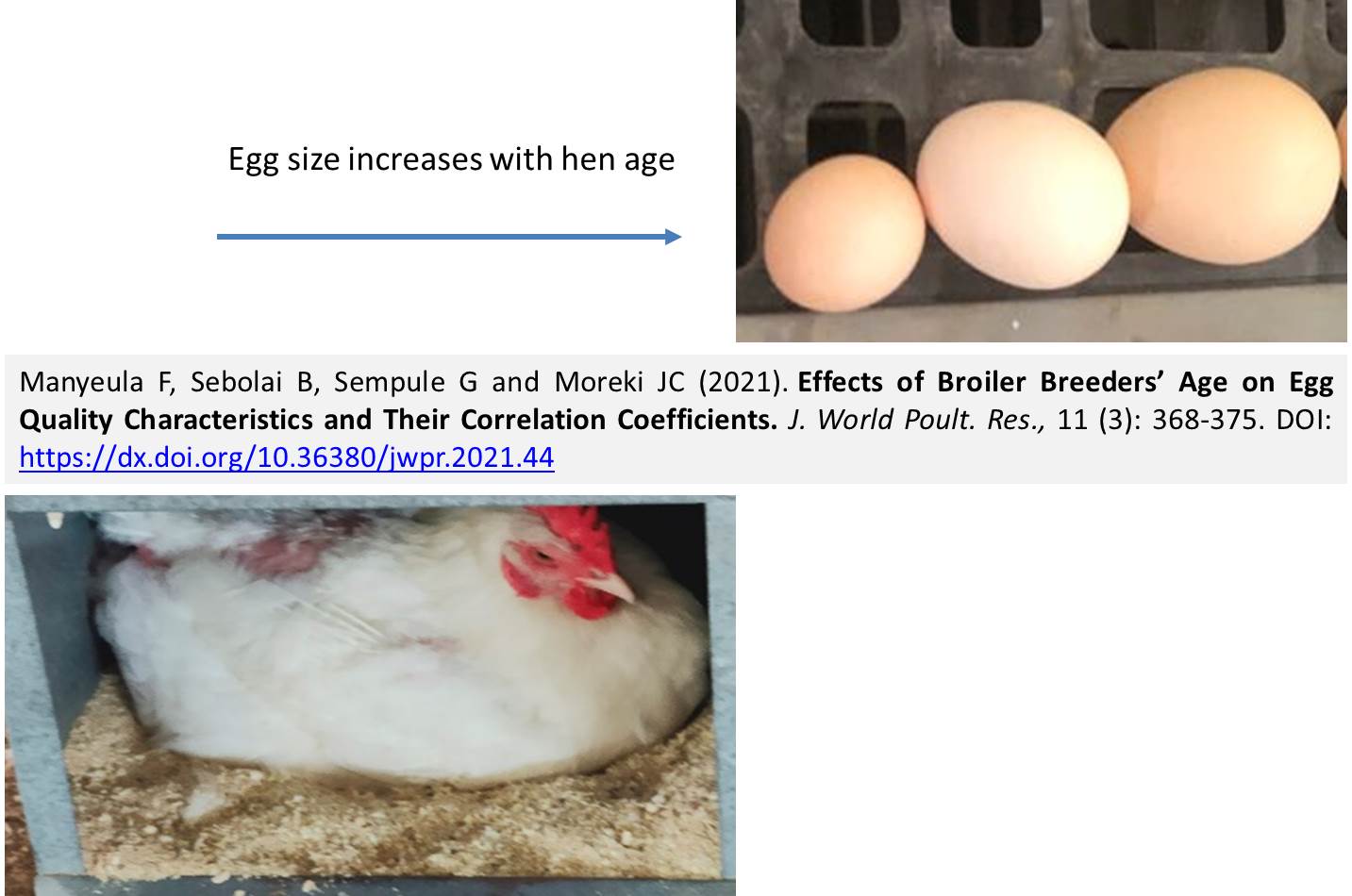 Research Paper
Effects of Broiler Breeders' Age on Egg Quality Characteristics and Their Correlation Coefficients

Manyeula F, Sebolai B, Sempule G and Moreki JC.

J. World Poult. Res. 11(3): 368-375, 2021; pii: S2322455X2100044-11
DOI: https://dx.doi.org/10.36380/jwpr.2021.44
ABSTRACT: The current study was designed to assess the effect of Ross breeder hens' age on the egg qualities and their correlations. The external and internal qualities of eggs were compared, and their correlation coefficients as influenced by the age of breeder hens were determined. A sample of 300 Ross breeder hen eggs was obtained from the Ross breeder farm with 100 eggs drawn from each laying period of ages, namely 30, 45, and 60 weeks. Measured parameters included egg weight, egg length, egg width, shell weight, and shell thickness. Data were evaluated for linear and quadratic effects using polynomial contrasts. Response surface regression analysis was applied to describe the responses of egg quality to the aging of breeder hens. The results showed that egg weight, egg length, egg width, shell weight, egg yolk, egg content, egg volume, shell percentage, albumen weight, egg shape index, and egg surface area increased over time. Haugh unit and thick albumen indicated that the eggs in all age groups were fresh and had high quality. Shell thickness was constant in all age groups. Egg weight was significantly correlated with egg length, width, yolk (length, width, weight, and height), and shell weight. In conclusion, the egg quality improved as the hens' age increased implying that age is an effective factor in improving the quality of eggs.
Keywords: Age, Broiler breeder, Egg quality, Shell quality

[Full text-PDF] [XML] [Crossref Metadata]
---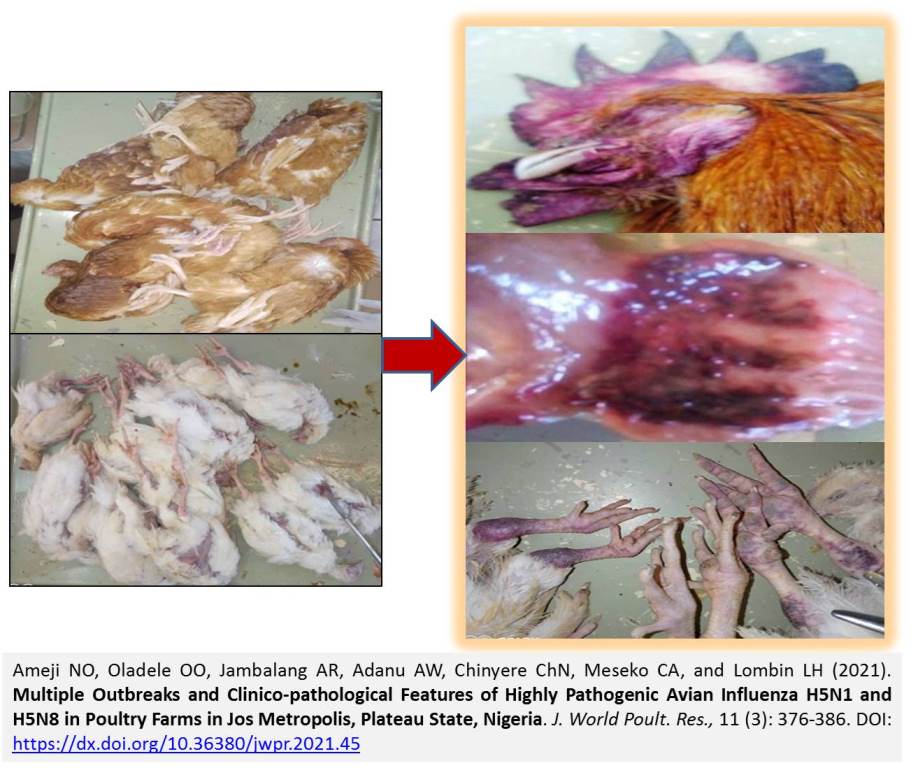 Case Series Report
Multiple Outbreaks and Clinico-pathological Features of Highly Pathogenic Avian Influenza H5N1 and H5N8 in Poultry Farms in Jos Metropolis, Plateau State, Nigeria

Ameji NO, Oladele OO, Jambalang AR, Adanu AW, Chinyere ChN, Meseko CA, and Lombin LH.

J. World Poult. Res. 11(3): 376-386, 2021; pii: S2322455X2100045-11
DOI: https://dx.doi.org/10.36380/jwpr.2021.45
ABSTRACT: Outbreaks of highly pathogenic avian influenza (HPAI) in Nigeria have been reoccurring since 2015 after the country was declared free of HPAI H5N1 in 2010. Beginning from January 26, 2021, the first suspected case of HPAI from a 4-week-old broiler/cockerel flock was reported to the Veterinary Teaching Hospital, University of Jos, Nigeria followed by five other suspected cases from poultry flocks in different locations within one month. Mortality rates were high, ranging from 75% to 100% for the Broilers/Noiler-cockerels and Brahma chicken/cockerel flocks but low rates of 5.6-17.9% were reported for the layers' farms. Clinical signs seen in the layer flocks included somnolence and nasal rales, as well as paralysis of wings and feet. The gross lesions observed in the broilers/cockerels and Brahma chicken/cockerels mixed flocks were marked subcutaneous hemorrhage on the skin as well as cyanoses of the comb, wattles, thigh, shank, and feet. There were also generalized congestion of visceral organs with frank blood in the thorax, severe ecchymotic and petechial hemorrhages in the proventricular mucosae, cloudy air sacs as well as congested and frothy lungs with severe hemorrhagic tracheitis. The pathology in the brown layer chickens was not extensive, but there were petechial hemorrhages in the thigh and breast muscles, inflamed bursa of Fabricius, and petechial hemorrhages in the proventriculus. From the history and pathologies, tentative diagnoses of HPAI were made and tissues were sent to the Regional Laboratory for Animal Influenza and Transboundary Animal Diseases, National Veterinary Research Institute, Vom, Nigeria. The cases were confirmed to be positive by qPCR and viral isolation, four of which were H5N1 and two were H5N8 subtypes. In conclusion, HPAI may become endemic in Nigeria despite the control policy of eradication by the government. It is recommended that the national policy on the control of HPAI should be modified to include controlled vaccination with close monitoring.
Keywords: Clinico-pathological features, Highly pathogenic avian influenza, H5N1, H5N8, Nigeria, Outbreaks, Poultry

[Full text-PDF] [XML] [Crossref Metadata]
---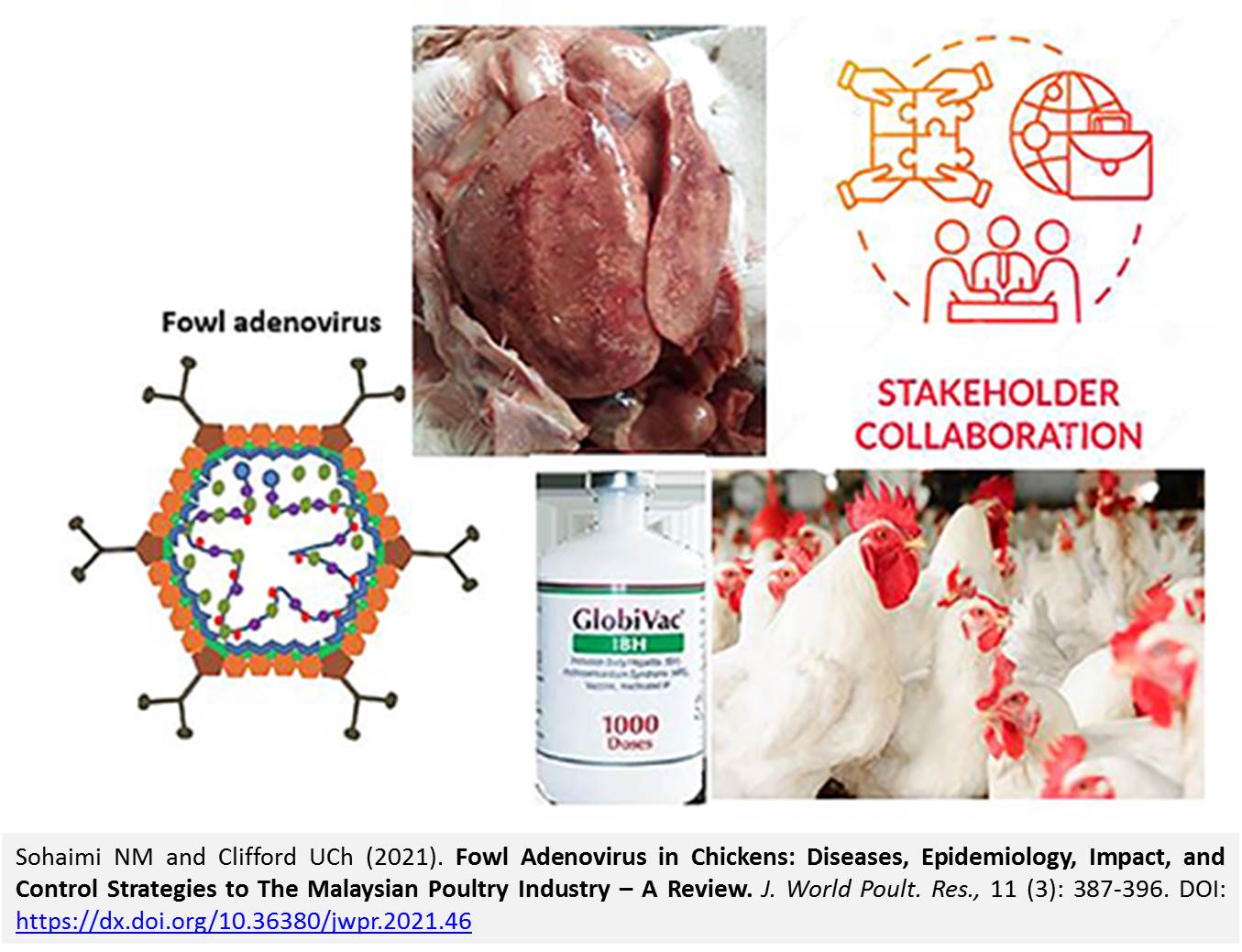 Review
Fowl Adenovirus in Chickens: Diseases, Epidemiology, Impact, and Control Strategies to The Malaysian Poultry Industry – A Review

Sohaimi NM and Clifford UCh.

J. World Poult. Res. 11(3): 387-396, 2021; pii: S2322455X2100046-11
DOI: https://dx.doi.org/10.36380/jwpr.2021.46
ABSTRACT: Fowl adenovirus (FAdV) infection is a major threat in commercial poultry farms which exerts serious economic impacts on the poultry industry. At the end of 2018, it was reported that a decrease of 9.0% in revenue to RM692.9 million was due to high mortality and low broiler production volume as a result of inclusion body hepatitis (IBH) outbreaks in Malaysia. Fowl adenovirus is a double-stranded DNA virus made up of 5 genotypes and 12 serotypes. The potential danger posed by this virus to the Malaysian poultry industry is hereby discussed. Fowl adenovirus serotype 8b has been reported to be predominant in Malaysian chicken where it causes IBH. It predominantly affects 3 to 7 weeks old broiler chickens as well as layer chickens. Inclusion body hepatitis has been reported in farms in the states of Perak, Johore, and Malacca in Malaysia with a mortality range of 9.6-30%. Morbidity is low and infected chickens may present crouching position with ruffled feathers and die within 48 hours or may recover. Recovered chickens usually indicate low feed intake, feed conversion, and weight gain. Typical IBH lesions include friable, and inflamed liver, petechial hemorrhages on the musculature, and microscopic basophilic/eosinophilic inclusion bodies in the hepatocytes. Fowl adenovirus can be transmitted vertically from hen to offspring through the eggs and cause disease conditions to chicks especially those with no or low maternal antibodies. It is also transmitted horizontally through contact with feces and fluids from infected birds or humans as well as contaminated fomites. Although adequate biosecurity measures could reduce the incidences of this infection, some strains are resistant to disinfectants. Therefore, the major form of control is vaccination which makes the development of live attenuated and potent inactivated vaccines imperative. To avoid a crisis in broiler meat production in the country, regional cooperations among major stakeholders in the Malaysian poultry industry are advised to eradicate this disease. Inclusion body hepatitis in Malaysia could cause a significant reduction in broiler meat production and therefore is a potential danger to the Malaysian poultry industry.
Keywords: Broiler chicken, Fowl adenovirus, Inclusion body hepatitis, Serotype 8b, Vaccine

[Full text-PDF] [XML] [Crossref Metadata]
---
Previous issue | Next issue | Archive
This work is licensed under a Creative Commons Attribution-NonCommercial 4.0 International License.