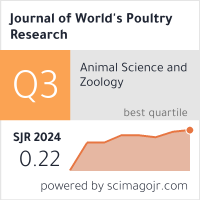 Previous issue | Next issue | Archive

Volume 12 (2); June 25, 2022 [Booklet]

---
Review
A Meta-analysis of Fiber Ratio Effects on Growth Performance, Gastrointestinal Traits, and Nutrient Digestibility of Broiler Chickens

Nursiam I, Ridla M, Nahrowi N, Hermana W, and Jayanegara A.

J. World Poult. Res. 12(2): 77-84, 2022; pii: S2322455X2200009-12
DOI: https://dx.doi.org/10.36380/jwpr.2022.9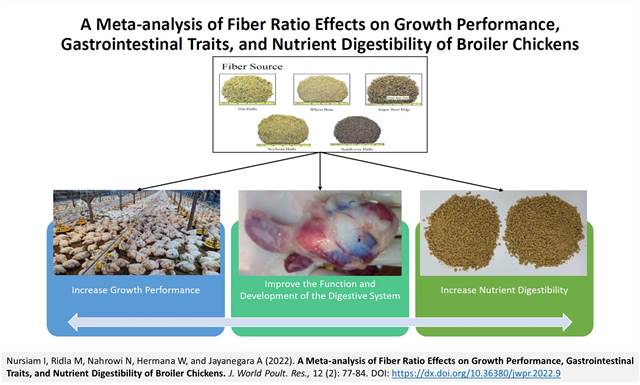 ABSTRACT: Fiber is one of the essential nutrients for broiler chickens. This meta-analysis was carried out to investigate the impacts of fiber fraction ratio on broiler chickens growth performance, digestive characteristics, and nutritional digestibility. The database was compiled from 15 publications reports on the addition of fiber sources in broilers feed. To analyze the effect of acid detergent fiber (ADF) / neutral detergent fiber (NDF) ratio, the mixed model technique was utilized, with ADF/NDF ratio in the feed as a fixed effect and the experiment as a random effect. The ADF/NDF ratio in the feed had no effect on average daily gain, average daily feed intake, and feed per gain ratio in this research. Moreover, a decrease in ADF/NDF ratio in broiler chicken feed increased the relative weight of the gizzard. The relative weight and length of the small intestine and cecum were not affected by the ADF/NDF ratio in the feed. The ADF/NDF ratio in feed enhanced ileal digestibility and total tract apparent retention of most nutrients. The ADF/NDF ratio in the feed had no effect on the jejunal morphology. The minimum ADF/NDF ratio of 0.37 in the feed led to the maximum growth performance, digestive tract development, and optimal nutrient digestibility. In conclusion, controlling the ratio of fiber fraction in broiler chickens feed can improve broiler performance in the non-antibiotic growth promoters era.
Keywords: Broilers chickens, Fiber fraction, Meta-analysis, Performances

[Full text-PDF] [Crossref Metadata] [Scopus] [Export from ePrint] [How to Cite]
---
Research Paper
Effect of Partial Replacement of Yellow Corn by Mango Seed Kernel on Productive Performance, Egg Quality, and Blood Constituents of Laying Hens

Eid Farag ME, Elsayed Moustafa K-E.M, El-Saadany ASh, and Abu Hafsa SH.

J. World Poult. Res. 12(2): 85-97, 2022; pii: S2322455X2200010-12
DOI: https://dx.doi.org/10.36380/jwpr.2022.10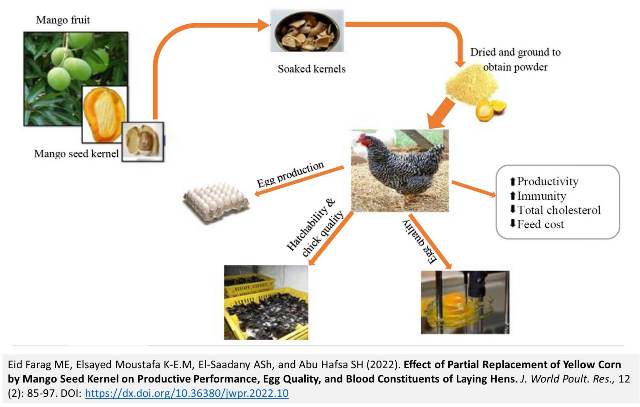 ABSTRACT: Corn is the main energy source in most poultry feed. Due to rapid climate change, corn production cannot keep up with the demand for food and industrial applications. This necessitated the search for alternatives, such as agro-industrial by-products like mango seed kernel, which is a good source of carbohydrates and protein and can wholly or partly replace corn. The purpose of this study was to investigate the effect of partial replacement of yellow corn (YC) with soaked mango seed kernel (SMSK) on productive and reproductive performance, egg quality, blood biochemistry, hematological parameters, and antioxidants status of local laying hens. A total of 120 local Gimmizah breeds (108 females and 12 males) at 32 weeks of age were randomly assigned to four dietary treatments with three replicates (9 hens + 1 male per replicate). The treatments were YC replaced by SMSK at 0, 10, 15, and 20% levels in the hen diets for 12 weeks. Replacing YC with SMSK increased egg production, weight and number of eggs, and egg mass, and improved feed conversion ratio, but feed intake was not affected. Replacement of yellow corn with SMSK did not affect egg quality parameters. The hens in the SMSK 10% and SMSK 15% groups had the highest fertility, hatchability, post-hatch chick weight, and number followed by those in the SMSK 20% group. Groups given varying levels of SMSK had the lowest rate of embryonic mortality. Carcass weight and dressing percentage were positively affected by the 10% and 15% SMSK diet, except for the heart, pancreas, and spleen. Hematological indices were not influenced by dietary SMSK except for higher platelets in the SMSK 20% group. Total protein, aspartate aminotransferase, alanine aminotransferase, and alkaline phosphatase levels were similar among treatments. In SMSK groups, serum total cholesterol, triglycerides, and malondialdehyde levels decreased significantly, whereas IgG and catalase levels increased. These findings indicated that SMSK up to 20% could be considered a successful nutritional and health approach and can be partially substituted for YC with no adverse impact on the productive, reproductive and physiological performance of laying hens.
Keywords: Antioxidant status, Egg quality, Egg production, Laying hens, Lipids profile, Mango Seed Kernel, Replacement

[Full text-PDF] [Crossref Metadata] [Scopus] [Export from ePrint] [How to Cite]
---
Research Paper
Serological and Molecular Detection of Local Infectious Bronchitis Virus in Vaccinated Broiler Chickens in Diyala Governorate, Iraq

Jasim KA, Al-Azzawi AK, Kadhim TJ, and AL-Ajeeli KS.

J. World Poult. Res. 12(2): 98-106, 2022; pii: S2322455X2200011-12
DOI: https://dx.doi.org/10.36380/jwpr.2022.11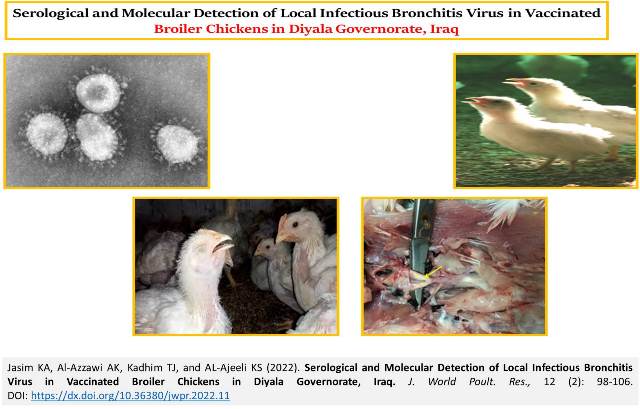 ABSTRACT: The infectious bronchitis virus (IBV) is one of the most important Coronaviridae viruses, infecting the upper respiratory tract of chickens and leading to considerable losses in the poultry industry across the globe. Many outbreaks have recently occurred among IBV-vaccinated chicken farms in the Diyala Governorate of Iraq resulting in significant economic losses. As a result, the purpose of the present study was to investigate whether IBV can be a source of infection spread in IBV-vaccinated commercial broiler flock farms in Diyala Governorate. In this regard, ELISA was used as a serological test and RT-PCR as a molecular detection technique. Serum samples were collected from chickens suspected of IBV at 16 and 23 days of age. The results showed a significant increase of IgG antibodies in such serum samples at days 16 and 23 of age indicating the infections of the broilers with IBV. However, at the age of 2-3 weeks, the samples of kidney, liver, trachea, and lungs were collected from clinically and sub-clinically infected flocks, and also postmortem samples were sampled from all farms. Two sets of previously reported primers were created for this purpose in the S1-protein gene region. According to the findings of the present investigation, IBV was found in 83% of samples. Finally, despite immunization with IB4/91, IBV was prevalent in broiler chicken farms in the study area confirmed by serology and molecular biology tests. This finding indicates the possibility of genetic difference between the locally discovered IBV and the administered IBV vaccine. A study on the production of local vaccines can be useful in controlling IBV infections.
Keywords: ELISA, Infectious bronchitis viruses, RT-PCR

[Full text-PDF] [Crossref Metadata] [Scopus] [Export from ePrint] [How to Cite]

---
Research Paper
Phenotypic Characters and TYRP1 Polymorphism of F4 Golden Kamper Hybrid Chickens (Gallus gallus domesticus Linnaeus, 1758)

Firmansyah GI, Perdamaian ABI, and Daryono BS.

J. World Poult. Res. 12(2): 107-116, 2021; pii: S2322455X2200012-12
DOI: https://dx.doi.org/10.36380/jwpr.2022.12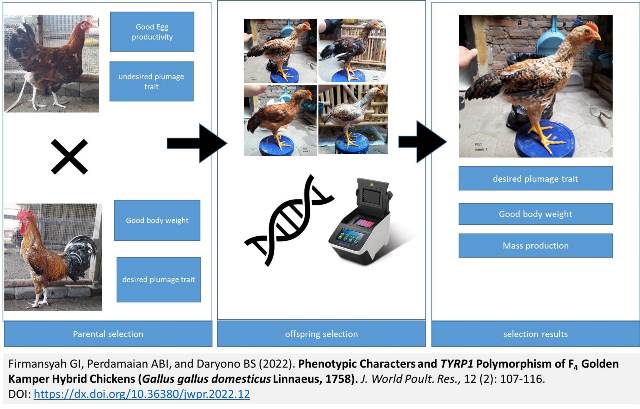 ABSTRACT: Golden Kamper is a local meat-typed chicken with four generations of Pelung male and Layer female selective breeding. This chicken has various plumage colors and patterns. Therefore, the desired plumage color is red barred plumage (B1). In chickens, the missense mutation in the Tyrosinase-related-proteins 1 (TYRP1) causes a chocolate color plumage (choc) with an epistatic effect on barred plumage. The current study aimed to observe the growth of 16 chickens from hatching until 49 days of age to investigate the phenotypic characteristics, especially plumage color at 49-day-old chickens, then to determine the effect of the TYRP1 polymorphism on F4 Golden Kamper phenotypes. The methods used in this study included selective breeding among F3 Golden Kamper, collection of F3 Golden Kamper's eggs, then rearing the day-old chickens of F4 Golden Kamper. Phenotypic data were collected and blood collection was performed for DNA isolation, DNA amplification, and sequencing. Of 16 F4 Golden Kamper, all chickens had a uniform comb type of single (rprp, 100%). The produced shank colors were white (31.25%), yellow (62.5%), and blackish gray (6.25%). The plumage colors were red barred (12.5%), white barred (12.5%), brown (68.75%), and chocolate (6.25%). The bodyweight of F4 Golden Kamper at the age of 7 weeks reached 597.3 g. The morphometric results indicated that F4 Golden Kamper had the same posture and body proportions as Pelung chickens, however, with a higher weight. Fourteen substitutions were found in the TYRP1 fragment of F4 Golden Kamper. The single nucleotide polymorphisms (SNP) had no correlation with the chocolate plumage phenotype in F4 Golden Kamper. The evaluated SNPs in TYRP1 were not associated with the brown plumage color phenotype.
Keywords: Chicken, Golden Kamper, Phenotype, Polymorphism, TYRP1

[Full text-PDF] [Crossref Metadata] [Scopus] [Export from ePrint] [How to Cite]

---
Research Paper
The Effects of Three Commercial Grower Feeds on Performance, Internal Organs, and Carcass traits in Pullet Chickens

Ekeocha AH, Aganga AA, Oluwadele Jf, and Ayoola SK.

J. World Poult. Res. 12(2): 117-123, 2022; pii: S2322455X2200013-12
DOI: https://dx.doi.org/10.36380/jwpr.2022.13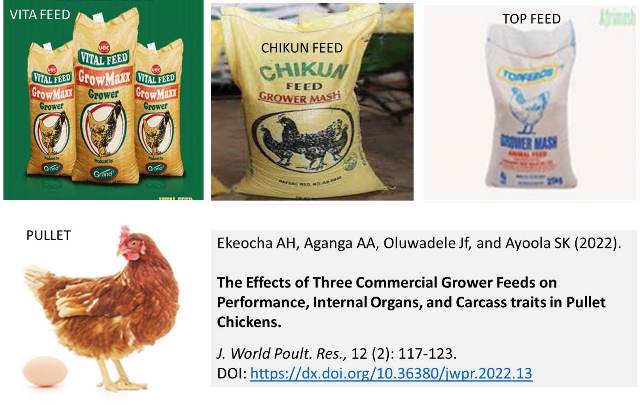 ABSTRACT: Poultry farming is categorized as a developing business venture in most countries, especially Nigeria. This is followed by poultry feed production units ranging from smaller compartments to commercial poultry feed producers. This research study was carried out to examine the physical, and biochemical parameters of feed, growth performance, carcass traits, and visceral organs of pullets fed selected commercial grower feeds and formulated diet. A total number of 1200 Isa Brown pullets aged 10 weeks were divided into 4 groups with 5 replicates for each group randomly. This research experiment was completed within 8 weeks. All poultry feeds were filled inside standard polyethylene woven bags in the absence of insects/mold. All poultry feeds, including Top Feed, Chikun Feed, and formulated diet were grouped into mash form except one of the commercial feeds Vital Feed in the pelleted form which is the treatment of the research. There were significant differences in final body weight, weight gain, feed consumed, and feed conversion ratio among the experimental treatments. The least weight was recorded among hens fed Vital feeds with the highest feed intake, which might be due to high fiber content in the feed. The dietary treatment significantly affects the live weight, dressed weight, neck, breast muscle, liver, kidney, gizzard, and abdominal fat of pullet fed different commercial feed and formulated diets. The findings of the current study indicated that a self-formulated diet at the grower stage could replace the commercial poultry feeds used in the study.
Keywords: Body weight, Carcass traits, Grower feed, Pullets, Visceral organs

[Full text-PDF] [Crossref Metadata] [Scopus] [Export from ePrint] [How to Cite]
---
Research Paper
Genetic Characterization of Co-circulated Classic and Very Virulent Infectious Bursal Disease Viruses in Commercial Broiler Flocks of Egypt

Zanaty A, Mossad Z, Said M, Samy M, Amer F, Rabie N, and Soliman MA.

J. World Poult. Res. 12(2): 124-132, 2022; pii: S2322455X2200014-12
DOI: https://dx.doi.org/10.36380/jwpr.2022.14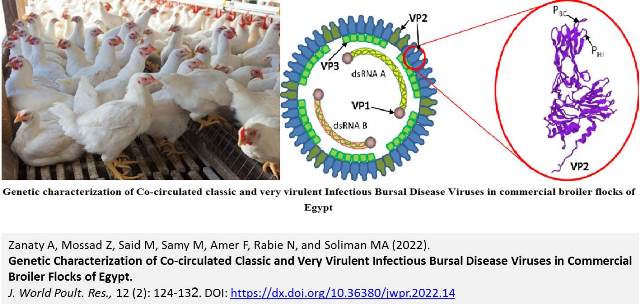 ABSTRACT: In recent years, the reintroduction of the infectious bursal disease virus (IBDV), particularly its severe strains, has imposed considerable cost on the Egyptian poultry industry. The goal of the current study was to investigate the molecular features of IBDV in Egypt from June 2019 to April 2021. A total of 30 field samples (bursa of Fabricius) were collected from broiler farms in which the chickens were vaccinated (Transmune 2512 s/c) at hatching. A highly variable region encompassing VP2 gene was targeted for IBDV screening utilizing reverse transcription-polymerase chain reaction (RT-PCR). Of 30 tested samples, 16 were positive by PCR. To isolate the virus, the bursal suspension was injected into 10-11 day embryonated chicken eggs via the chorioallantoic membrane. Five current positive isolates from 2021 were chosen for nucleotide and amino acid (aa) sequence analysis. Phylogenetically, three of the strains under study belonged to the very virulent (vvIBDV) strains, with 97-98% resemblance to Giza 2008 belonging to the (Genogroup 3) IBDV strain. The remaining two strains were identified as a vaccination strain (genotype 1) that matched the winter field 2512 vaccine strain by a similarity percentage of 98. Mutations in the antigenic locations of (P) domain loops were discovered when the sequencing samples were compared to the existing IBD vaccines. The circulating strains were found to be very similar to vvIBDV serotype 1 genotype 3 strains with mutations in the P domain loop providing a potential reason for the circulation of vvIBDV viruses in Egyptian broiler farms despite the vaccination program.
Keywords: Bursa, Classic infectious bursal disease strain, Virulent infectious bursal disease, Virus protein 2 Gene

[Full text-PDF] [Crossref Metadata] [Scopus] [Export from ePrint] [How to Cite]
---
Previous issue
|

Next issue

|

Archive
This work is licensed under a Creative Commons Attribution 4.0 International License (CC BY 4.0).