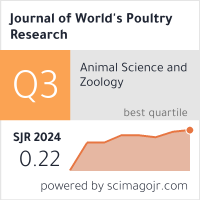 Previous issue | Next issue | Archive

Volume 11 (4); December 25, 2021 [Booklet]

---
Research Paper
Evaluation of Methods of DNA Extraction from Down, and a Quantitative Real-time PCR Assay for Authenticity Control in Down Products

Wu Sh, Yu H, He Y, Zhang M, Yin W, Zhang Q, Sun Ch, Chen Zh, Shen X, and Zhang X.

J. World Poult. Res. 11(4): 397-405, 2021; pii: S2322455X2100047-11
DOI: https://dx.doi.org/10.36380/jwpr.2021.47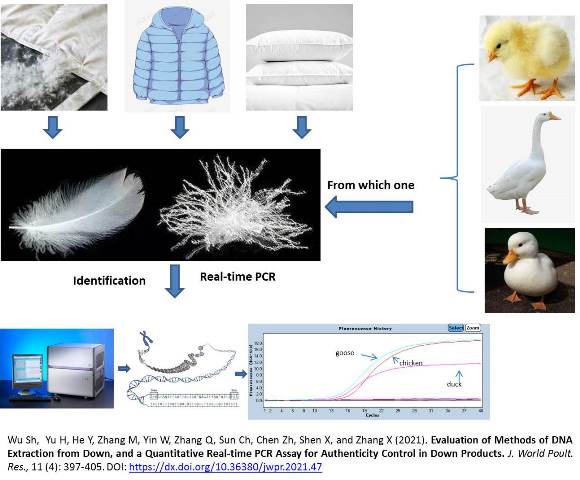 ABSTRACT: Down, mainly duck down and goose down, is one of the most important products in the poultry industry. To improve the accuracy of identification of duck and goose down by quantitative real-time PCR (qPCR), and the efficiency of extracted DNA from down was evaluated and optimized using the template preparation methods, including four pretreatment methods (shredding [PA], shredding + magnetic bead homogenization [PB], shredding + manually grinding in liquid nitrogen [PC], and shredding + grinding by 6875 Freezer [PD]) and three extraction methods (a magnetic bead adsorption method [MA], a membrane adsorption-elution method [MB], and a Chelex® 100 Resin method [MC]), and their combinations. The results showed that high-intensity grinding, and grinding in liquid nitrogen can help the improvement of DNA yield, therefore, PB, PC, and PD were superior to PA both in DNA concentration and purity. However, in the subsequent qPCR analysis, the DNA of the highest quantity and purity from PD indicated the lowest positive detection rate. According to the results of the current study, the extraction method had a greater impact on the quality of DNA than the pretreatment method. Although the concentrations and purities of the templates obtained by MA, MB, and MC were varied greatly, all the templates could meet the needs in the following qPCR assay. Furthermore, considering the simplicity of the methods, PA + MC was chosen as the most convenient and efficient combination to extract DNA from down. A quantitative calculation method for the identification of the authenticity of down products was established. Although quantification results could not estimate the target content accurately, they reflected the trend in the content. Nevertheless, the method may be useful as an alternative tool for qualitative and quantitative quality control of the down products.
Keywords: Authenticity discrimination, Down, DNA extraction, Quantitative detection, Quantitative PCR

[Full text-PDF] [XML] [Crossref Metadata]
---
Research Paper
Genetic Polymorphism in the Promoter and 5´ UTR of HSP-70 Gene in Three Strains of Indigenous Tswana Chickens and Commercial Broilers

Machete JB, Kgwatalala PM, Malambane G, Nsoso ShJ, and Moreki JC.

J. World Poult. Res. 11(4): 406-415, 2021; pii: S2322455X2100048-11
DOI: https://dx.doi.org/10.36380/jwpr.2021.48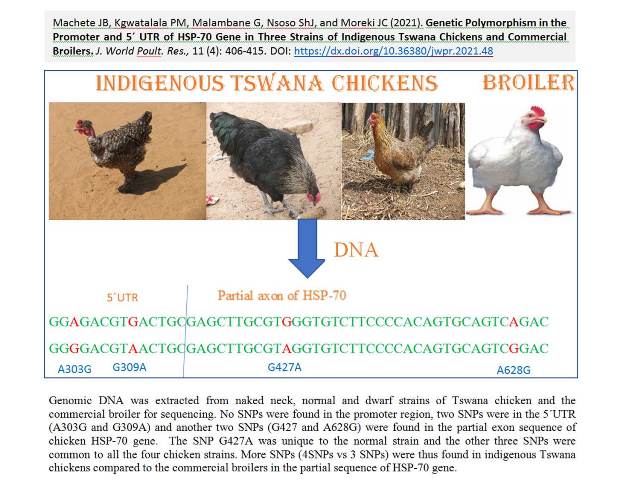 ABSTRACT: The current study was conducted to investigate sequence polymorphisms in the promoter, 5´untranslated regions (UTR), and partial exon regions of chicken HSP-70 gene in the normal (n = 24), naked neck (n = 22), and dwarf (n = 12) strains of indigenous Tswana chickens relative to the commercial broiler chickens (n = 20). Genomic DNA extracted from the whole blood of the three strains of indigenous Tswana chickens and the commercial broilers were amplified using PCR and sequenced. The PCR amplicons comprised a 210 bp promoter region, a 112 bp 5´UTR, and a 463 bp partial exon of the chicken HSP-70 gene. Multiple sequence alignments of the partial sequences of chicken HSP-70 gene in indigenous Tswana chickens and the commercial broilers revealed no polymorphisms in the promoter region, two SNPs in the 5´UTR (A303G and G309A) and another two SNPs (G427 and A628G) in the partial exon sequence of chicken HSP-70 gene. The SNP G427A was unique to the normal strain and the other three SNPs were common to all the four chicken strains studied. The identified four SNPs linked up in individual chickens resulted in a total of seven different haplotypes in the studied four chicken populations. A total of seven different haplotypes were found in indigenous Tswana chickens and only two haplotypes were found in the commercial broilers. More nucleotide (4SNPs vs 3 SNPs) and more haplotype diversity (7 haplotypes vs 2) were thus found in indigenous Tswana chickens, compared to the commercial broilers in the partial sequence of HSP-70 gene.
Keywords: HSP-70 gene, Indigenous Tswana chicken, Polymorphism, Sequencing, SNPs

[Full text-PDF] [XML] [Crossref Metadata]
---
Research Paper
Sequencing Analysis of Local Avian Coronavirus Isolated from Infected Broiler Chickens in Babylon Province, Iraq

Al-Saegh HA, Kaab HT, Hameed SS, and Abdulwahab HM.

J. World Poult. Res. 11(4): 416-421, 2021; pii: S2322455X2100049-11
DOI: https://dx.doi.org/10.36380/jwpr.2021.49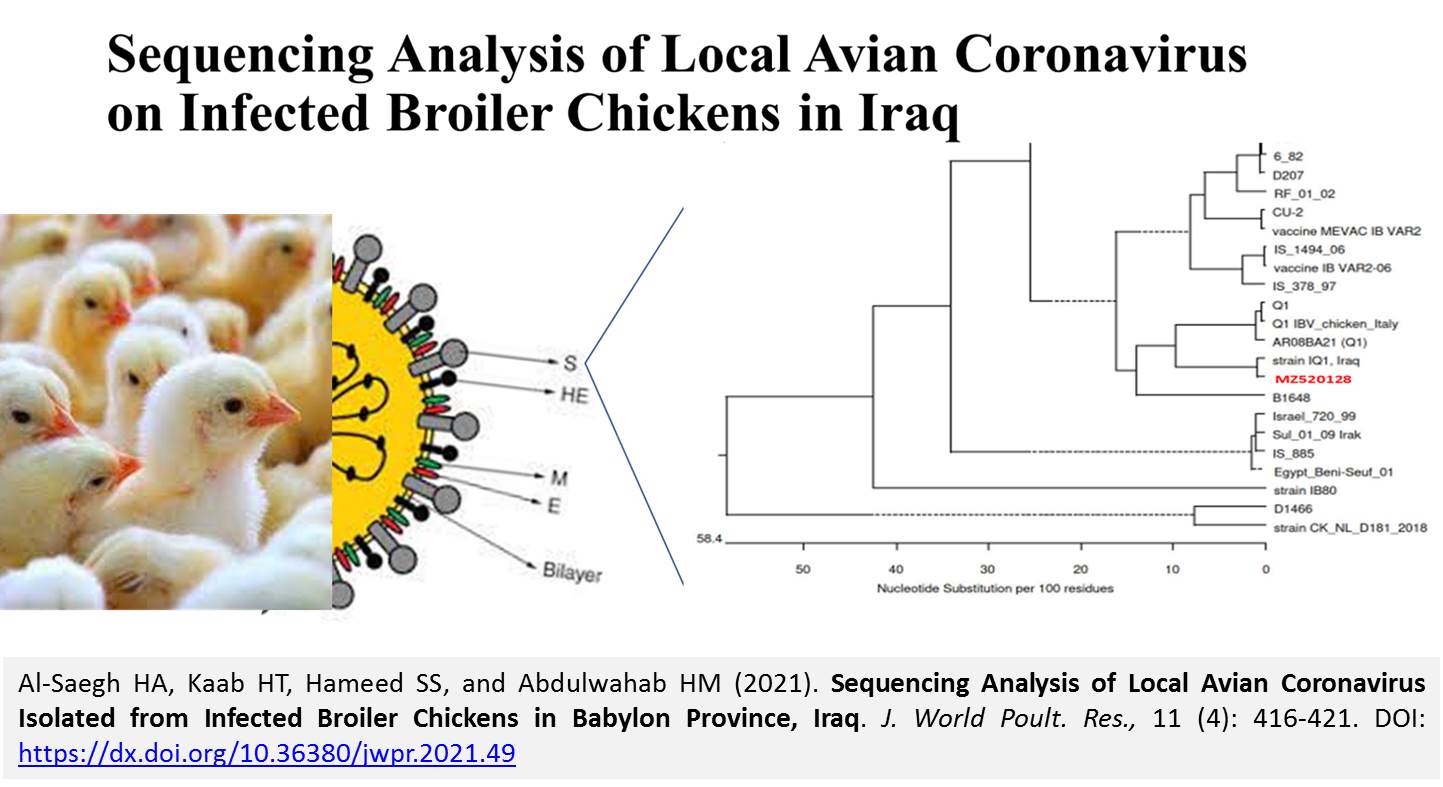 ABSTRACT: Infectious bronchitis (IB) is one of the important contagious diseases in the poultry industry, through which genome alternation can lead to a newly modified IB strain. Many IB outbreaks in recent years have occurred in Babylon, Iraq, even with the implementation of a vaccination program. Therefore, the current study aimed to investigate the IB virus genome to identify the circulating strain. In this regard, any respiratory signs in broiler chickens were initially diagnosed as IB in seven farms of Babylon province, Iraq, from January to March 2021 leading to high economic loss. A total of 25 serological tests indicated infection with IB disease. Then, Flinders Technology Associates cards loaded with samples were sent to AniCon Labor GmbH Laboratory diagnostic in Germany for identification by extraction and sequencing the fragment of the S1 spike protein-coding gene. In the next step, the viral sequences were compared with the globally known strains of vaccines and field strains in the GenBank database using the NCBI. The results indicated a high similarity of the strain MZ520128 in the current investigation with IQ1 (MH747093.1) and Israeli (IS/1494/06) strains by 98.3% and 81.8%, respectively. Furthermore, the similarity of the current isolate with vaccine strains was reported as 24-43%. This variance among the current isolates with other strains could explain the reasons the vaccination strains and programs provide poor protection against the field infected by IBV. The current isolate of MZ520128 was a circulating pathogen with economic losses and the commercially available vaccine did not provide enough level to stand against the incidence of the disease.
Keywords: Avian coronavirus, Broiler chicken infectious bronchitis, SI protein sequence

[Full text-PDF] [XML] [Crossref Metadata]

---
Research Paper
Influence of Dietary Protein on Embryonic Development and Hatching Traits of Indigenous Guinea Fowl (Numida meleagris) Breeders in Togo

Lare L, Talaki E, Dzogbema KF-X, Sodjedo C, and Lombo Y.

J. World Poult. Res. 11(4): 422-430, 2021; pii: S2322455X2100050-11
DOI: https://dx.doi.org/10.36380/jwpr.2021.50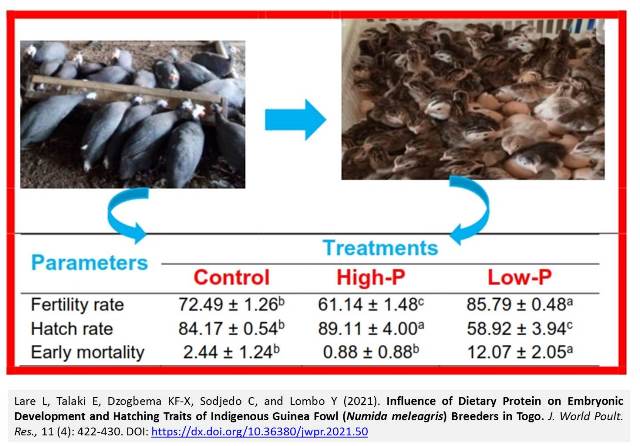 ABSTRACT: The diet of breeding indigenous guinea fowl breeders can influence their reproductive performance. Thus, the current study was designed to investigate the effects of different dietary protein intake levels of breeders on embryonic development. A total of 1152 hatching eggs were collected, numbered, weighed, and allocated to 3 groups (control, high-protein [High-P], and low-protein [Low-P]) with 4 replicates of 96 eggs in each dietary treatment group. The eggs were candled on incubation days 9 and 24. At the end of the hatch, all keets were counted and weighed. Six keets in each group were randomly selected and sacrificed for blood and organ collection. The results showed that the heaviest eggs were for the High-P group and keets at hatch had higher relative hatching muscle weights, compared to the control group. However, the Low-P group had smaller eggs and keets gained lower relative hatching muscle weights compared to the control. Fertility, early mortality rate, and delayed mortality decreased in the High-P group but it increased in the Low-P group, compared to the control. The dietary protein did not influence the incubation time. The maternal diet protein content affected fertility, embryonic development, hatchability, and keet quality. The indigenous guinea fowl breeders need appropriate protein intake to show their potential reproduction performances.
Keywords: Guinea fowl, Hatching, Incubation, Nutrition, Protein

[Full text-PDF] [XML] [Crossref Metadata]
---
Research Paper
Effect of Administering Lactobacillus Culture Isolated from Ensiled Hymenache acutigluma via Drinking Water on Meat and Egg Quality of Pegagan Duck

Yosi F, Gofar N , Sahara E, Sandi S, Sari ML, Farandhita F, and Yodhistira H.

J. World Poult. Res. 11(4): 431-438, 2021; pii: S2322455X2100051-11
DOI: https://dx.doi.org/10.36380/jwpr.2021.51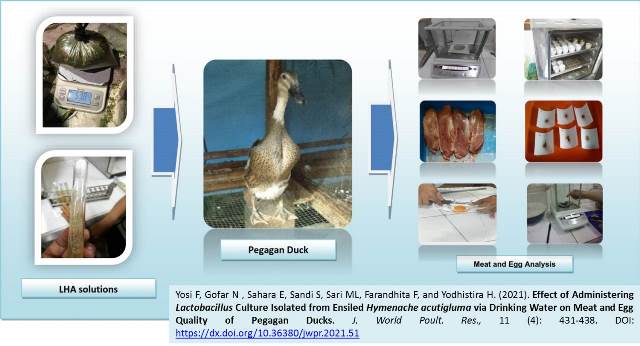 ABSTRACT: Lactobacillus spp. is one of the lactic acid bacteria, has a positive effect on improving the meat and egg quality in poultry. However, there is a paucity of information about the effect of Lactobacillus culture isolated from ensiled swamp grass on meat and egg characteristics. The present study aimed to investigate the effect of supplementing Lactobacillus culture isolated from ensiled Hymenache acutigluma (LHA) via drinking water on the duck meat and egg quality. A total of 60 Pegagan ducks aged 24-week-old were used in the current study and kept for 60 days. Ducks were randomly allocated into 5 treatment groups and 4 replicates per group, consisting of LHA 0 (control group without LHA solution), LHA 1, LHA 2, LHA 3, and LHA 4 (treatment groups supplemented with LHA solutions in drinking water with concentrations of 106, 107, 108, and 109 CFU/ml, respectively). The results showed that the value of cooking loss linearly increased, followed by a linear decrease in the water holding capacity after LHA addition. However, there was no change in the meat pH and moisture content. Further measurements revealed that both the yolk height and yolk index were linearly improved after being administered with LHA solutions, but no difference was found in other egg variables, including the yolk weight, diameter, and color, albumen weight, and height, as well as the eggshell weight and thickness. In conclusion, the provision of LHA via drinking water with a concentration of up to 109 CFU/ml could modulate the meat and egg quality of ducks. The LHA solutions enhanced the ability of meat protein to bind water, thereby inhibiting nutrient loss. Moreover, LHA had a greater effect on improving yolk quality, compared to albumen and eggshell.
Keywords: Drinking water, Egg quality, Ensiled Hymenache acutigluma, Lactobacillus, Meat, Pegagan ducks
[Full text-PDF] [XML] [Crossref Metadata]
---
Research Paper
Molecular Detection of Infectious Bursal Disease Virus in Broiler Chickens of Diyala Province, Iraq

AL-Azzawi Akh, Nasser AT, and Al-Ajeeli KS.

J. World Poult. Res. 11(4): 439-445, 2021; pii: S2322455X2100052-11
DOI: https://dx.doi.org/10.36380/jwpr.2021.52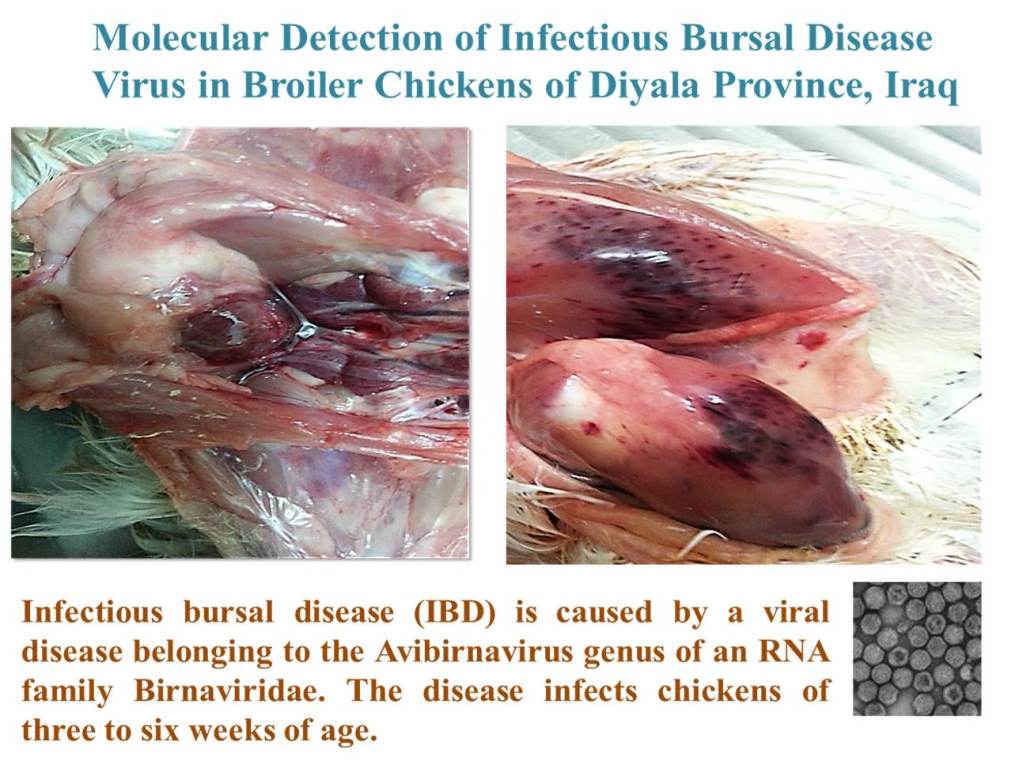 ABSTRACT: Many broiler chickens farms in Diyala Province, Iraq, have shown clinical signs of infectious bursal disease virus (IBDV) in broiler chickens, including depression of birds, petechial hemorrhage in muscles of the thigh, and swollen bursa. Therefore, in the current study, necropsy samples (liver, spleen, bursa, and kidney) were collected from the mentioned broiler chickens. The samples were then subjected to conventional RT-PCR using specific primers to the VP2 gene. The results showed that five out of seven collected samples were positive to IBDV, and the RT-PCR produced a fragment of 260 bp. Furthermore, four tissue bursa samples were sent to AniCon Labor GmbH- Germany by using (FTA- card including four spots) for detection of IBDV by real-time RT-PCR using VP1 and VP2 genes to distinguish the pathogenic virulent strain of IBDV from non-virulent IBDV strains and to make the phylogenetic tree. Results showed that duplex RT-PCR generated a fragment of 690bp for VP1 gene and 700bp for VP2 genes of detected IBDV. Two out of 4 samples from suspected flocks were found positive with prevalence results of 50% for intermediated and non-virulent IBDV strains (IBDV nvv), and 50% (2 samples) were very virulent (vvIBDV). The threshold Cycle (Ct) value for RT-PCR for two isolates on bursa tissue ranged from 16.6 to 25.7. One strain was recorded in NCBI with the accession number of (MW8883071). Phylogenetic analysis of detected and sequenced IBDV indicated that the local studied virus was closely related to 710- Jordan isolate (accession number MF142560.1) and to the isolate 267-Jordan (MF 142517.1) with a higher identity reach of (99.2%).
Keywords: Broiler chickens, Infectious bursal disease virus, RT-PCR

[Full text-PDF] [XML] [Crossref Metadata]
---
Research Paper
Typology and Characterization of Traditional Poultry Farming Systems in Togo

Dzogbema KF-X, Talaki E, Lare L, Tchabozire AW, Batawui KB, and Dao BB.

J. World Poult. Res. 11(4): 446-456, 2021; pii: S2322455X2100053-11
DOI: https://dx.doi.org/10.36380/jwpr.2021.53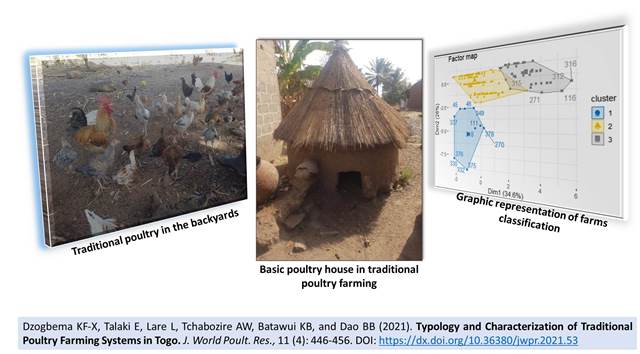 ABSTRACT: The current cross-sectional survey was conducted in the Kara and Savannah Regions of Togo from February to April 2020, to explore the typology of traditional poultry farms and controlling measures of Newcastle disease in these two regions. The survey covered 378 households using the ClustOfVar method of principal component analysis to address the issue of farm typology. The results indicated three distinct classes of livestock, each with its specific characteristics and satisfactory projection quality of individuals in the plan. The findings indicated that 3.17%, 82.8%, and 14.02% of the surveyed poultry farmers accounted for classes 1, 2, and 3, respectively. Households in the first two classes were headed by men and almost all households in the third class were headed by women. In addition, in all classes, the animals belonged to the heads of household in the majority of cases. In terms of animal health and prevention of Newcastle disease, the study revealed that the Newcastle disease vaccine was the only vaccine administered in rural areas to chickens from four weeks of age and was used once in 56.9% of households. Vaccination was carried out mainly by Village Livestock Auxiliaries with the expense of 0.045-0.13 USD per chicken. It is worth mentioning that the use of medicinal herbs to treat the diseases and strengthen the immune system of poultry is widespread in Togo, and on average, the laying hens lay 11.66 eggs per clutch and brood 3.08 times per year. This production performance of chickens in northern Togo is comparable to that of traditional chickens in other African countries, with slight differences.
Keywords: Health management, Togo, Traditional poultry farming, Typology

[Full text-PDF] [XML] [Crossref Metadata]
---
Research Paper
Pathotypic, Molecular, and Serological Response of Specific-pathogen-free Chickens Inoculated by Three Very Virulent Infectious Bursal Disease Virus Strains

Cheggag M, Sebbar Gh, Zro Kh, Chafiqa L, Mouahid M, El Houadfi M, and Kichou F.

J. World Poult. Res. 11(4): 457-467, 2021; pii: S2322455X2100054-11
DOI: https://dx.doi.org/10.36380/jwpr.2021.54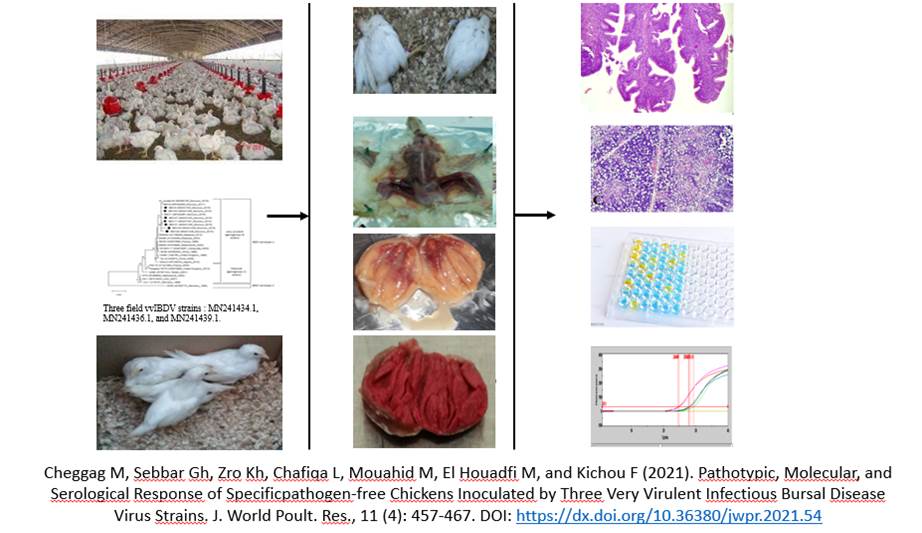 ABSTRACT: Three field strains of infectious bursal disease virus (IBDV) were isolated in 2015 from the bursa of Fabricius of affected broiler chickens originating from Moroccan broiler farms and were characterized as very virulent IBDV. Thus, the aim of this study was to investigate the pathogenicity of the above-identified IBD strains (accession number), MN241434.1, MN241436.1, and MN241439.1. In this trial, 75 three-week-old specific-pathogen-free chickens were randomly divided into four groups. Three groups of 1, 2, and 3 (n = 20 chicks/group) were inoculated via intra oculonasal route with 103.5 EID50 of MN241434.1, MN241436.1, and MN241439.1, respectively. Group 4 (n = 15) was kept as control. Chickens from all groups were monitored during 14 days post-challenge (dpc). Dead and euthanized birds were necropsied and their lymphoid organs (bursa, thymus, and spleen) were subjected to histopathological examination and lesion scoring. Serological response and presence of IBDV in the bursa of Fabricius were investigated using ELISA and rRT-PCR, respectively. Chickens in all challenged groups showed characteristic signs of IBD, including prostration, dehydration, aqueous diarrhea, and ruffled feathers, starting mostly at 2 dpc. The total mortality rate was 100% at 4 dpc in groups 1 and 2 and 76.47% in group 3. Bursa of Fabricius from affected birds revealed severe lymphoid depletion and necrosis with mean bursal lesion score between 3 and 5 (4 for MN241434.1 and MN241436.1, and 4.125 for MN241439.1). Similar severe lesions were observed in the spleen of all infected broiler chickens. Histological lesions in the thymus were detected from 2 dpc with individual cell necrosis. Serological results revealed that survived chickens in group 3 developed Ab anti-IBDV at 7, 9, and 14 dpc. RT-PCR confirmed the presence of the IBDV in BF of all infected chickens. These results indicated that the investigated local field IBDV strains genetically characterized as vvIBDV were phenotypically hypervirulent pathotypes of IBDV in SPF chickens hence reflecting the epidemiological Moroccan and regional IBD. This constitutes a potential candidate reference strains to be used in the development of strategies for the prevention and control of IBD in Morocco.
Keywords: ELISA, Histopathology, Infectious bursal disease, Pathogenicity, RT-PCR, SPF chickens

[Full text-PDF] [XML] [Crossref Metadata]
---
Research Paper
Effects of Egg Coverages on Storage and Pre-incubation Periods in Broiler Breeder Eggs

Al-Samrai EKI, and Tawfeeq AA.

J. World Poult. Res. 11(4): 468-474, 2021; pii: S2322455X2100055-11
DOI: https://dx.doi.org/10.36380/jwpr.2021.55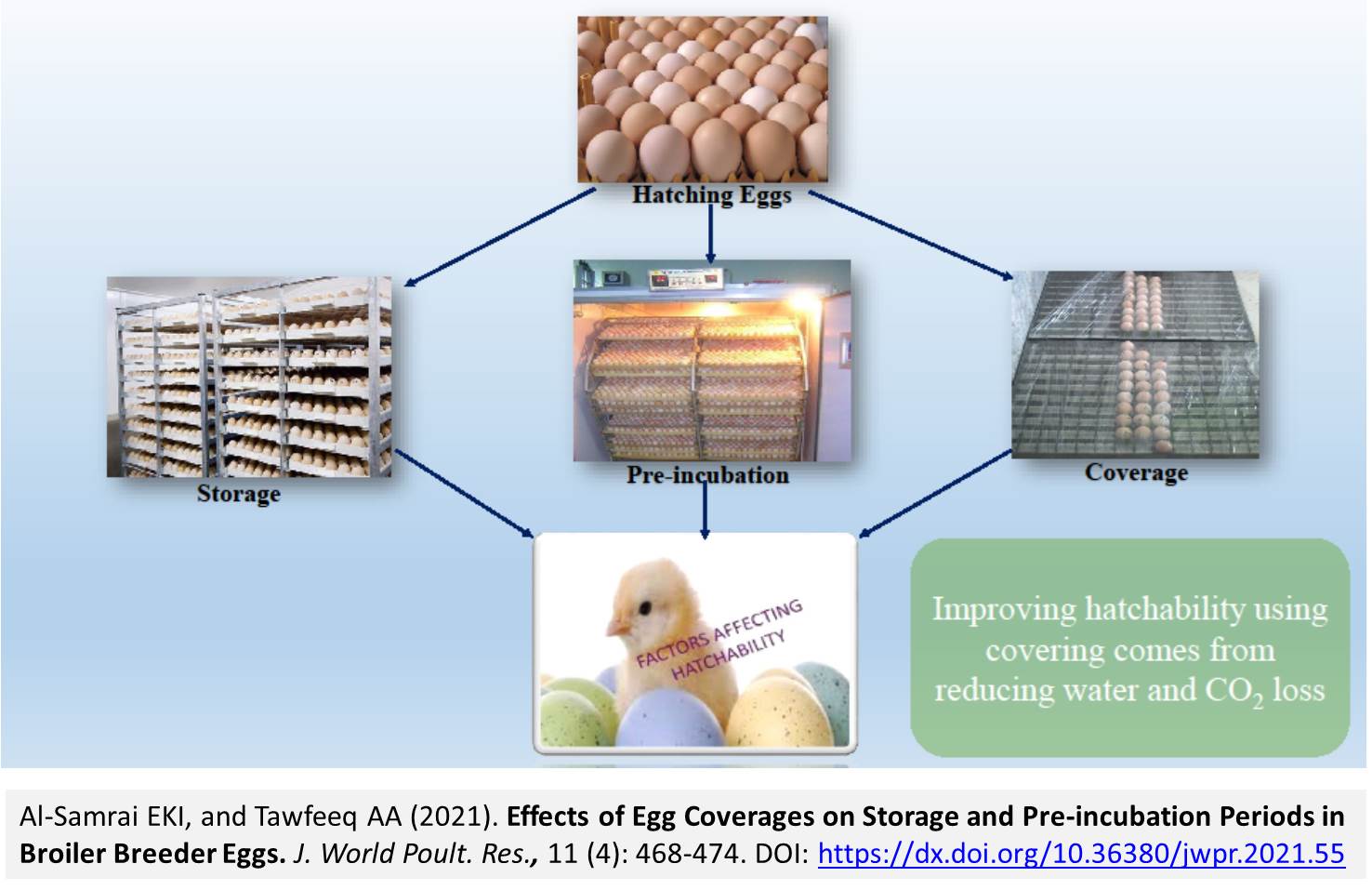 ABSTRACT: The quality of the hatching eggs decreases when the storage period is prolonged leading to a loss of water from the egg. The current study aimed to assess the effects of coverage, storage, and pre-incubation on egg characteristics of broiler breeders. A total of 360 broiler breeder eggs (Ross, 308) used in the current study were randomly distributed in a three-factorial experiment (2 × 2 × 3). The study included two treatments for coverage (covered with nylon and uncovered), two treatments (4 and 7 days) for storage, and three treatments (0, 4, and 8 hours) for pre-incubation. For each treatment, there were three replicates (10 eggs in each replicate). The eggs were pre-incubated at 37.5°C (99.5°F) and 85% relative humidity, while the storage temperature was 15-18°C and 55-60% relative humidity. The results showed that the hatchability from fertile eggs significantly increased in covered eggs, compared to uncovered ones. However, the characteristics of the shell and the shape index were not significantly affected by the three factors. Yolk high and yolk index significantly decreased in eggs stored for seven days, compared to the eggs stored for four days. Eggs coverage during storage significantly reduced moisture loss on the first and seventh days of egg incubation, compared to uncovered eggs. In addition, the lowest significant value of moisture loss appeared at incubation days of 7, 15, and 18 for covered eggs with 4 days of storage but without pre-incubation. In conclusion, the results of the present study indicated that the coverage decreased moisture loss during egg storage. Furthermore, the interaction between coverage factor and pre-incubation factor indicated the albumin high increased significantly in eggs covered and pre-incubated for 8 hours.
Keywords: Coverage, Egg, Moisture loss, Pre-incubation, Storage

[Full text-PDF] [XML] [Crossref Metadata]

---
Research Paper
The Effect of Yellow and Red-fleshed Watermelon Rind Powder Dietary Supplementation on Plasma Metabolites in Indigenous Chickens

Erwan E, Irawati E, Nazir A, Fitra D, Rodiallah M, and Chowdhury VS.

J. World Poult. Res. 11(4): 475-480, 2021; pii: S2322455X2100056-11
DOI: https://dx.doi.org/10.36380/jwpr.2021.56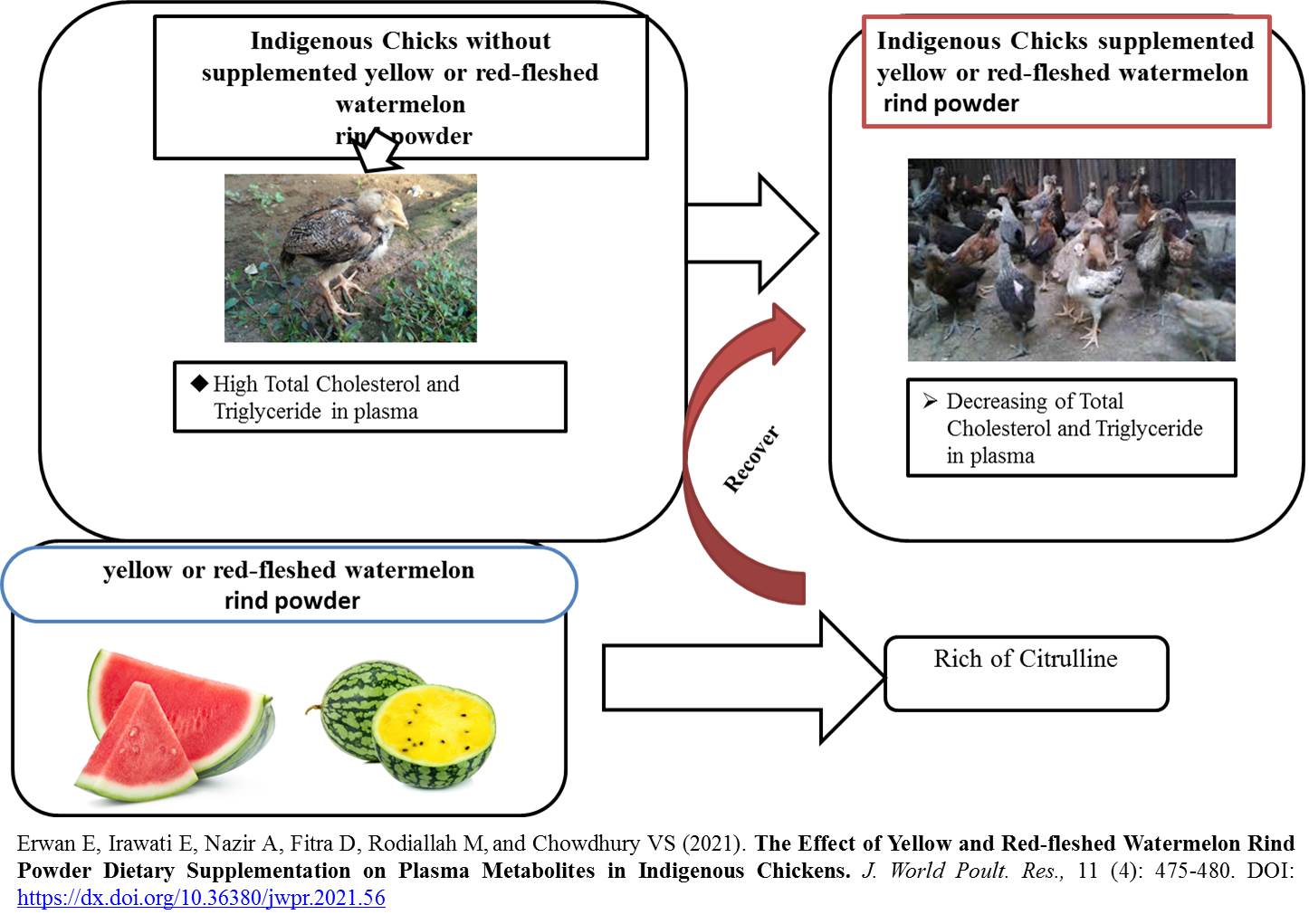 ABSTRACT: Watermelon rind (WR) content is rich in citrulline (Cit). Oral administration of L-Cit could improve thermotolerance in layer and broiler chickens due to its hypothermic role. Additionally, chronic supplementation of WR dried powder (WRP) increases feed intake but makes no changes to the body temperature. The objective of the current study was to evaluate the effect of yellow and red WRP supplementation on plasma metabolites as well as and liver and spleen weight. In Experiment 1, a total of 20 indigenous chicks aged 1-14 days were treated with different doses of yellow WRP (0%, 2%, 4%, and 6%) supplemented in a commercial diet. Similarly, 20 indigenous chicks with the age range of 1-14 days were treated in Experiment 2 with different doses of red WRP (0%, 2%, 4%, and 6%) supplemented in a commercial diet. The obtained results indicated that the yellow WRP supplementation caused a linearly increased plasma total cholesterol (TCHO). However, the red WRP neither increased plasma TCHO linearly nor plasma glucose (Glu), although plasma Glu concentration significantly increased by 6% red WRP supplementation. These results suggest that supplementation of both yellow and red WRP to a commercial diet could change the concentrations of plasma metabolites, while the effect of yellow WRP may be different, compared to that of red WRP.
Keywords: Glucose, Indigenous chicks, Plasma metabolites, Total cholesterol, Watermelon rind powder

[Full text-PDF] [XML] [Crossref Metadata]
---
Review
History and Present Status of Ostrich Farming in Botswana

Moreki JC, Moseki MI, and Manyeula F.

J. World Poult. Res. 11(4): 481-486, 2021; pii: S2322455X2100057-11
DOI: https://dx.doi.org/10.36380/jwpr.2021.57
A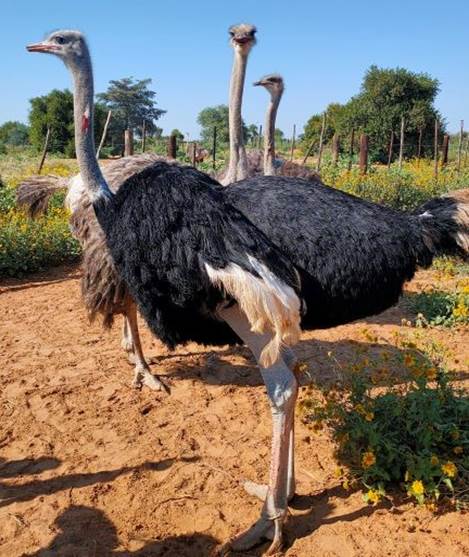 BSTRACT: Botswana boasts the world's largest population of wild ostriches estimated at approximately 60000 while farmed ostriches are less than 400. In this review, the history of the ostrich industry in Botswana is described and the current status is highlighted. Commercial ostrich farming in Botswana started in the early 1980s with the capture of birds from the wild, purchase of birds from local farmers, and importation of adult birds from neighboring countries, such as Namibia, South Africa, and Zimbabwe. However, the industry has not performed well over time as shown by a sharp decline in farmed ostrich populations which deleteriously affected throughput. To date, there is no commercial ostrich farming in Botswana indicating the collapse of the industry. This is despite the existence of favorable climatic conditions and government support in the form of provision of technical support through Ministry of Agriculture extension services, provision of loans at highly subsidized interest rates through Citizen Entrepreneurial Development Agency (CEDA), the existence of the EU accredited export abattoir and establishment of Dibete Ostrich Multiplication Unit (DOMU). The major challenges affecting the ostrich industry are frequent closures of the abattoir, lack of access to finance/credit, inadequacy of extension service, high feed expense, and unreliable feed supply. For the industry to be revived, it is recommended that government develops a special support program that subsidizes feed and ostrich stock, as well as, encouraging the formation of producer cooperative societies. In addition, participation of the private sector is paramount in the resuscitation of the ostrich industry.
Keywords: Botswana Ostrich Company, challenges, EU, DOMU, Ostrich farming, Ostrich meat

[Full text-PDF] [XML] [Crossref Metadata]
---
Review
Intervention Strategies for Controlling Poultry Coccidiosis: Current Knowledge

Abd El-Ghany WA.

J. World Poult. Res. 11(4): 487-505, 2021; pii: S2322455X2100058-11
DOI: https://dx.doi.org/10.36380/jwpr.2021.58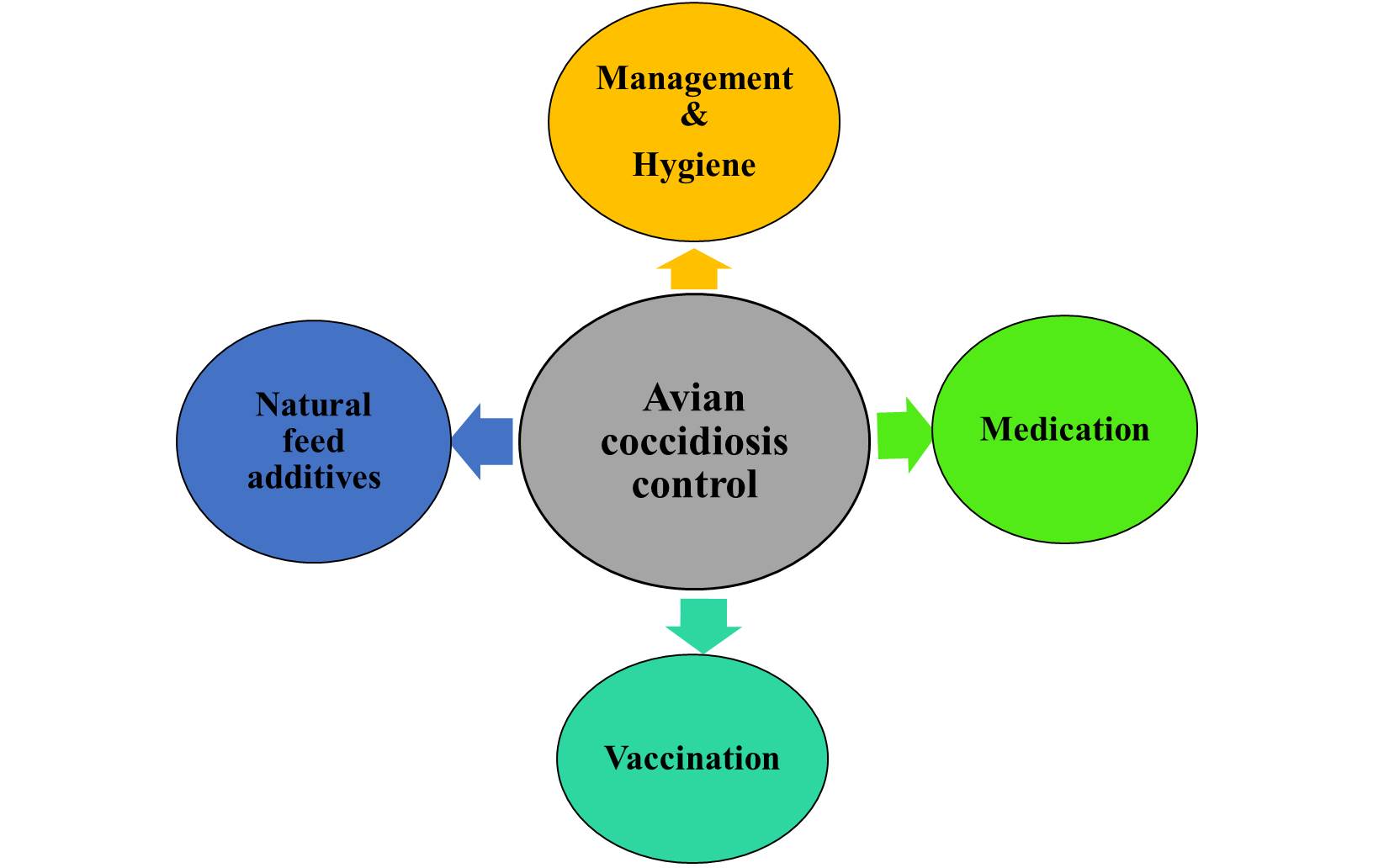 ABSTRACT: Poultry coccidiosis is considered one of the most important continuous threats that frustrates the poultry industry around the world and causes serious adverse effects on poultry productivity. Accordingly, this article comprehensively reviewed the recent control strategies that are applied against such disease regarding medication, vaccination, and application of some natural products. The causative agent of coccidiosis is a protozoon parasite of the genus Eimeria. This parasite is characterized by the host, different parts of the intestines, and immune specificity. Chicken is the most susceptible host to intestinal infections with Eimeria species. Diarrhea, loss of profitability, and intestinal lesions are the most characteristic clinical picture of Eimeria infection. Prevention and control of such infections remain a great problem. The application of hygienic measures is still the gold standard for the prevention of avian coccidiosis. Anticoccidials medication either in the feed or water can effectively reduce Eimeria infection, however, the development of drug resistance to the commonly used anticoccidial drugs is incessant. Live non-attenuated and attenuated as well as recombinant and sub-unit vaccines were developed with some limitations. Therefore, using some natural alternatives, such as probiotics, prebiotics, and phytobiotics have emerged as anticoccidial compounds.
Keywords: Chicken, Eimeria, Intestine, Natural products, Medication, Vaccination

[Full text-PDF] [XML] [Crossref Metadata]
---
Research Paper
Morphological and Molecular Characterization of Coccidiosis in Local Chickens of Mekong Delta in Vietnam

Nguyen HH, Le TV, Lu TA , and Nguyen-Ho-Bao T.
J. World Poult. Res. 11(4): 506-512, 2021; pii: S2322455X2100059-11
DOI: https://dx.doi.org/10.36380/jwpr.2021.59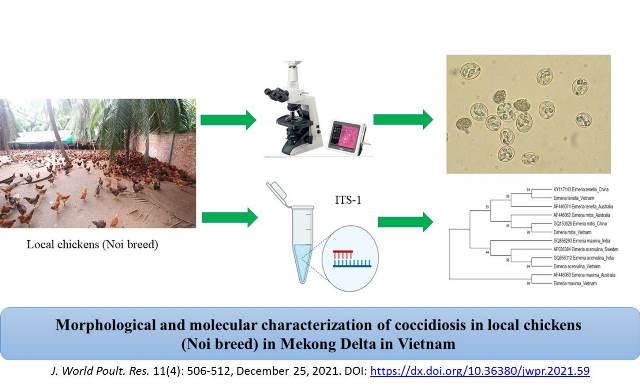 ABSTRACT: Eimeria species are causative pathogens considered as a tremendous threat to the poultry industry in Vietnam. Sufficient assessment of the coccidiosis prevalence is critical for improving the prophylaxis strategies to control the disease. The objective of the current study was to investigate the prevalence of coccidiosis in local chickens (Noi breed) in the Mekong Delta, Vietnam. A total of 1200 fecal samples were collected from 20 various farms in Ben Tre and Hau Giang provinces. Using a microscopic examination, the prevalence rates of coccidiosis in local chickens in Ben Tre and Hau Giang provinces were 65.83% and 68.50%, respectively. Eimeria species identification was performed based on morphological characteristics and molecular methods. PCR analysis was conducted by targeting the internal transcribed spacer-1 (ITS-1) region of the Eimeria genome. Four Eimeria species, namely E. mitis, E. acervulina, E. maxima, and E. tenella were found in both methods. By applying PCR, the infection rates of E. mitis, E. acervulina, E. maxima, and E. tenella were 20%, 61.67%, 66.66%, and 83.33%, respectively. The findings can be considered as the first attempt to identify Eimeria species at the molecular level in local chickens (Noi breed) in the Mekong Delta, Vietnam that paves the way for improving the prophylaxis strategies for avian coccidiosis.
Keywords: Eimeria spp., ITS-1, Local chicken, Noi breed, PCR, Vietnam

[Full text-PDF] [XML] [Crossref Metadata]
---
Previous issue
|

Next issue

|

Archive

This work is licensed under a Creative Commons Attribution 4.0 International License (CC BY 4.0).